An Interview with Craig Oldham
A cup of tea with the graphic designer/writer/publisher/creative director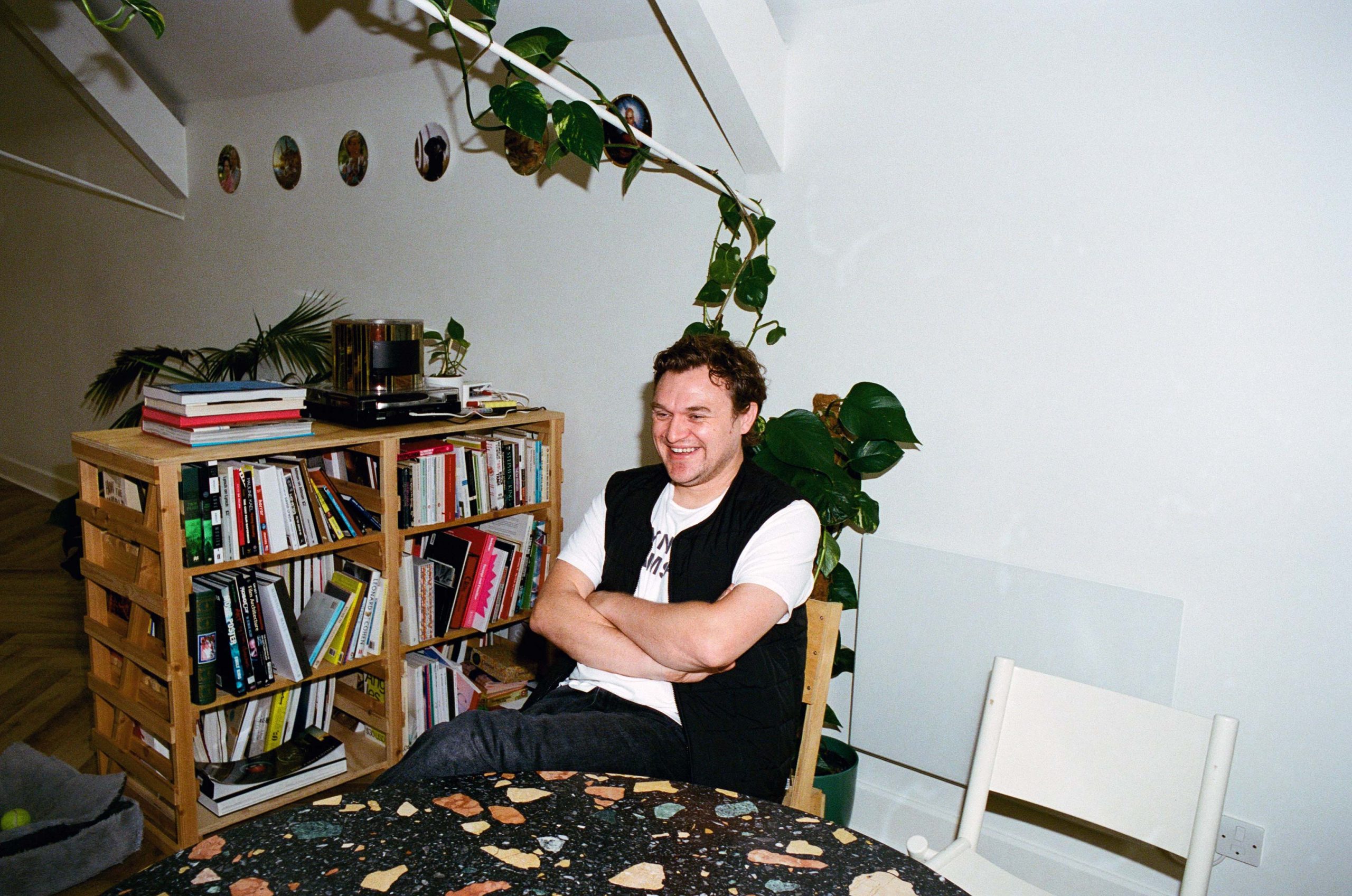 Craig Oldham is one of those people whose work is hard to sum up succinctly. Common writing conventions usually dictate that the opening blurb of an interview is a tight summary of who the interviewee is, and what they've done—but trying to boil down Craig's output to a few snappy paragraphs isn't easy.
Whilst his Wikipedia page has him down as a designer—listing work for everyone from Man City to the Co-Op—that barely scratches the surface. Beyond 'the commercial stuff', he's made books about the cult impact of The Shining, devised the graphical language for Rough Trade Books, curated exhibitions of handwritten letters and written articles for Creative Review, along with about 100 other things that we don't have space for here. He's also fond of swearing and knows how to make a good cup of tea. 
In this interview we talked about such vital subjects as cult films, artificial intelligence and vacuum cleaners…
From commercial work to making books to images in exhibitions, your work is particularly varied. Is that an important thing to you? Would it be boring if you just did one thing?
If I'm honest I'm constantly wrestling with it—you get in your head with your insecurities. I can definitely say that when I set up I wanted a rich and varied diet—I was sick of what I'd describe as having egg and chips for breakfast, dinner and tea—the same thing for every meal. That bores me and frustrates me more than anything else. 
Even though some would say you can carve a niche or be known as the person to go to for one thing—I'm just not built for that. I need lots of plates spinning at the same time to feel a bit of an energy about the place. I want to test myself—I want to write things when I'm not a writer, I want to design things I've never designed before, I want to build stuff and make stuff and try things. 
And I can honestly say—even though it sounds quite romantic—that that's never been my intention, it just organically grew that way. I initially set up by writing some articles in some magazines in the creative industry, doing some design work, teaching and wanting to find my own audience as a creative—whether that was through publishing or whatever else. And I've been lucky enough that I've managed to pull that off in various different ways.
But it's not all roses… it's hard work and it's stressful and I'm as insecure as anyone else when it comes to putting something out that I've put my name on. I think it's just about being exposed to different things—I really love when we do commercial work or exhibition design or working with some of the clients that we do, because I get to learn. And if I'm not learning, what's the point? It's just vanity or indulgence otherwise. 
Subscribe to our newsletter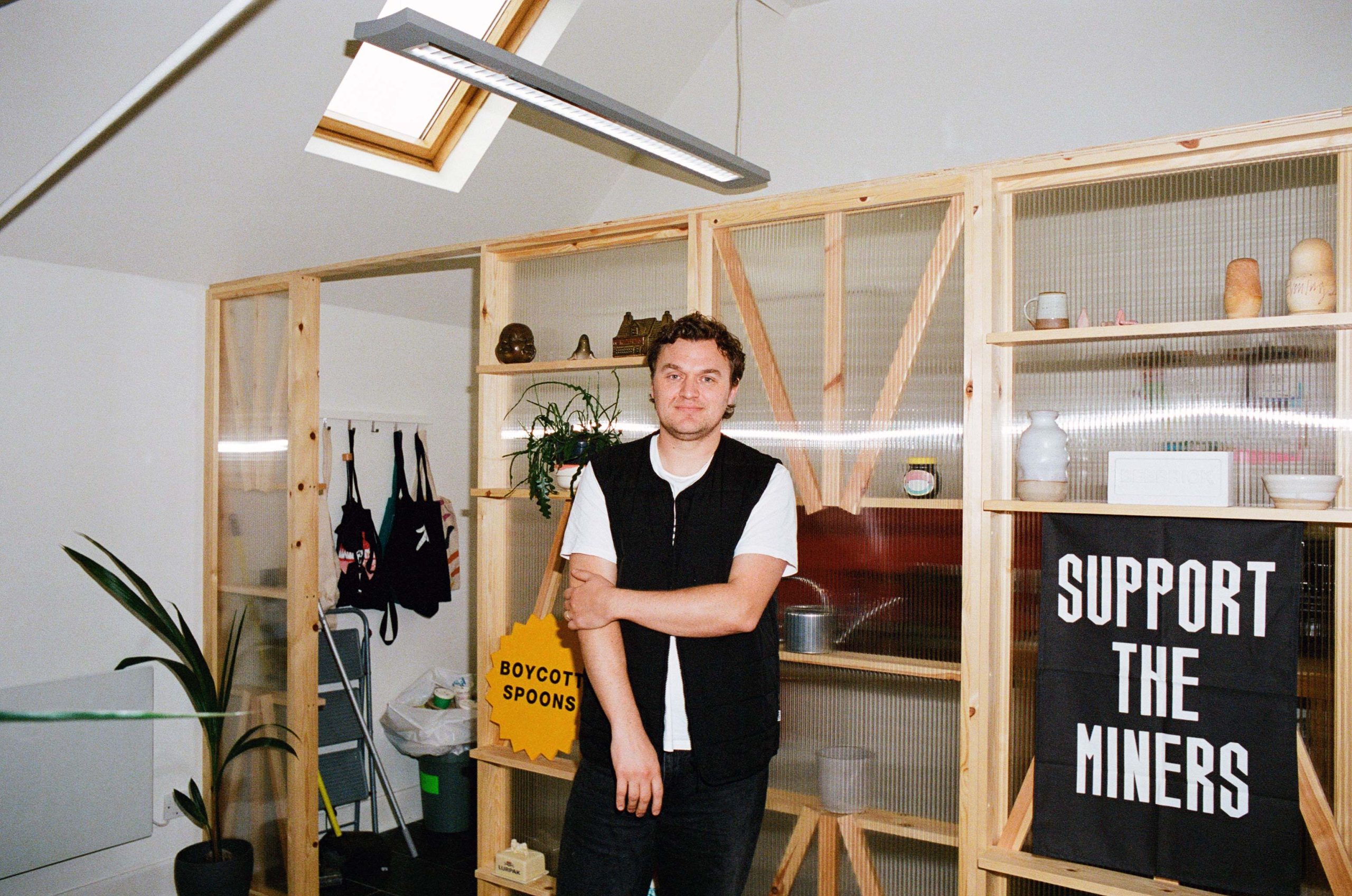 Would staying in just one lane be too safe or easy?
I wouldn't say it's safe or easy, because it's not. I don't want to undermine people who do that—but I know myself and I know what I want, and I do feel like you've got to know why you're in it. If it's the money, then fine, just don't pretend that it isn't. 
What do you get out of it? What's the buzz that drives you?
There's a moment in every project—no matter what it is—there's this thing that happens when you get excited about it. Sometimes I get really excited at the start of the project, or maybe halfway through there's a really interesting idea or thought—and it's that moment, and it can come at any stage of the project. 
It's then about trying to ensure that that moment happens—because if it doesn't happen, if you don't have one thing you're getting from a project, be it money or a chance to work with someone you've never worked with, or work on a subject you're really interested in, why are you doing it?
I feel like a lot of people are locked into that. How do you avoid the mindless trudge? How do you keep things interesting and exciting?
It's difficult sometimes. I work for myself now and I'm autonomous, but I've worked for other people and felt the way I imagine people do feel when they hit those points, but you still can find something enjoyable—no matter what it is. Sometimes you've just got to get the project over with. The criticism you can throw at me is that I'm always looking for the next thing, not the best thing. I'm quite impatient and I quite like that cut and thrust of getting something together at the last minute.
Thriving off chaos?
I guess so. I like having that condensed period of time when you have to focus on something, and that's probably a hangover of bad habits enforced on me—a bit of toxicity that I've inherited from other people that I hopefully don't put onto others who work with me. I do quite like the urgency—but I'm aware I probably like that urgency because I'm very impatient. 
The book on The Shining—that took years, but it was perforated—there were intense bursts, and then I'd come away from it. Not to get too romantic, but your ideas need time, if you have a thought, there's only so far you can go with it before you need to let it settle and stew and percolate. You need to carry things around for a while, and if they still excite you a week later or a month later, then there's probably something there. You need these different time scales on these projects—intense bits and dormant periods where things can stew. What you can't have is a really ordered existence, like you're on a train, going from one carriage to the next, and every single one is the same. I think that breeds a formula, and that's not how we describe creativity. 
A particularly interesting project you've been working on for the last few years is the design for Rough Trade books. How did that come about?
It'd be really great to just say, "Yeah, they wanted me to work with them." But it wasn't like that. It came from a book I did about the miners' strike. I'd put that out independently and I was hawking that around seeing if any shops would take it, and I was in London with a friend of mine who was working at a big design blog at the time. She was interviewing me, and she said, "There's this friend of mine, Nina, she works at Rough Trade and she really loves your book, do you want to go and meet her?" So we met and had a drink, and in the end she became a really great supporter of the book—she ordered loads for Rough Trade and she got me on this podcast and things. 
Then later she got in touch and said she was starting this thing called Rough Trade Books—publishing stuff under the Rough Trade banner, and she wanted to meet up. She told me she wanted to bring back pamphleteering—helping people who hadn't been published get published, and maybe letting those who were published do something a little edgier that they wouldn't be able to do elsewhere, creating and supporting counter-culture. She was asking me if I had any ideas for books, and in the conversation I asked, "Who's designing them?" thinking she'd have someone lined up. But she didn't, so in the end I said I'd do them for nowt. We did the first 12, and then we've carried on from there.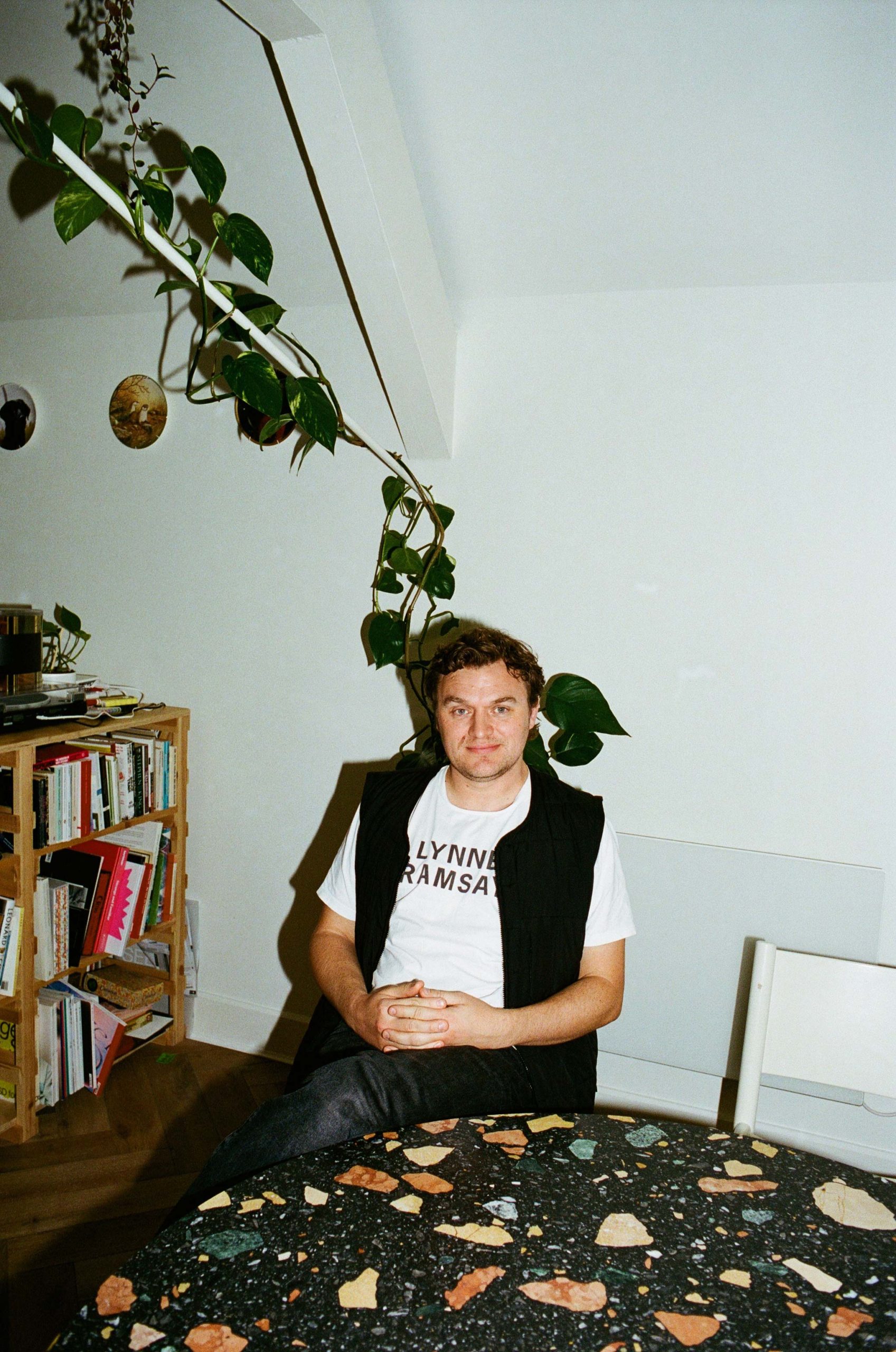 How many are there now?
Maybe 50, and then all the books as well.
What was the process of coming up with the style for them? There's a uniformity, but they're all slightly different.
That was a conscious choice. We wanted the editions to feel like they were from a stable—a family of publications that people would know was a series. We wanted to have enough foundations in place that come 40 or 50 or 60 editions they'd still have something to stand on. I think we had a few different ideas, but my favourite we affectionately called 'the fag packets' because they were just a really ubiquitous sans serif typeface, black and white, with the title and all the page furniture—like the ISBN number—on the front. They looked like those warnings on fag packets. And this was at the time of the Olympics or some athletics championships where Russia were banned so they were called something else and they just wore black and white—and that was all over the tele at the time, and I remember thinking, "That's fucking great."
Haha—I remember that. It backfired because they then seemed cooler than everyone else. 
I'd already had experiences of that with publishing. We did a cover for a big creative magazine—and everything is so busy and shouty and loud in that marketplace, so I thought, 'let's just not do that.' So we printed it black on greyboard, and it was like a spotlight in the middle of WH Smiths. So I thought that Rough Trade Books could be like that—this bit of calm before you get punched in the ribs with this counter-culture stuff. It led from that—we had a bit of a row about it, and then I got down off my high horse, tried a bit of colour and photography and illustration and established what they are now—which is a framework for anybody to run away with.
The things that alter or change them or decide the colour all comes from content. There's one of them in the newest series about the nightlife in Porto, so there's a rim around the edge like Portuguese tiles. 
And you pick up on those details more when there's a uniform format to deviate from. 
Yeah—it's like any collection. People notice that stuff, and they love that stuff. And also personally, it's lovely to see them all—five years of them—all there holding their own and looking great together. It's a nice set. But we're not the first—what Craig does with Café Royal Books is a beautiful thing to behold. It's the same principle. I don't want to put words in Craig's mouth at all, but he lets the work come through. It's got the name of the publisher at the top, then you get straight into it.
Quite often things can be overly designed. How do you manage restraint and avoid 'design for design's sake'? 
I think some designers can be quite over-zealous, and I think it does come from insecurity, because as a graphic designer in the creative industries you can feel like the runt of a litter. If you look at mainstream culture, my mum—who is my ultimate test of understanding any work I do—she could tell you what a fashion designer does or name a photographer—but she couldn't name a graphic designer, even with me as a son. If I asked her who Peter Saville or Jacqueline Casey were, she'd be like, "I don't know—is it someone you went to school with?" I think that does breed insecurity sometimes, where the designer gets too present in the work trying to make them seen and visible—not in an egotistical way, but just in an appreciation way. Ultimately you're pulling together someone else's work, so it's the wrong way to go. 
There's maybe a fine line between highlighting the work and getting in the way of it. As well as the Rough Trade editions, you've also worked on some pretty hefty books looking at the ephemera around films—with books on They Live and The Shining so far. Is it important for you to do these extra-curricular, non-commercial projects? A lot of so-called creative studios just do commercial stuff all the time.
I need those things. I don't know why. Maybe because I've got something to say. I think I like doing those projects because I believe in them enough to do them. And if someone will publish them, that's fantastic, but if they won't, then I believe in them enough to put them out myself. It's not this inert thing that's there that I need to exorcise—it's not that kind of urge. 
With The Shining and They Live, yes I'm interested in those two films, but those books are part of a series, and that's where the passion comes in—that idea of film influencing culture and culture influencing film—that cyclical thing that happens where there's this weird dynamic, and I want to unpick that. These things can come from different places, but I've always got something to say. Like you say, a lot of design studios just want to do the work—I'm sure they've got things they'd like to say too, but it's not a thing you see often.
I often think that. I look at writers and want to see the stuff they'd do if they weren't getting paid.
People constantly say to me, "Where do you find the time?" And I'd say, "I don't watch Eastenders." And that's just me being facetious basically—I struggle with time, I struggle to make things work, I struggle to make ends meet—I've got a young family who are absolutely my focus, and then I've got people who I work with who are my focus in a different way. And then there's me in all that. 
Sometimes you push, sometimes you pull, but if you want to do it enough, you'll find a way. You might have to compromise on your ambition of it, or your scale of it, and there's that whiff of privilege there, but just because I'm part of Rough Trade Books and they put my books out doesn't mean I've got carte blanche. I get put through the ringer like every other author does—I don't just get my own way. We always have to make things work within a budget, and if it doesn't wash its face it doesn't happen.
It's not a daft folly.
No—and it's hard. This stuff doesn't just happen.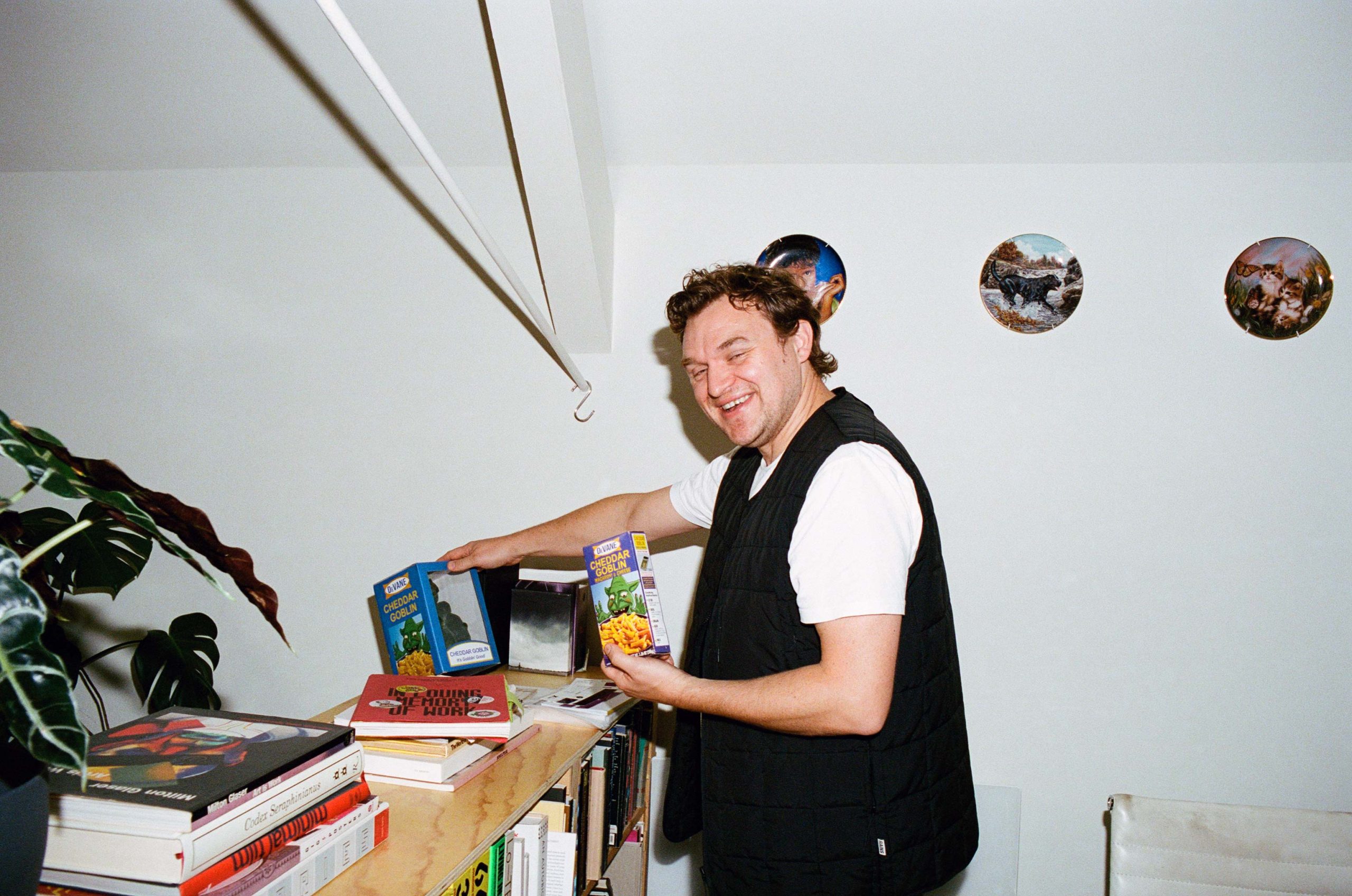 Do you ever just think, "Maybe I should just chill tonight?"
Yeah, but I never do. I long for a holiday, but when the time comes to take one, I'll be like, "now I've got some time, I can write that thing." I feel fortunate because—and I know this sounds really cliched—sometimes doing work can recharge me. Getting a quiet couple of hours where I get to write one essay which will go in a book can lift my spirits for days—and make me feel like I've had an extra two hours sleep. And client work can do that as well—I get a lift sometimes. Whereas somebody else might get a lift from lying on a rock in the sun for a week.
What was it about They Live and The Shining that made you want to publish such in-depth books about them? 
It's the idea of creating these books that don't exist, other than in the films—They Live has a magazine in it and The Shining has the manuscript in it. That was the idea that I was interested in—the idea that books pervade our culture like that—even our visual culture of cinema. And the flipside of that same coin being that these films are incredibly influential and have permeated into books and culture. It's about pulling those two worlds together. It's not that I'm desperate to do a book on The Shining—I'm not really that big on Kubrick—but I do love the role that his manuscript has in that film.
The way it flips everything?
Yeah, the way everything pivots on that moment—there's this gradual build up until that point, when Wendy's perception of reality flips. Violence erupts at that point and it doesn't turn back from there. And I just find it incredibly interesting that a book could do that. If you get romantic about it, a book could change your life. How many times has someone said in an interview about how a book has changed them? They are these catalytic things that can knock you for six, and I love that it's just a book, it's been around for centuries, but it can still do it. And a film can do that too.
Is there a first example of something that did that for you?
I remember watching Donnie Darko in 2001 when I would have been 16—and I couldn't believe that a film like that had been made. I didn't understand it, it went way over my head—but I couldn't come away from it. I was thinking, 'why don't I understand it? What does it mean? Why was that in there?' There were all these references and cultural things that I thought I was seeing, but I didn't have the ability to say with certainty what they were references too—but over the years it's kept me turning, and every time I watch it there's another little present in there. Just as a creative object or artefact, it opened my mind—I couldn't believe something could exist like that and could do that to somebody. 
Is it that thing where it's better for being unexplained—or hard to explain. Like you say, it's open ended, and there's something there every time you watch it. Some films are pretty boxed off.
I don't know—I said this the other day, and it's not mine at all, but if you're going to set a trap with cheese, you're going to need to leave room for the mouse. The fact that you get to participate in it—and you don't know what the ending means—it makes you feel involved. Watching Donnie Darko made me feel validated—maybe what I think happened did happen? And even though I'm looking at this in hindsight, that was probably the point that I started playing with the idea that when the work is released to an audience, it ceases to be that person's work anymore. It becomes something to other people—like a song that means something to one person might mean something completely different to someone else—they become these other things, these amorphous creatures.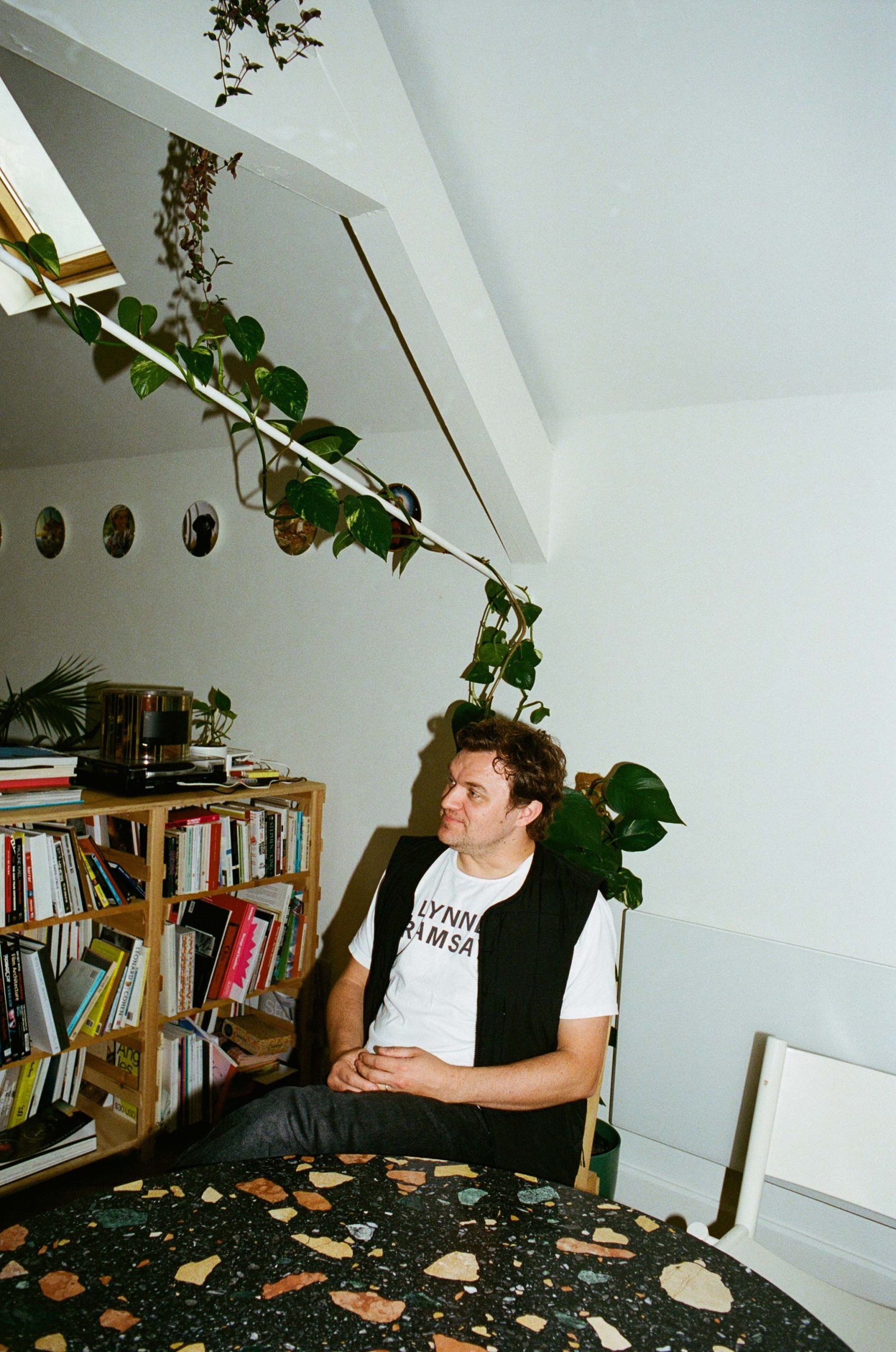 Is that something you try to add into your work? Adding in these extra details maybe, or not making something so obvious or sealed off?
Wherever possible it's nice to do those things—it's nice where nine out of ten people won't recognize something, but for that person who does it's a little gift for them. I really like that—and that's one of the reasons I keep coming back to books. They find their own audience—it might take ten years or it might take ten minutes. I love that—they can be out for a long amount of time but then they suddenly find people who they want to engage with. If you want to do that, you've got to put stuff in there for people, otherwise there's nowhere for them to go. 
I think in all forms of work, the more that's put into it—whether it's visible or not—there needs to be a spirit that's in it—you know that someone's put something more into it than it appears. You can tell that when a building is well made, or a garment is sewn together properly—all these conscious choices that happen in any kind of work. Sometimes you can't articulate why, but you can tell. I engage in that because I feel like it's the right thing to do, and if you're going to do it, you might as well do it right. I really believe that. 
The first time we made the miner's book, we printed it with coal dust. Not everybody clocked that, but some people did—and then if they read about it they'd find that it came from the pit that my dad and my grandad worked down. It keeps adding to the preciousness of it. 
It's that thing of feeling like someone thought about it—they've added a spin or a tweak.
Yeah, and it can be in absolutely everything. Sometimes it's just a little moment of empathy where someone can realise that everyone behaves in a certain way, and no one has really addressed it before. It can be the tiniest little thing, but it can change everything—these small things like that can make the biggest difference.
Is it that human element that we're all after?
I think so yeah—it's a complex thing. I was just thinking in my head about Dyson vacuum cleaners. I can't stand Dyson the man for his politics, but one of the reasons that his product was hugely successful was the empathy in knowing the voyeuristic quality that everyone likes the satisfaction that when they've cleaned up, they've cleaned up. So that little act of making their vacuum cleaner so you could see all the shit you were picking up was a massive game changer—it kind of rewarded them. If they're going to hoover their entire house, they want to know they've hoovered their entire house… and there's a kind of weird voyeuristic reward for that. That comes from empathy—the designers knowing that people will get a kick out of that. So it can be a little thing like that which can make a big difference.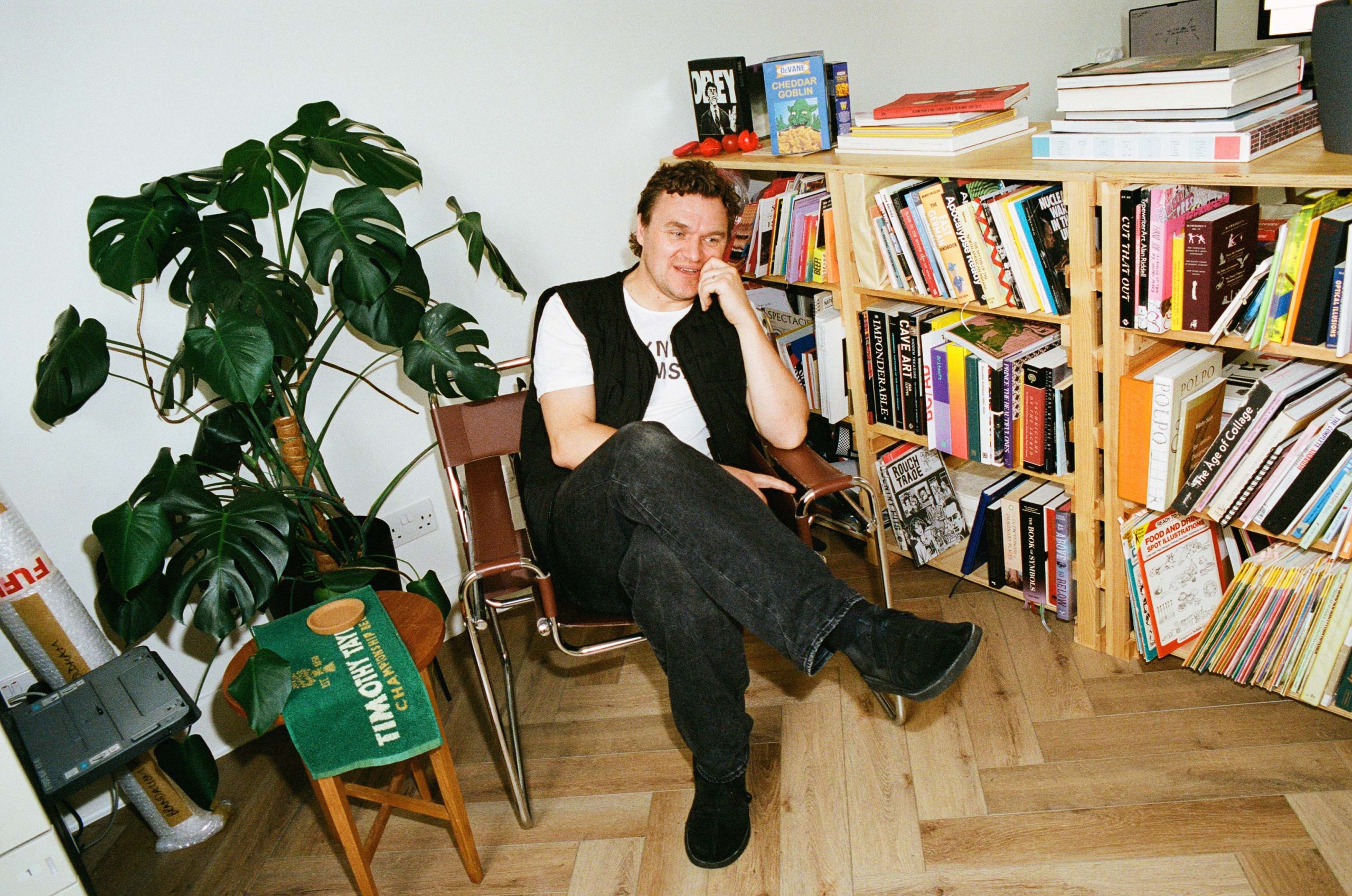 At the moment it feels like everyone's talking about AI and what it means to creativity, but through all this, will people always want that evidence of humanity?
Yeah—it's inevitable. This is the irony of AI—I'm bored of it already. We've been talking about AI for 70 years—Philip K. Dick was talking about AI, and we've not come any further. Humanity's engagement with technology is doomed, because all we're stupidly trying to do with technology are things that we can do. That's what AI is—let's make something think like we think. We use technology to replicate acts for us, then we justify those acts by saying that we now don't have  to do them. I don't want technology to do that—I want technology to do what humans can't—I want things like teleportation. The imagination is just not there. 
Why aren't we imagining a bit better? All those ideas that people like John Hargrave and the Kibbo Kift—these Modernist and Constructivist ideas where machines would do the work and we'd have this social economy that is actually socialist—a non capitalist society where we can all just go camping or something. That would be an actual benefit to humanity and the planet. 
Instead, the AI will be doing the creative work whilst we're slogging it out in the rare earth mines.
That's it—they've not made technology eradicate the donkey work, so that's what we'll end up doing. But I don't worry about AI because I know what humans do and I get our limitations. AI can do what it wants to do—but like with all the copyright things at the minute with the Game of Thrones authors or Sarah Silverman, where it has apparently been trained on their work illegally, it's just input, you've still got to feed this thing.
It's just a tool like a calculator. 
The beauty of humans is that we are flawlessly imperfect—we are without fail, fuck ups. There's a real beauty from what can sometimes come from the really bad sides of us. Eliza who works here was looking through some stuff from the Wellcome Collection and she came across the paintings by a woman who had been in an asylum and had done art as therapy, and they were incredible—like nothing I'd ever seen in my life, and I was completely bewitched by them. These paintings came from what society back then would term a fracture—you iron all that out and you lose that beauty, that ability to make something that comes from an absolutely unique, unfathomable perspective that you can't comprehend—that sometimes even transcends rationale or reason even to the maker. 
AI couldn't write a song like Daniel Johnston.
No—at the minute it's fundamentally derivative. It's not going anywhere but in on itself. I'm not that interested in it—I still want to teleport. 
That does seem a bit more worthwhile. Wrapping this up, have you got any wise words? How do you find that human thing in work?
You've got to be honest with yourself—with your misgivings and your failures and your weaknesses—and let other people into them. Creativity isn't about the immaculate conception of creating something new that no one has ever seen before—it's about taking the raw materials of things people do understand. It's about being okay with your limitations and weaknesses and using them as virtues. I've not done anything that no one else can't do… ever. But I've maybe just found a different way through when other people may have given up, or have pushed back or against stuff where other people haven't, or hit obstacles. Ultimately anyone can do whatever it is that drives them—but they have to understand the drive first. 
Find out more about Craig (and listen to some classic soundbites) here. Interview by Sam Waller.