An Interview with David Hieatt, Hiut Denim Founder
An extensive chat with the man behind Hiut Denim and The Do Lectures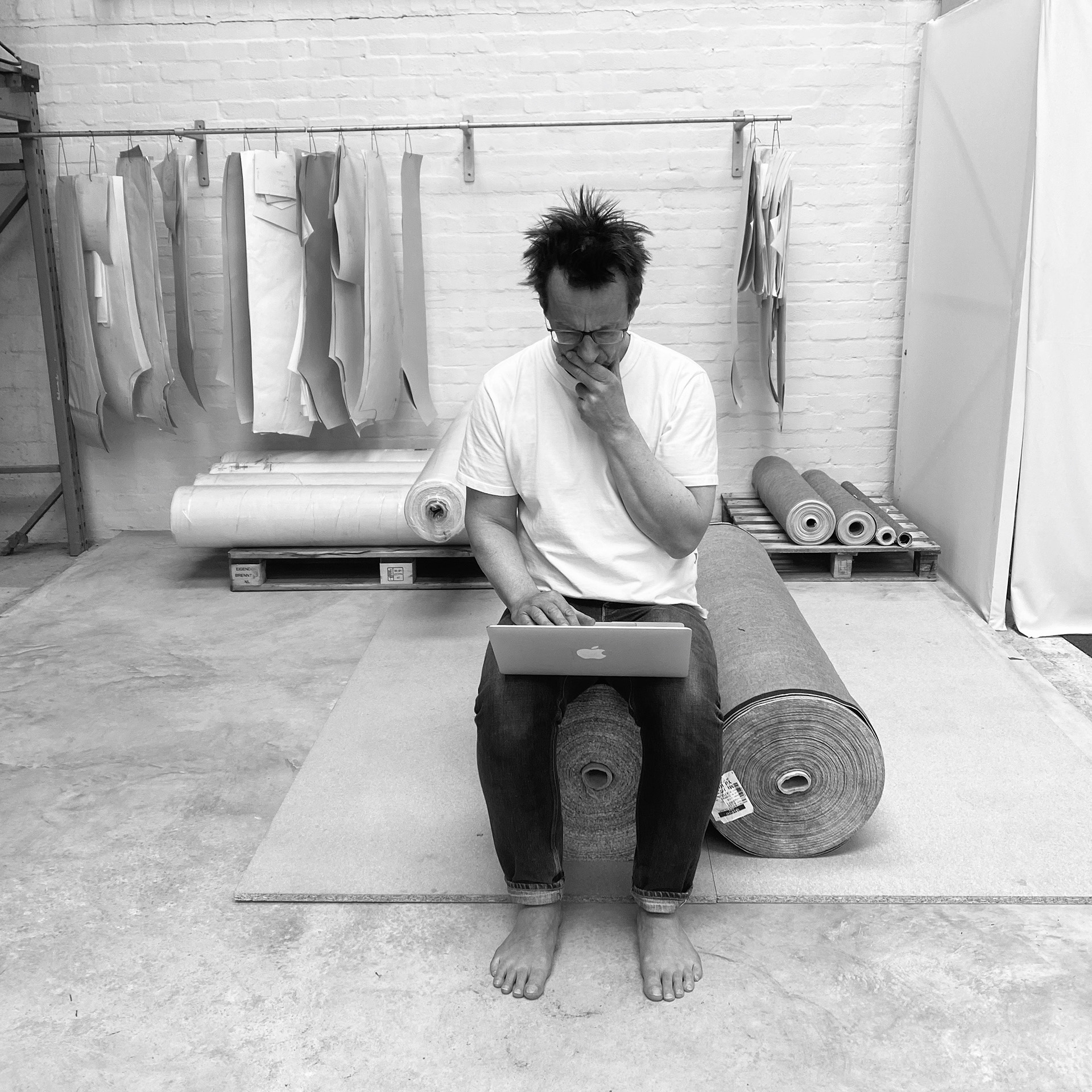 David Hieatt is a clever chap. From the left-field advertising of Howies in its prime, to the straight-up simplicity of Hiut Denim (the brand he started in 2011 to make jeans, and nothing else), he's long been a fountain of fresh ideas, not afraid to flow against the mainstream.

He's also not afraid to share the knowledge, he literally wrote the book on email marketing and since 2006 he and his wife Claire have hosted The Do Lectures, an annual weekend of inspirational lectures from inspirational folk, broadcast from a cowshed in Wales to anyone with an internet connection. 

In this in-depth interview, he talked with us about his early days at Saatchi and Saatchi, making jeans in Wales and the importance of sleep…
Starting right back at the beginning, I read somewhere that as a teenager your bedroom walls were covered with posters for clothing brands, rather than films or bands. What was it that started this obsession with brands?
I don't know. I was a football fan, so I'd go through the magazines and see the players wearing these certain boots, or I'd hear that adidas had signed someone, and just think, "Oh my god." I could get some stickers, or a catalogue, or a poster.
It's a fascination, isn't it? Your hobbies say a lot about you—you just gravitate towards stuff, and you can't really explain why. It wasn't even the football players I gravitated to, it was the sports brands. I had Wrangler posters and Levi's posters, literally from the ceiling to the floor. 
These brands are attainable. You can't be a certain footballer, but you can buy his shoes.
Yeah, it's kind of like romance in a way. You're dreaming, even for a little bit, that if you have those shoes it'll make you like them. But then obviously talent isn't quite as easily distributed…
Was there an element of disappointment with some of that stuff as a kid? You can think that you need these trainers, but when you get them, you're still the same person.
Yeah, the dream-breaker. "Hang on, where's the extra talent? Oh, it didn't come with the shoes?" At the time, I didn't really know about brands, but there was something that drew me like a magnet towards them. 
And growing up in a small town in Wales, these brands and what they represented must have seemed pretty glamorous.
When you're in South Wales, the humour is great, but things aren't designed to be pretty. There was a lot of utility everywhere. Things might have been designed to be useful, but not useful, and beautiful.
How did this obsession lead into something more?
At 16 I persuaded my parents to allow me to go and try and start my business. My dad leant me half of his savings and I think within six months I'd lost it all. He asked me what I had learnt, and I said, "Well, actually, I learnt that I really loved it.' And he said that the next piece of learning should be to learn how to get good at it, so I could keep doing it. 
Whereas most people might have said, "Where's my money?" he was pretty happy for me to lose his money in order to learn what I wanted to do.
People can spend their whole lives doing that. How did you get better then?
It's a bit of a long story, but I went to college and got kicked out, and then my mum bought me a book, and it wasn't very good, so I took it back to WHSmiths. And there I found this book behind all these other books on the shelf, and it turned out to be On Advertising by David Ogilvy. It said about how in a creative department, you didn't need qualifications, but you needed ideas, and I thought, 'Well, I haven't got any qualifications, but I've got loads of ideas.' So I spent a year and a half trying to get into advertising. 
"I thought a brand could have a reason to exist over-and-above just selling something. I thought it could make you think as well as buy."
I had 150 different interviews and then I finally got a job at Saatchi and Saatchi. Cut to eight years later, and the CEO of Saatchi, Robert Louis-Dreyfus, decided he was going to buy adidas. I already thought he was cool, because he used to go out with Kim Basinger, wore jeans and smoked a cigar, and then, home run, he was going to buy adidas… as you do. 
So I thought I was going to win the adidas pitch, but what I didn't know was that Charles and Maurice Saatchi had maybe fallen out with Louis-Dreyfus, so we pitched, but didn't win. So the week after I resigned and went to work for the company that did win the pitch. I then spent a year and a half writing ads for adidas, and my boss wouldn't buy any of them. But all of those ads had a voice, and that's how I started Howies. I loved that voice, and I couldn't see a brand out there with it, so we started putting that voice on t-shirts.
That was around the mid-90s wasn't it?
Yeah, we started in 1995, but we didn't get our first pay-check until 2001. We really didn't know what we were doing, but we were really into it. It was a labour of love.
That's a bit before my time, but even in the early 2000s when I used to see Howies adverts a lot in magazines, there wasn't much out there like it. That idea of a thoughtful clothing brand with more to it than just the clothes seemed new. 
I just thought a brand could have a reason to exist over-and-above just selling something. I thought it could make you think as well as buy. The easier thing for me to have done would have been to look around, find the brand that I connected with and just buy some clothes, but there wasn't one. And that's what Howies was about. We were one of the first companies in the world to have a blog, and one of the first brands in the world to use organic cotton. There wasn't a plan, we just wanted to do something interesting. There wasn't a strategy, it just felt right. 
The evidence for many years was that no one else was really interested in these things, but we just kept going. We'd think, "Why don't we quit?"
What kept you going then?
I just thought that there was something in it… that there was something there. I thought, "Maybe I'm just early." And I think we were. Bit by bit, people got into it. 
How was it going from working at an advertising agency where your ads for adidas never ran, to suddenly having complete freedom to do whatever you wanted.
It was interesting. It was easy to try and pitch something to someone else and try and get them to spend their money, but with Howies, I had to spend my money. But we were quite good at spending our money, as we didn't have to please anyone else, so if it felt right, we'd do it. It was a lot of gut instinct and a lot of feeling. It was like somebody releasing the handbrake.
From what I remember of Howies, the adverts rarely featured the clothes, and would instead be more about a phrase or an idea. 
We really wanted to make a connection. The best and most powerful brands don't try and convince you in your head, they try and convince you in your heart, so I thought we'd bypass the brain, and go straight to the heart. There's a human reading a magazine, how are you going to connect to them—with 20 product shots, or with something which asks them to think a bit differently?
It obviously worked, as Howies was massive in the mid-2000s. How did that happen?
We'd moved from London to Wales in 2001, which allowed us for the first time to do Howies full time. When that happened, it just took off. We were growing so fast, and the money was so ridiculously tight everywhere, that we needed some funding. We'd never really run a business before, so we didn't have that confidence to think that we could do it, even though now I think we could have. 
So we started asking people if they'd invest, and actually, there were a lot of people willing to invest. In the end we chose Timberland, as they were really understanding of how important Wales was to us. But these things don't always work out like you want them to be, and there was a lot of learning. There was a bit of a feeling of a job half done, which kind of allowed us to take that learning and experience into the next thing. 
Then we started Hiut Denim and the Do Lectures, and we're happy to grow little by little. We can try and be good at something, rather than be big at something. 
Subscribe to our newsletter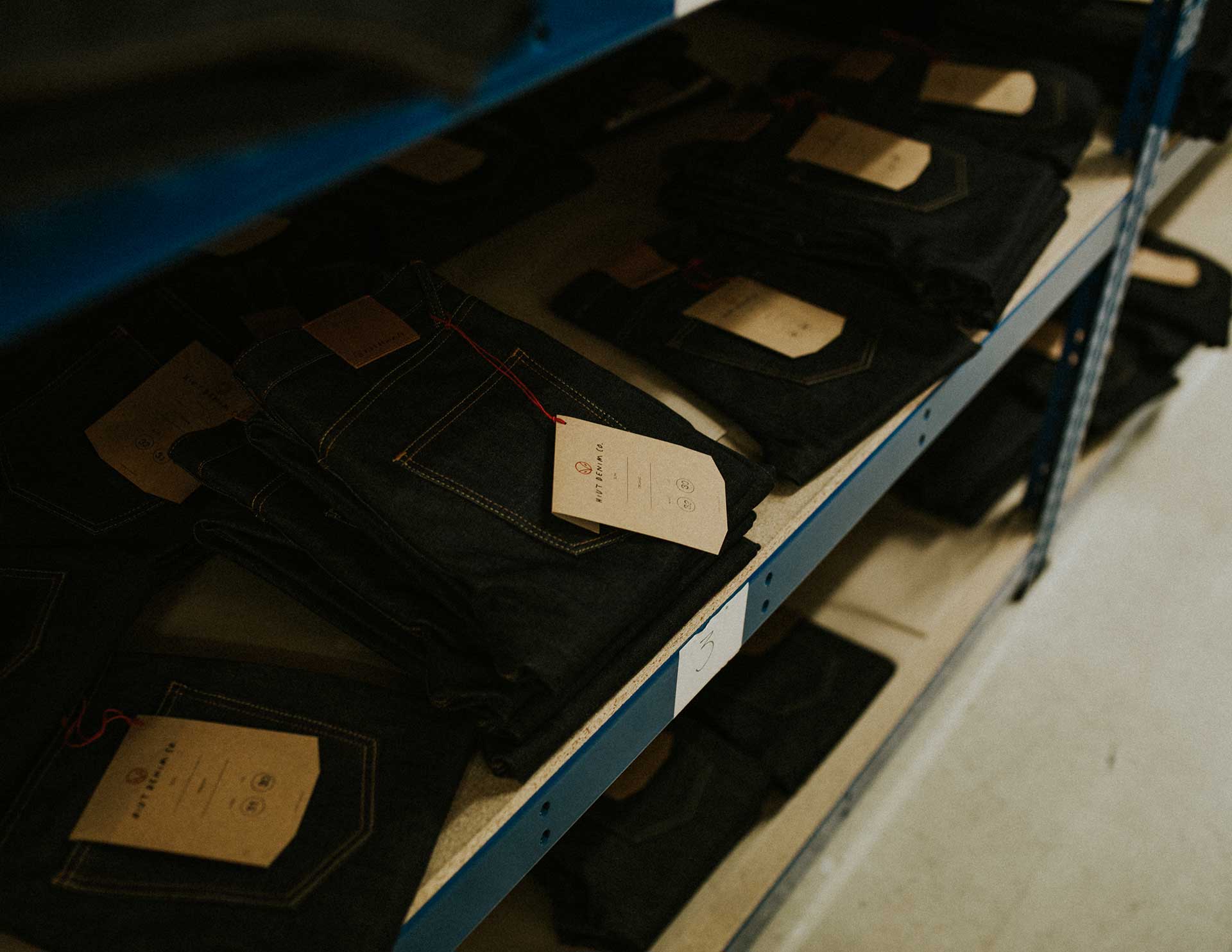 That's a common issue for a lot of companies—they build them up and lose the heart.
My theory is that you can be small, but really influential. René Redzepi, the world's best chef, on an evening can only seat 45 people, and yet he's renowned. We don't have to be the biggest brand in the world—our growth can come not just sales, but from influence. When all the other brands look to us because we've done something in a different way, that's also impressive.
Over lockdown you could see that—all these smaller, more nimble companies were reacting to the shift far faster than the big ones.
In a fast world, be a speed boat, not an ocean liner. An ocean liner can't turn around very quickly. It's actually a really interesting time to be in business, because there's all these digital-first, agile speedboats. The ocean liner might be bigger, but right now being big isn't such a big deal. 
How did Hiut Denim come about then? 
In a way we were in the right place at the right time with the right people with the right skills, and those things don't always come together in that moment. We had a thing called the internet, we had a town with a population that could make jeans almost better than any group of people on the planet, and we had this direct-to-consumer business model that was taking off. If we started ten years earlier, we might not have been able to do it as the internet just wasn't there. 
The idea was that we had Britain's biggest jeans factory, which made close to 35,000 pairs of jeans a week, and then in 2002, it closed, and 400 world class makers had nothing to make. Part of our thing was thinking, as crazy as it is, could we try and get 400 people their jobs back?
The skills there are incredible, we've got the internet, and we know some stuff about building a brand. It's very rare that all those things converge.
Sometimes the internet is seen as the antithesis of craft or small businesses, but really, it's a huge tool to get these things out.
Completely. The internet has allowed for the march of the maker. These people with great products made with great skill, who then embrace the internet—they can cut out the middle-man and get a fair income from their great product. The internet is the friend of the maker, and I think the person who is perhaps suffering the most is the middleman. Those individual craft makers are suddenly allowed to flourish as they can speak, and sell, directly to their customer. 
You've got freedom too. Hiut do limited runs of jeans based around fabrics you've found. You don't have to worry about minimums or making sure you've got enough orders from a department store.
If we want to suddenly do 50 of something, or even 20, we can, because we're really agile. The big brands have to make decisions for something six to eight months away, but I have no clue what I'll be doing next week, and the great thing is that we're aligned with our customer, because they have no clue what they want next week. 
We're reacting, rather than forecasting, and that's a very different business model. People who are placing bets on next summer, you think, "Wow, they're visionaries." The trouble is that visionaries can often be very wrong. Therefore, if you think about it environmentally, they're making something they don't even know they can sell. 
It's a big roll of the dice.
A third of all clothing ends up getting burnt, because no-one wants it. When we do a short run, we find out exactly what people want, and then we go and make what they want. So therefore the wastage is minimal. But with these big companies, they want to protect their brand, so they literally burn the stuff they can't sell. And then on the other hand they're telling you how green they are. 
"There are enough legs in this world for us to just focus on making jeans."
What we're trying to do is show that you can do it this way, and be successful. Nobody copies failure, they copy success. They'll see that organic is working, and they'll start doing it too. And then they might start believing it. If we want to be influential, we have to try and influence bigger brands to do it a better way. The biggest change comes from the mainstream, not really from us on the edges. But the change we can make is by influencing the mainstream. 
One thing that goes against the mainstream is how Hiut just makes jeans, rather than trying to make shirts and jackets and everything else. 
It's kind of easy. The town really knows how to make jeans. There are enough legs in this world for us to just focus on making jeans. That's our skill-set. If you were a factory and you made tennis rackets, that doesn't mean you could go and make badminton rackets. Making a shirt is a completely different skill-set to making a pair of jeans, even if you're using the same material. 
The thing we know better than almost anyone is how to make jeans—I think a lot of people could make a better denim shirt than us, but I'll go head to head with anyone on making jeans.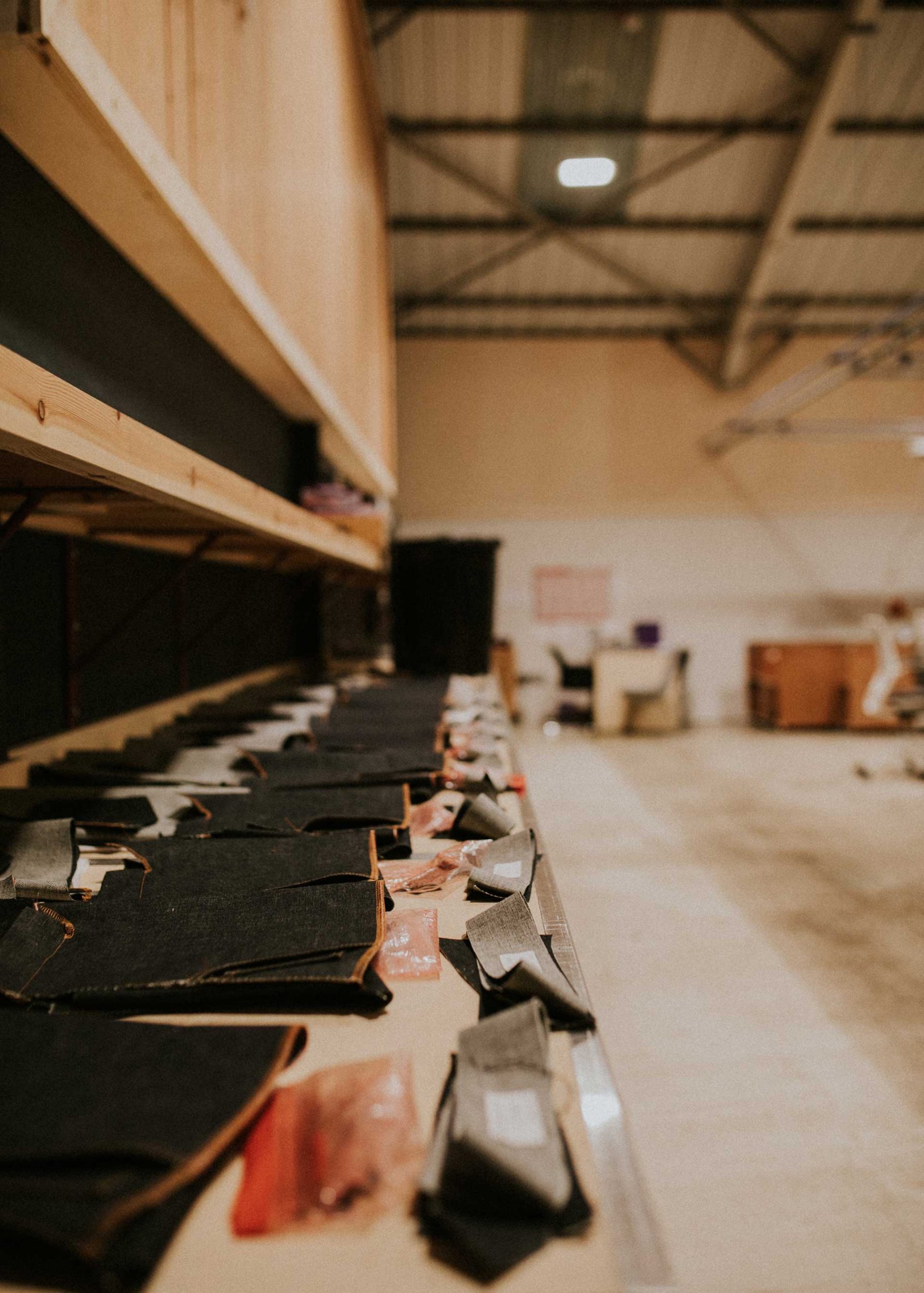 Do people spread themselves too thin? Every brand seems to need to tick the boxes… making sure they make a sweatshirt, a work-shirt, some jeans, a few jackets…
When you go to a restaurant and it's got a massive menu, doesn't that make you worried? How can they be good at all those things?
Yeah, if you got to one of those takeaways that makes fish and chips, pizzas, kebabs and burgers in the same kitchen, the chips aren't going to be great are they?
No. You could devote your entire life to being good at making pizza, and still at the end of your life, have a bunch of learning to do. To do one thing well might sound easy, but to do one thing better than anyone else on the planet is such a big, ambitious statement—I don't even know how people would try and do all those other things. Your end result is that they don't do them that well. 
Ultimately, you do want your pizza restaurant just to make pizza, because if they stuck to that, then they should get really good at it.
Maybe it's the same as the growth thing we talked about. Is it human nature to want more, and to do more?
Yeah, I think so. But then also there's a lack of confidence—"If we only made jeans, maybe we wouldn't grow?" But at last count there must be a few billion legs in the world, so I'm sure there's enough legs out there for us. 
Sometimes, what you say no to makes you stronger. The weakness of most businesses is trying to say yes to everything. They add complexity to their business, but ours is really simple. That's what we really learned from Howies—we can't do all those things really well. So sticking to jeans, when your town has great skill there, is strategically smart.
You can either go shallow, and have a little knowledge on a lot of things, or you can go deep on one thing. And for us, we've decided to go deep, whereas a lot of brands decide to spread themselves out.
I suppose the marketing of the jeans is another skill too. Just making the jeans on their own wouldn't be enough.
People ask, "What's more important, the ability to make, or the ability to sell?" I throw it back to them and say, "Is your left leg more important than your right leg." Maybe we need both. We have to be as good as selling as we are at making. There's no point in making the best jeans on the planet if we can't actually sell them. We can't be like Van Gogh. He didn't sell any paintings in his lifetime. We can't be that—we've got to pay people at the end of the month. 
There should be great pride in selling. If you make something, and you're super proud of it, then go and sell it. Use any platform you can. Instagram, Facebook, newsletters, Twitter… these are the platforms that allow you to tell your stories. Some people don't always like them, but the internet is the maker's best friend. The maker has never had it so good. It's a real moment in history. 
It's crazy that someone could set up a company out of their bedroom and send orders to Japan. And surely only more of this sort of thing will happen.
I think so. These digital-first companies understand that they've got to be good at these things. If you really truly embrace this thing called the internet, all you've got to do is get good at it.
How do you get good at it?
They can study people who are good at it. Asking the question, "What is it that they're doing that has got my attention, and how do I bring that to my brand." I think that'd be a good place to start. Go and hire some young geeks who really get that world, who were brought up in it and really understand it. 
It's not enough now to say, "But I don't get it." You need to get it. It is your sales tool. Otherwise you're going to allow someone else to win, and maybe their product isn't as good as yours, or their service isn't as good as yours, and maybe they don't care as much about your customer as you do. Somebody said to me, "I don't get the internet," but that's not good enough. You didn't know how to walk, but you learned that. 
Even though the internet has changed a lot of things with advertising since 1995 when you started Howies, are the fundamentals of it still the same?
It's pretty much the same. What we have in terms of the internet is a faster, more efficient, way of selling. But the building of a business, the shaping of a team and the finessing of a product… those things are timeless.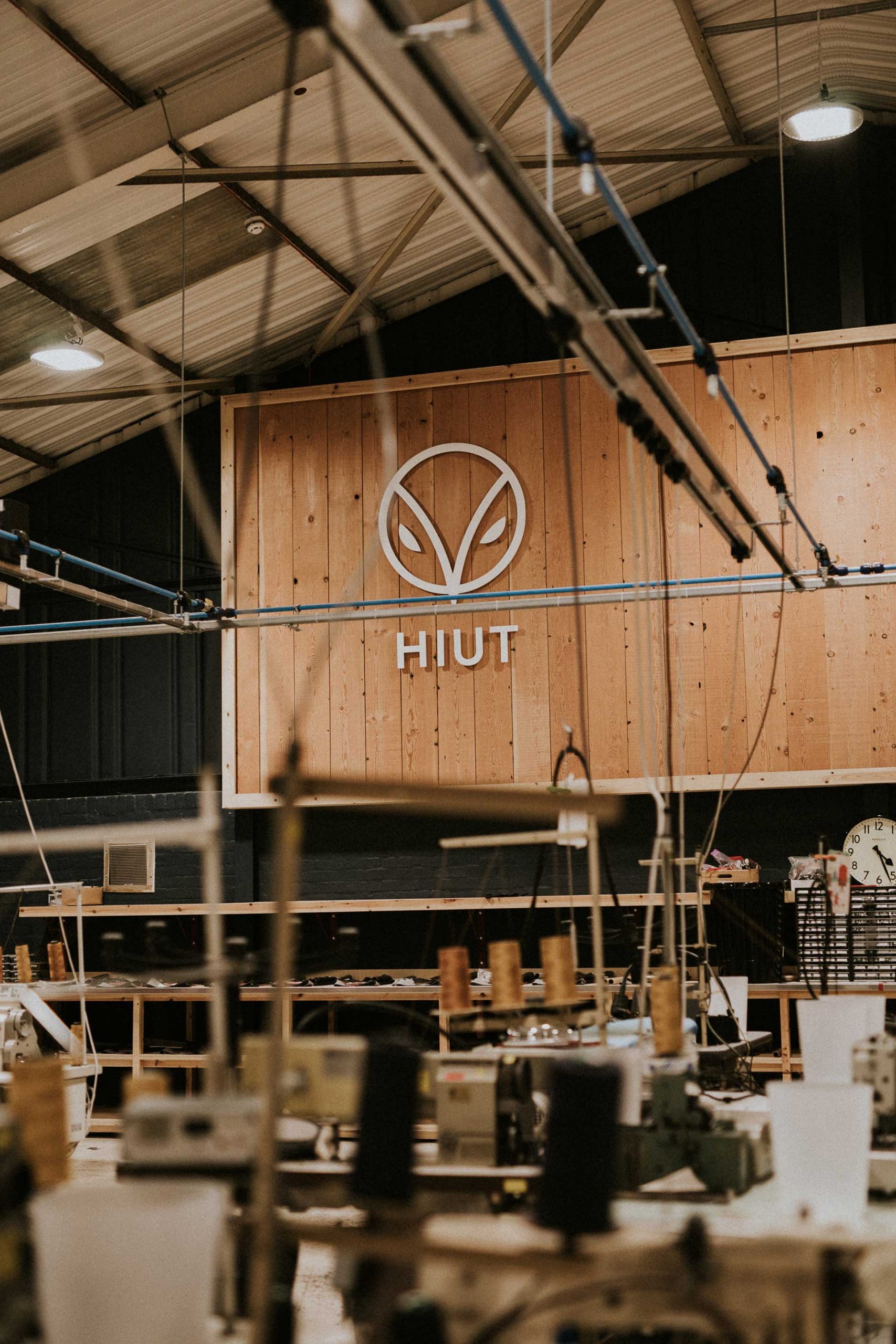 As well as Hiut you also founded the Do Lectures, a series of talks from interesting people who do interesting stuff. How did that come about?
I got invited to Patagonia's Tools Workshop, which they do every two years, but I couldn't go because I was up to my neck in Howies at the time. I said, "Don't worry, I'll watch them online." But they said, "We don't film them." There was all that knowledge, and only 80 people can learn from it. 
So I thought we could maybe give that knowledge to lots of people for free, and it's been a labour of love, but the talks have been watched over 150 million times, and that's from a cow-shed in Wales. It's just trying to share ideas and better ways to do things, or maybe give you the confidence to give you a step forward.
That seems like a common thing with things you do. Not many clothes companies would share business or marketing ideas the way Hiut does. 
There are two ways to look at the world. You can make it open source, or you can close the loop so no one else can learn from you. If we can help other makers by sharing our knowledge, then that's kind of great. 
We had someone drop us an email from America who wanted to start a jeans company. He'd written to all the other companies but nobody wanted to teach him how to make jeans. So I said he could come over, and he was with us for six weeks. He said, "How come you said yes?" And I said, "I'm banking on this; there's enough legs in the world for both of us." And actually, when we were looking for this rare denim that we couldn't find, he gave us the address of a warehouse which is where we ended up finding a lot of our gold. He probably helped us much more than we helped him. There's a beautiful saying—givers get lucky.
If you're shut off and secretive, these things don't happen.
People think that being open and trying to help others is a hippy attitude, but I think it's actually just a human way. 
It almost feels like a lot of businesses or companies or brands are simply there for the money at the end of the month. If you spend 40 hours a week doing something just for money, that's not much of a pay-off.
The common thread with people who made a lot of money and didn't get any fulfilment from it is that they then have to work out how to give it away. But why can't you make money, and get fulfilment along the way? Maybe that's a better way of doing business. Making money, on its own, isn't enough. As a human being, we have six human needs, and one of them is that you've contributed to your community. But if you've been sharp elbows all the time, there comes a point where you've got all the money you want, but not all the satisfaction that you need, and that's why you see people with a lot of money, who aren't that happy. 
Definitely. On the other hand, do you notice any common characteristics amongst the speakers at the Do Lectures? 
Yeah, I think they have a high level of curiosity and a deep desire to learn and help others. 
Can people learn those traits? Are they things that can be picked up? 
I think sometimes people learn how important these things are by having a bump in the road. Maybe they've had a health scare, or something go very wrong in their life. Or sometimes, they've had something go very right in their life, but it didn't give them the level of happiness they thought they'd get. There's nothing worse than getting to the top of the mountain, only to realise it's the wrong mountain. 
What drives you? What are you proud of at the end of a day?
When you build a team and you create a space for them to do their best work. They come in and maybe haven't got the confidence, but then all of a sudden they realise they can fly—they can do their best work. When you see that it's not about growing a business, it's about growing people, you start to run a business very differently. There's huge satisfaction in trying to build a team, and trying to get people to get the confidence to know that they can fly. And if you grow the team, ultimately you'll grow the business. But most places just focus on growing the business, and not the human beings. 
We'll send people on any course they want, whether they're relevant to the business or not. Steve Jobs went to a typography class, and it wasn't particularly relevant to computers… except it was, because when he launched his computer, it had 27 fonts or whatever it was, whereas IBM had one. 
So that thing of training people is key. People don't really leave for more money, they leave because they got bored. But when you're growing people, and they're still growing, it's very hard for them to leave.
People want to learn, and they want to see the value in their work. 
That is important. We are human beings. We only have six human needs, but we have them. Making a contribution is really important. 
How important is it to be able to switch off from it all too?
I think that's really important. All creative entrepreneurs put so much into their business, and for them, work doesn't feel like work, so switching off is harder. You think, "I'm having fun here, this isn't work." But the body still needs to rest and the mind needs to switch off. 
There's a great quote, I'm not sure who it's from, but it's something along the lines of, "The problem at work is that we're not all in, and the problem at home, we're not all off." It's really talking about the phone. You need to leave that phone, switch it off and have some time when you're not thinking about stuff in the past or the future—you're just where you are at that time. It's so important to have rest, because the next day you want to come in firing on all cylinders. We all have to learn to switch off, and I'm still learning to switch off.
Most of it is counterproductive anyway. There's not much you can do about a work email at ten at night. It'll only stress you out. 
The best way to deal with an email at ten at night is not to see it. That's what the off button is for.
Stuff can wait.
You've got to be disciplined. You're keeping your energy for tomorrow. I say to everybody that we have to run our business so it doesn't run us. But for company-of-ones, the keyboard CEOs, that's a tough gig, it requires discipline. You're not doing your business any good by being tired. With 39 hours a week or whatever it is, you've got enough time, if you're focussed. You don't have enough time if you're looking at emails all the time, you're not focussing on things that have an impact or you're saying yes to things you should say no to. 
Is it hard to be that disciplined?
Yeah, entrepreneurs want to say yes to everything, but you learn. Suddenly you'll have an energy crash because you're not resting. What we all need to do is deep work, rather than more and more work. Working longer and harder isn't growing a business, it's just making you more tired. 
You've only got so much time in a week, so how are you going to spend it? Most people use their email as their to-do list, and it's a disaster. Time management is a challenge. 
People generally know what they should be doing… but it's never as easy as that. 
Most people know what to do, but they don't do what they know.
Do you think you've got a handle on your time now? 
I know how I'm most useful to the team, and to myself. So therefore I've got to make sure I spend most time in that zone. I'm getting better. But then some weeks, something will happen and my schedule is gone. But mostly, I'm pretty structured. I write in the morning, I try and help the team in the afternoon, and then I switch off at six. 
"Working longer and harder isn't growing a business, it's just making you more tired." 
If I'm really smart, I leave my phone in my shed. Sleep is something you have to look after, because it's your energy source for the next day. When you start to think about it, you think, "Of course you want to sleep!" But most people don't. They burn the candle at the both ends, saying how they're so tired and stressed. You have to treat it like you're training to be an athlete. You have to think, "I'm in it for the long haul, I have to do this if I'm going to be professional."
What's your set up in your shed? Is that where you write in the morning?
I've got a big screen, I've got my computer, I've got books, I've got a printer, I've got underfloor heating. It's kind of beautiful and simple, with no real distractions. I try and spend two or three hours a day there. If there's something I need to do, I'll focus on getting it done, and then walk down to work. 
How do you see Hiut moving in the next few years?
If we do interesting things which are important to us, then maybe they're interesting and important to others. People think about growth in terms of sales, but I think we can grow in influence—by doing something which no one has done. The answer is always around new ways of thinking, being brave with an idea. We don't need to play safe here, we don't have a board of directors, we can try new things. It's interesting.
It's constant, gentle pressure—let's keep moving, let's try this. And if you keep doing these things, over time, people ask, "How did you get here?" And you go, "Well, we did the work, we made a few mistakes, then we came in the next day, and we tried again, and then we came in the next day, we tried again." People want to hit the home runs, they want moon shots, but those small moves every day, they add up. 
The baby steps.
Yeah, they add up. But they're just not sexy for people. People want the magic answer, but you've got to do the work. 
Like with diets, when people want to lose five stone in a day.
It just doesn't work like that. Too much growth used to excite me, but now it scares me. You've got to be mindful of that. 
What keeps you hungry and interested in this stuff? A lot of people who were involved in brands or bands or whatever in their 20s or 30s can soon lose that spark.
I think it's the fear of if I've done my best work, or whether I'm yet to do my best work. Sometimes people lose that hunger—maybe if they win awards or they get a lot of fame or money, but for me I think, "What if I could still yet be about to do my best work?" You don't want to be told you did your best work in your 20s. You'd think, "What am I going to do now? Just go downhill?"
Nobody wants to peak.
You don't want to peak in your 20s. You want to live in hope that your best work is yet to come. You've got to not follow a formula, and try new things. Forget all the stuff you do know, and come at it again like a beginner—and that's really hard for people who spent 20 years learning something. They've almost got to come at it without that knowledge. 
Almost admitting you're not an expert? But maybe that's difficult when you're meant to be an authority on something.
You're really useful and helpful when you ask naive questions. And some people have it, and lose it, and some people have it, and never lose it. It's like with rock music, how can a band do that amazing album, and then never do another? Maybe they had their little moment—but it's not like they're less talented, they've suddenly lost their hunger and they're not doing the work. Maybe before they had to write fifty songs to get five good ones, then all of a sudden, they won't even write twenty.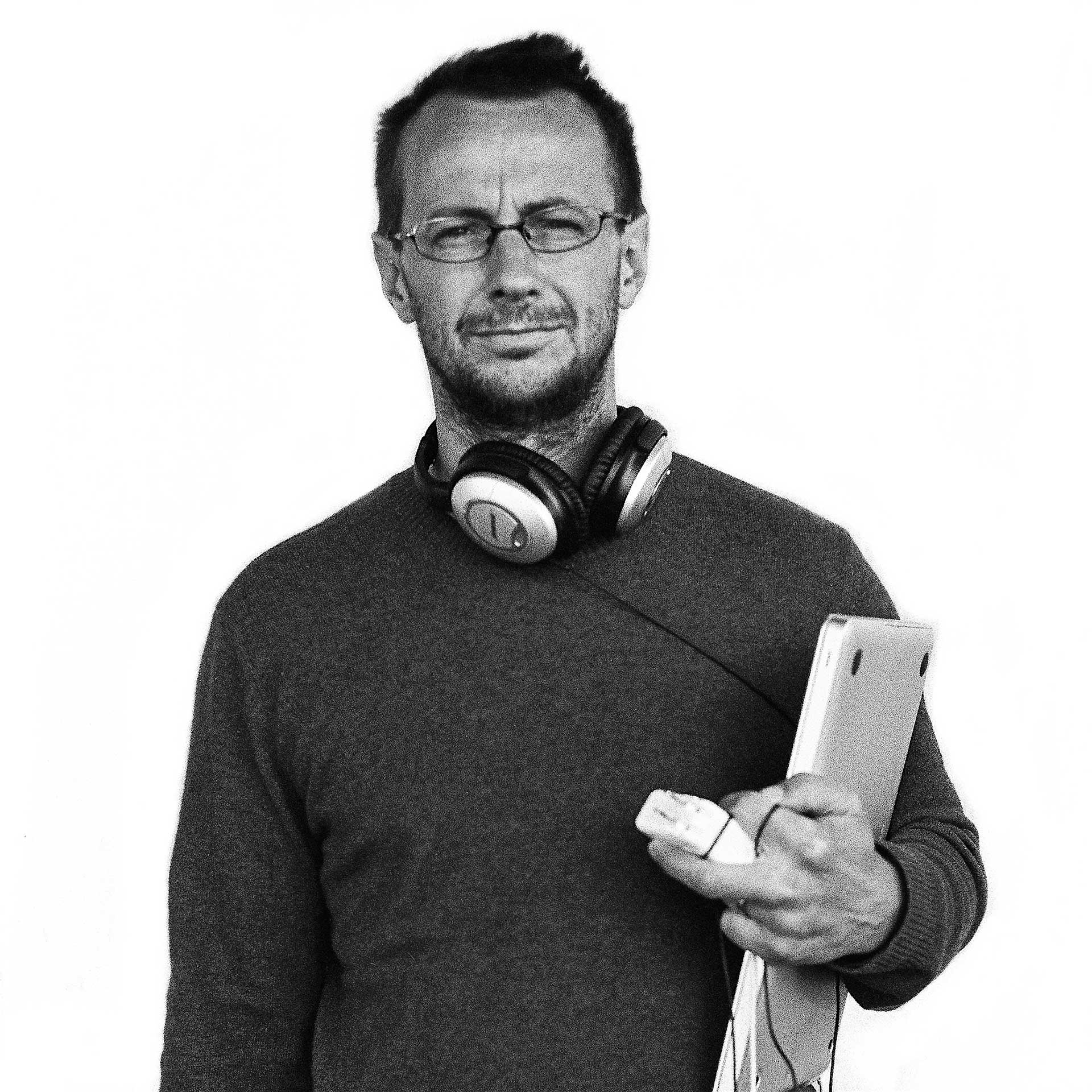 Maybe you've got to challenge yourself, like how you've given yourself a challenge with rebuilding a jeans factory. Rock bands get comfortable and they can't write about the interesting stuff anymore. No one wants songs about flying on private jets.
Retirement isn't something you want to do in your twenties. You want to keep interested, you want to do stuff that matters to you, you want to work with people you care deeply about and you want to try and make the day interesting.
Definitely. I think we've covered a lot of stuff here so I won't keep you any longer. Do you have any words of wisdom to wind this up with?
I think you should always try and find something that really matters to you. Even if you're not that good at it, if you're really into it, you'll find time to get good at it. I worry about people who have a deferred life plan—thinking how they'll go and do something they really care about in five years' time. That's a long time. If you can find work that means something to you, then you'll find a way to get good at it, and then if you get good at it, you'll have a nice life.
Making that leap can be difficult. 
People don't want to be judged. When you put yourself out there, people can knock you down. It's a shame if people don't go and chase their dreams. Regret is a terrible thing to have. You don't want to be there when you're 70 saying, "I could have been a contender." You don't want to live a life like that. 
With all the virus stuff over the last six months, I've heard a lot of people saying how they've taken a course or their wanting to learn something new. Maybe there'll be more people making that leap now.
I think they've seen a different way. As much as it's hard times for a lot of people right now, there are also a lot of people thinking, "Maybe I can go and do this." And even if it doesn't work, they've at least invested in themselves. Not trying is just another word for regret, really. 
Visit the Hiut Denim website here, and find out more about The Do Lectures here.