An Interview with Sidetracked Magazine's John Summerton
We talk with the man behind the adventure travel journal.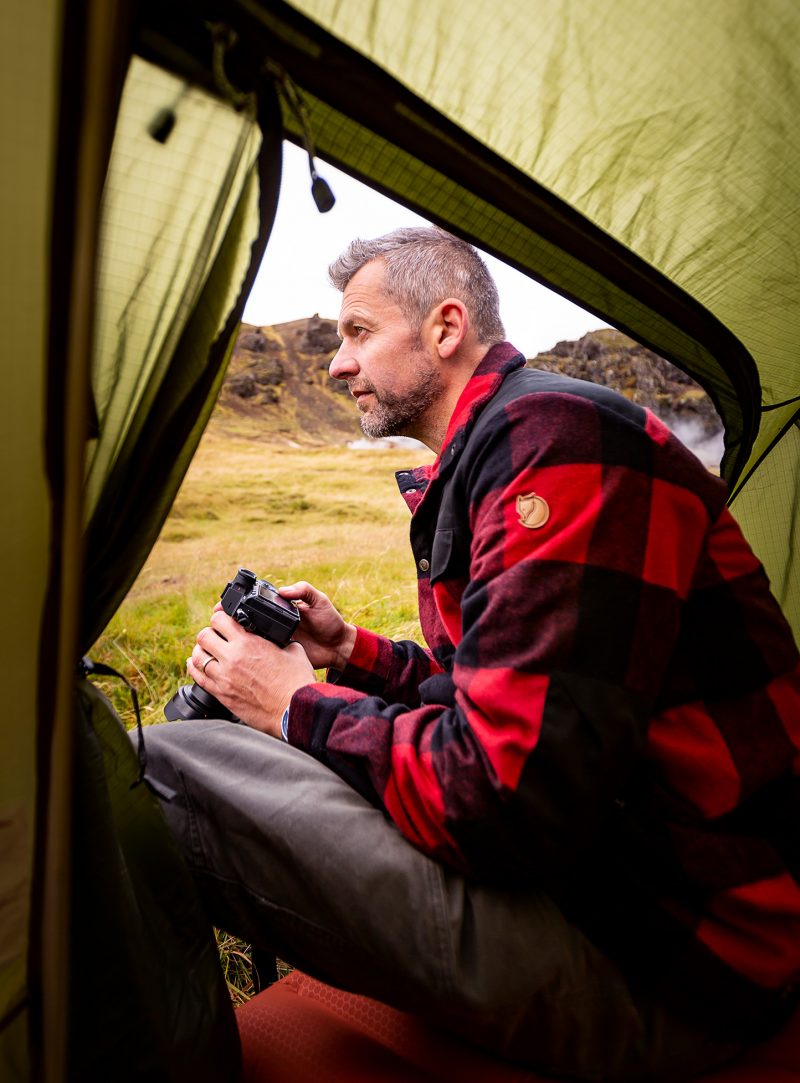 Sidetracked is a magazine (and website) dedicated to tales of modern adventure.
Combining well thought-out written accounts with ultra-high-quality photography, it documents some particularly rugged treks in a personal, relatable manner—going beyond the statistics to get to the human element of these bold expeditions.
John Summerton is the man behind it. We phoned him up to ask him about the magazine, the outdoors and how he has been getting on during lockdown…
Perhaps an obvious first question here, but how have you been managing in lockdown? Has it affected Sidetracked much?
When it comes to how I work, it's hardly affected me. I normally rent a desk from some friends of mine in Worcester town centre, but I've moved home. There's only me and three part-time editors which work on Sidetracked, and we all work remotely anyway—so actually in terms of running the mag, nothing has changed. What I have had to do is to put a few things on the back-burner—so we're not commissioning lots of new stuff at the minute. We're still keeping the magazine on schedule, but for the website, we've just been going through the archive as opposed to spending time and money on new features.
I suppose throughout all this, people still want to read stuff.
Yeah! It was weird because when it first happened back in late March, literally overnight, our sales stopped. We had a live event which we had to postpone, as well as a paddle-boarding project and a gear shoot, and they all had to be shelved. Suddenly, we ground to a halt, but we just had to change tack. We did a major push of our archive content through social media under the theme of 'Adventure Awaits'—something to give people a taste for when they can finally get out and about. And it suddenly started gaining traction again. And we're selling a few back issues too, which always helps. 
How did the magazine come about? Am I right in saying you were a web-designer before Sidetracked?
Yeah, I still am actually. I think it was back in 2011, I'd ended up doing a lot of fashion-based e-commerce websites, and I was thinking, "This is absolutely not what I want to be doing, at all." But I followed a lot of outdoor blogs, so I just thought, "Let's set one up and see." I was literally in a queue for a sandwich shop, when I thought, "Right, I'm doing it." So I went back to my desk and spent the afternoon designing the first Sidetracked website. The name Sidetracked was from me being sidetracked from my day-to-day job, basically. 
I e-mailed a few people whose blogs I read, and requested to copy and paste their blog posts and put them onto the Sidetracked site with a link back to theirs, and that's how it started. I just kept it growing in the background until 2014, when I went to the Kendal Mountain Film Festival and showed a lot of people the website and the content we were featuring, and everyone said, "This should be a magazine." This was around the time that a few of these high-end magazines were emerging, and a one I particularly loved was one called The Ride Journal. It was a bike magazine that was like nothing I'd seen before—super high-end and perfect bound—and just filled with great content. So I thought I'd do something like that.
We printed 1000 copies and they sold out really quickly, and then The Guardian picked up on it, and that really got us rolling. At first we did two issues a year, and now we do three.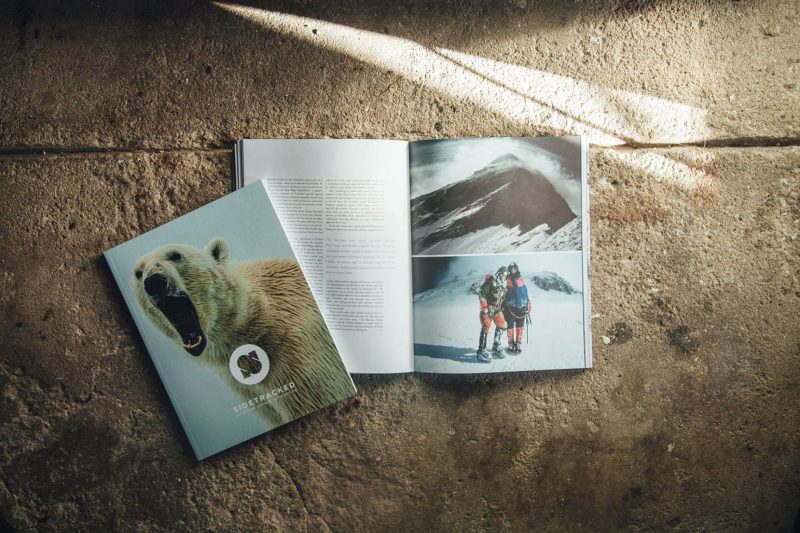 Like you say, there seemed to be a quiet boom of new magazines cropping up around that time, even though everyone was thinking that 'print' was on the way out. Why do you think that was?
Magazines were becoming the antidote to the way the web world was going, with more and more of that clickbait content. These new high-end magazines were a bit of a backlash against that—you could spend time crafting good storytelling and presenting it in a way that people would want to keep, rather than just throw-away content, riddled with ads and top-ten lists. There was a new way of doing things.
I imagine it was a bit of a learning curve getting involved with all that.
I'm not a publisher, or editor or writer—design is my background, so everything else was a huge learning curve. We had no idea about distribution, we were just e-mailing little shops and trying to do these little wholesale deals, spending hours and hours to make maybe a few pounds. But eventually we started working with distributors and things began to get simpler. 
The other thing was that we created a website and a magazine, but how do you get it out there? Originally, I'd shied away from social media for so long, but it was like, "Okay, these are the platforms we're going to need to use if we want to get these stories out there." 
The funny thing is that you set up a magazine about being outside, but to do that, you end up having to learn about social media.
When I set it up, I thought, "Yeah, it'll mean I'll have more time to do fun stuff and be outside," but actually, I'm at my desk as much as I used to be. I'm just doing different stuff. But I love it. I live slightly vicariously through other people's adventures, but it's such good content. I learn so much about different parts of the world and different experiences. It's absolutely fascinating.
How do you go about sourcing most of your articles? Are they submissions?
Yeah, I'd say we get about 20 or 30 a week which we then have to try and figure out what to do with. And then I'm always keeping an eye out on social media. One way or another, people find their way to us; "Oh, did you hear so-and-so has finished a new route down in Patagonia?" So I'll check it out, see who the photographer was and who was on the team, and then drop them a message and see if they want to write something out for us. Most of our content is after expeditions. It's people who have gone and done something, and have come back with a story to tell.
Subscribe to our newsletter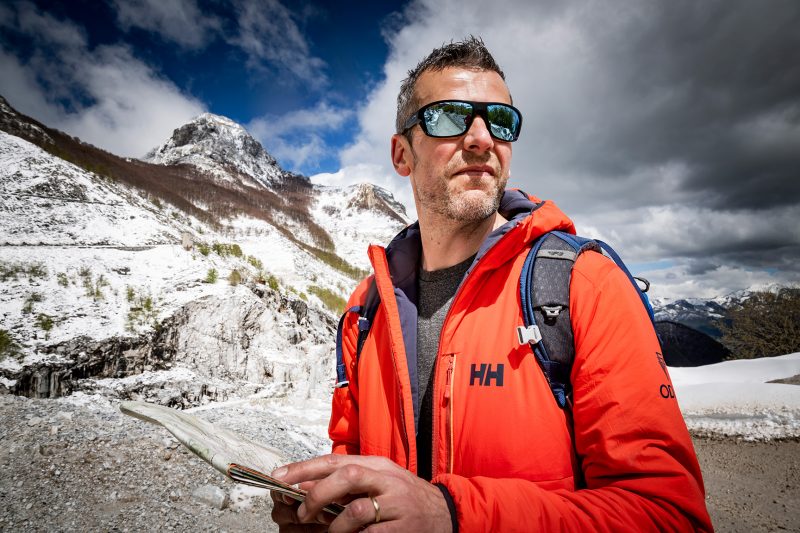 You're just hoping they've taken a half-decent camera with them.
Exactly. Unfortunately we do get a lot of people who have just gone out there with their iPhones, but Sidetracked is about this amazing, beautiful photographic experience, as much as it is the writing. It goes hand in hand.
Do you remember the first story where you thought, "This is what Sidetracked is about?" 
I suppose the very first one we featured, which may have been one of the reasons I set up Sidetracked, was from Al Humphreys. He wrote a story on his blog about crossing Iceland—they did it on foot, but they carried pack-rafts with them. They crossed the glaciers, and when they got to the rivers, they inflated these pack-rafts and floated down, carrying everything they needed with them. 
I was like, "Yeah, that's a typical Sidetracked story." That's the kind of thing we look for—it's human-powered, it's as remote as you can possibly get, there's some sort of personal learning (whether it's cultural or physical or mental)—it's a bit of a bad-ass human-powered adventure. 
We try to steer clear of motorised stuff, I don't really know why—I think there's just something more engaging about being human-powered on these trips. It makes it really interesting.
Were the outdoors something you were always into?
Yes, I grew up in quite a rural part of England. There were acres and acres of farmland and woodland, so I was unleashed and feral, day to day. And that stuck with me. After my uni years I travelled a fair bit, but it was more backpacking rather than these extreme expeditions. Later on the backpacking became family camping trips with the kids, but now they've grown up a bit and I'm trying to get out and about more again.
I suppose a lot of the stuff in Sidetracked is inspirational. Not everyone is going to be trekking over Iceland, but they can maybe go to Scotland (at some point soon at least). 
Exactly. It's great if you can go to Iceland for three weeks, however you can also just go for a nice long hike on your nearest hill, or take a car inner tube and float down-stream. You can find a local adventure nearer to you. And I actually wonder if there's going to be even more of that now, post-lockdown. We're not going to be able to travel as far for quite a long time, so lots of people are going to be looking closer to home.
I run and ride my bike all the time very close to home, but when we're allowed a bit further afield I'm hoping to do some overnight rides—taking my gear out and doing a two or three day round trip. I definitely think there's going to be a lot of these small adventures happening. See here for inspiration.
A lot of people maybe don't realise what they've got in Britain. There's some decent countryside here. 
Yeah, at the drop of the hat I head up to Scotland, because it can be as wild and rugged as anywhere I've ever been. It's brilliant fun. And then there's Wales, the Lake District and the Peak District… there are loads of really good places to test yourself.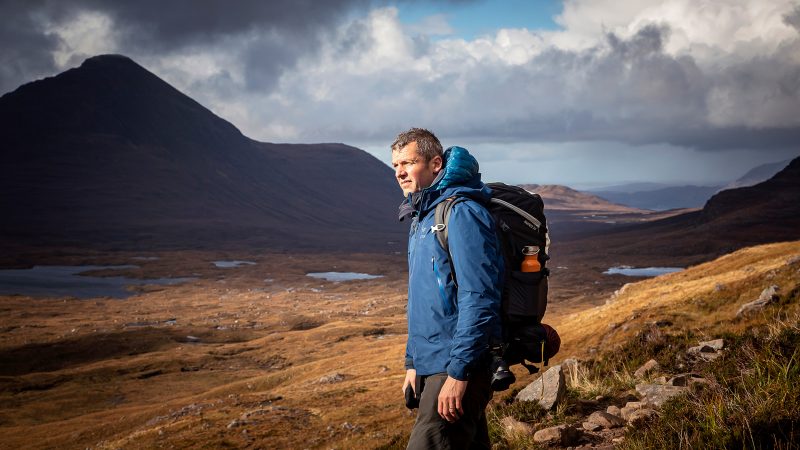 One thing I've noticed about the adventures in your magazine is that they are maybe a bit more unique or inventive than just someone climbing up the highest mountain.
Yeah, and thats the key to what we do. We don't like to feature the fastest or the highest or the best or the first… we want to do something a bit different, something that doesn't necessarily rely on athletic ability. It's something that maybe puts people outside of their comfort zone, and normally there's a damn good campfire story to be told at the end of it. 
The best ones of those are when things don't really go to plan—that's often where the best adventures, and the best stories, are found. I'd much rather focus on that kind of thing than someone having another attempt at being the fastest person to ski solo to the South Pole or whatever it might be.
It's more personal. It's not just numbers and 'feats'. 
Exactly, you've nailed it.
Changing subject slightly, with there being a magazine and a website now, how do you differentiate between each one? Are there certain kinds of things which fit one better than the other?
Because the magazine only comes out three times a year, and there's only space for maybe ten stories, and then a handful of smaller stories, we tend to put a plan together to try and get an eclectic mix in each issue. We look for one story from one country, and then another story from another country, and then different forms… so one might be a kayak story, and one might be a cycling story. 
"We don't like to feature the fastest or the highest or the best or the first… we want to do something a bit different, something that doesn't necessarily rely on athletic ability."
We don't want to be seen as just a kayak magazine or a running magazine or anything like that, so we do try and get a good mix of types of adventure, and then a good mix of places. It's certainly not seasonal—we don't just focus on ski stuff in winter, as it's always going to be winter somewhere in the world. And that planning starts about two months before the issue is due for release, and as stories come into us we'll either mark them down as potentials for the magazine, or if we've got something like that covered, it might go online instead.
How do you go about working your stuff with brands? When some magazines do that, it can end up looking a bit blatant or clumsy. Is there a knack to doing it well?
We're quite specific when we put our ideas out. When we talk to the brands, we try to stress that we want to make an authentic story—we don't want it to be a blatant brand promotional video. We're finding more and more that brands want to be associated with authentic storytelling rather than the marketing method of old where you just put the product in front of people. 
Yeah, it doesn't come across like some sort of advertorial.
That's exactly what we try to avoid. Although we have done a few advertorials to be honest, they were kind of experimental but they weren't our thing. We have done some partnerships with tourist boards—we did a nice one with Visit California where we did three different trips to California and a whole bunch of content around that, and that was really good fun.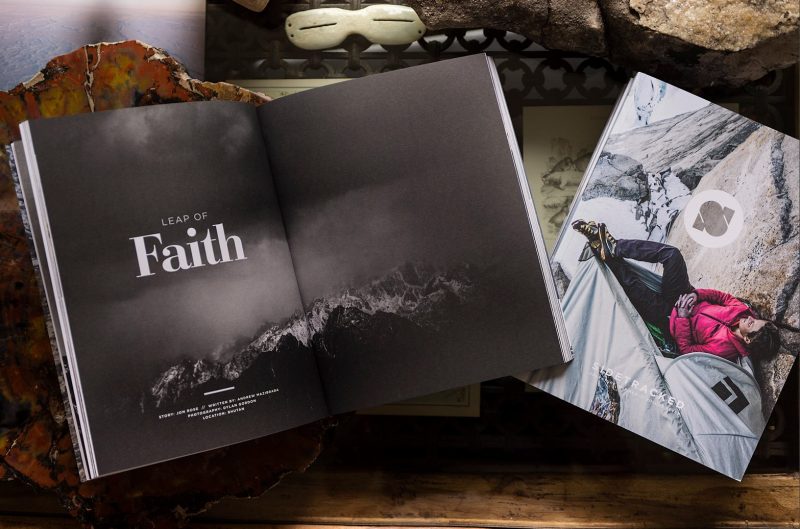 It's a ticket to California—you can't really complain about that. You've been doing the magazine for six years now, and the website for nine years—have you noticed a shift in attitudes to 'the outdoors' over that time?
I'm going to say no—I haven't to be honest. That kind of content now is the same kind of content we were featuring when we started, we haven't had to adapt. But the one thing that has changed is growth of social media and how a lot of the outdoors is represented through social media, specifically Instagram. 
We're seeing a lot of Instagram hot-spots popping up—these magnet areas for new photographers to go and visit, rather than people spending time discovering their own part of the world. It's offering too much easy, quick-fix, inspiration, rather than what I like to do with Sidetracked, and showing different places. The growth of Instagram means that the kind of stuff you see is quite formulaic. 
It's like the Leaning Tower of Pisa 40 years ago. 
I suppose it is, yeah. But to go back to the original question, I don't think people's attitudes have changed.
There's often a bit of a warped perception on something like Instagram. It can give you the impression that loads of people are out and about doing stuff, but when you head out into the countryside, there's often no-one around.
No, that's true. I wonder how things will change once we get through the virus situation. I hope people will spend more time making the most of the outdoors. 
I suppose the other side of the coin is that now there's loads of technology out there to make getting outdoors even easier than before. 
There are brilliant apps like View Ranger, Fat Maps, Komoot, or the OS Maps App, and it's all available on your smart-phone now. I've got a Garmin watch which will assess the area and take me on a five-mile run. It's at our fingertips, as long as we use it. Don't just sit there planning—you've got to actually do the thing you plan to do. Use this technology, but don't just live on it—there's a whole world out there. It's so, so useful, but it's only useful if you go out and do what you've been researching. Otherwise you may as well just sit and watch Netflix. 
Very true. Winding this up now, have you got any wise words you'd like to pass on?
Going on from the last question, I reckon the hardest journey is from the sofa to the front door. Once you get past that journey, you're off and running.
Find out more about Sidetracked here. Portraits by Rachel Keenan.