Content Marketing: A Guided Scramble of Striding Edge with Mammut
We worked with outdoor writer Vivienne Crow and photography duo Monkeys Climb Mountains to create this written content piece exploring a scrambling route up Helvellyn's Striding Edge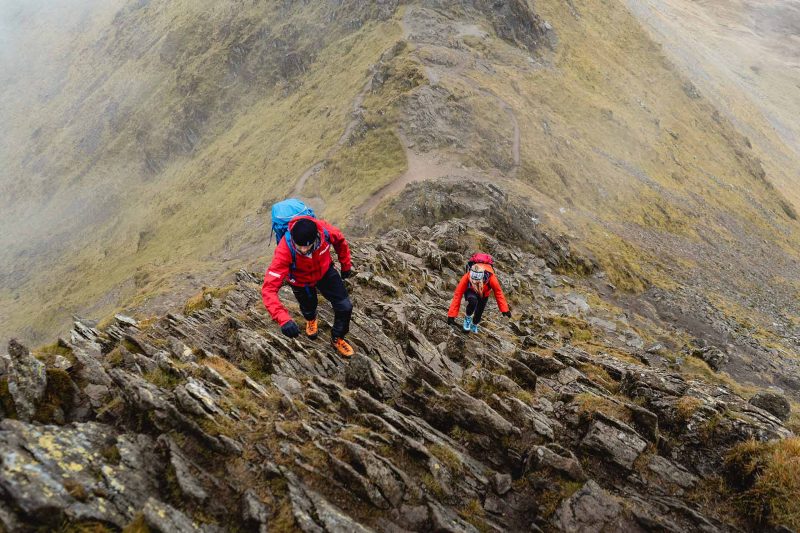 Words by Vivienne Crow. Photos by Monkeys Climb Mountains
I've got my left arm hooked around a slender but solid spike of rock protruding from The Chimney, while the fingers on my right hand scrabble for security elsewhere. "There's a good hold just above your head over to the right," says Neil Mackay, a guide with the Mammut Mountain School who is standing just below me. I find the hold, but now it's time to move my feet from the tiny perches on which they're precariously balanced. Will they move? No. While one part of my brain tells them to move, the other is saying: "Uh uh! No way! Not with all that empty air below us." Is this what it means to be crag fast? Frozen to the side of a mountain by fear?
"…the most famous route is the vertiginous scramble along the airy crest of Striding Edge, returning via the parallel ridge of Swirral Edge."
Neil's been guiding me and Aimee and Sophie of Monkeys Climb Mountains along Striding Edge, one of two narrow spines of rock that lead to the summit of England's third highest mountain. When we set off, the car park in Glenridding was abuzz with other walkers and scramblers with their sights also set on mighty Helvellyn.
There are several routes on to the 950m summit from here. Some walkers head up the old pony route, used for centuries by packhorse trains to transport goods across the hills. Although steep and stony in places, it's a straightforward option. Others opt to cross into the spectacular glacial valley of Grisedale for the long, slow ascent to Grisedale Tarn and then on to Dollywaggon Pike, one of Helvellyn's nearest neighbours. But the most famous route is the vertiginous scramble along the airy crest of Striding Edge, returning via the parallel ridge of Swirral Edge.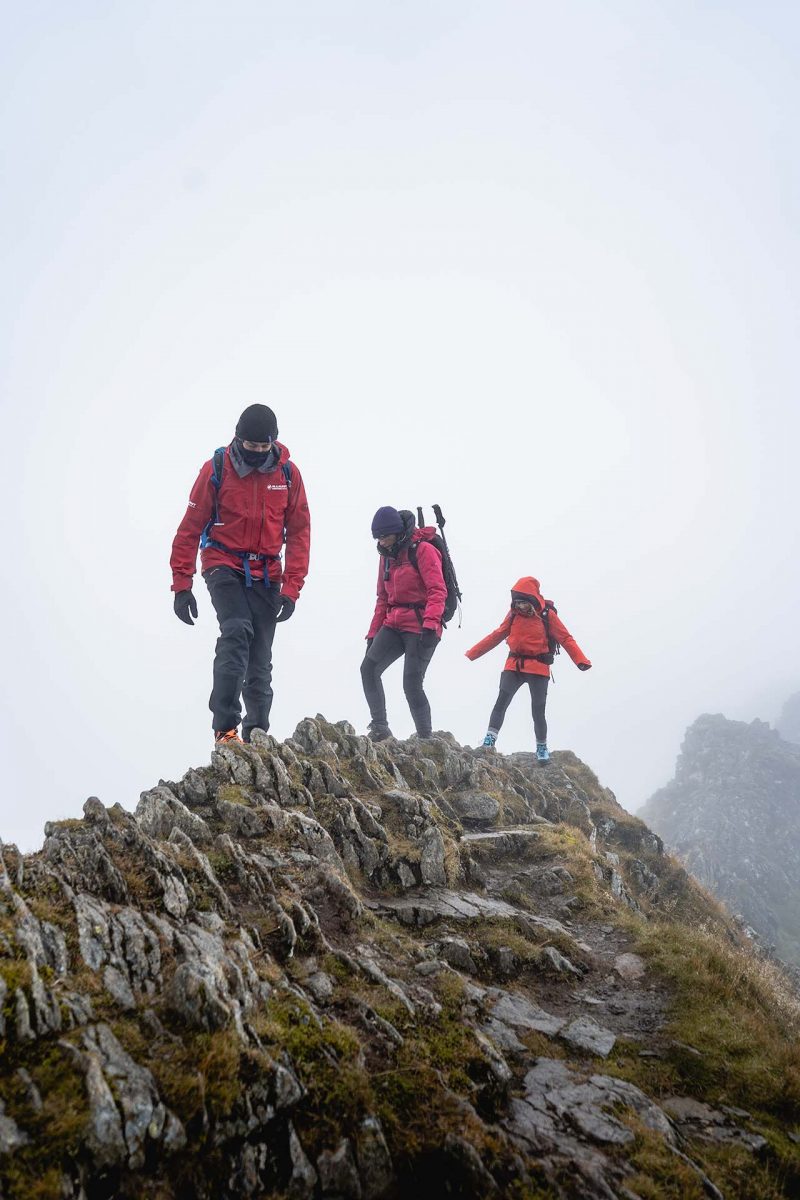 So, what exactly is scrambling? Any journey across steep ground that involves you having to use your hands is a scramble. But does that make it the same as rock climbing? Well, there's a fine line between a 'grade three' scramble, where you might need to use a rope, and a full-on rock climb. Striding Edge, though, is at the lower end of a 'grade one' so, for much of the year, it's the perfect introduction for ordinary hill-walkers who want to tackle edgier, more adventurous terrain. In terms of gear, in anything but winter conditions, you need only what you'd normally take for a day on the hills – warm and waterproof clothing, map and compass, a torch with spare batteries, food and water, a small first aid kit, a fully charged mobile phone and decent footwear. Neil's also brought along a rope with harnesses and helmets just in case…
Subscribe to our newsletter
With the cloud sitting low on the tops, there was no sign of Helvellyn's muscular east face when we reached the top of the Mires Beck path. Normally, from here, the pyramid peak of Catstye Cam would've made a sudden and dramatic appearance, linked to the main summit by the graceful arc of Swirral Edge. This is a special landscape, sculpted by glaciers that have long since vanished but still home to rare Arctic-alpine plants found nowhere else in England. As we continued our journey though, there was nothing to see; all was shrouded by a damp wall of fog.
"…fragile curtains of mist swirled around, occasionally parting to reveal exhilarating glimpses of the ground plummeting away to the south."
The adventure proper began just beyond the Hole-in-the-Wall path junction. While most walkers, avoiding the crest for now, kept to the well-trodden path that traverses the northern side of Striding Edge, we moved up on to the highest ground. "I like to bring people up here first so that I get a sense of how well they handle the more exposed ground," explained Neil. My heart raced as the fragile curtains of mist swirled around, occasionally parting to reveal exhilarating glimpses of the ground plummeting away to the south. The big grin on my face said it all. "Try to keep to the rock as much as possible. It's slippery but it'll be good to get used to it here before the ridge narrows." The big grin was replaced by a frown of concentration as I realised just how slick the damp rock was. I'd crossed Striding Edge before and loved (almost) every minute of it, but that had been in the summer, when the ground was dry and my boots seemed to stick to the rock. No chance of that today. Neil demonstrated how to use our boots' heel ridges to anchor ourselves as we moved over the slimy slabs.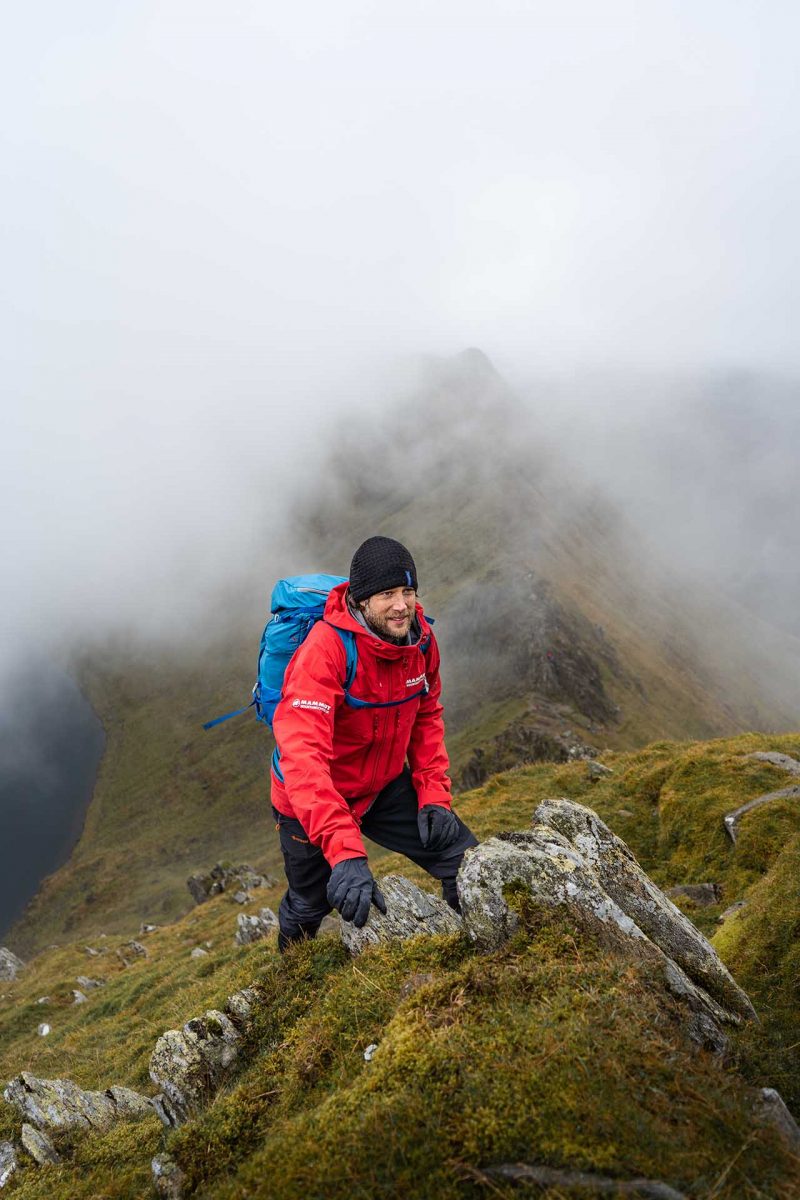 Before long, the arête narrowed and the many walkers who'd been following the side path had little choice but to join us briefly on the more exposed apex. We passed a delicately perched memorial, marking the spot where, in November 1858, foxhunter Robert Dixon fell from the high ground on to the rocks below. He'd been following the Patterdale Foxhounds when the accident happened, and was taken off the mountain alive, but died from his injuries the next day. It was an unnerving but salutary reminder of just how dangerous Striding Edge could be.
Every year, mountain rescue volunteers are called out to dozens of accidents on this ridge and Swirral Edge, its neighbour to the north. Most of the accidents occur in winter, when Helvellyn becomes a full-blown mountaineering adventure, requiring the use of crampons, to provide traction on the ice, and ice axes to stop any minor slips from turning into potentially fatal falls. As I edged along the top of the precipice, Neil explained that Mammut Mountain School runs winter skills courses to provide summer hill-walkers with the know-how they need to move safely over steep ground like this in snow and ice. But that's not to say there aren't accidents up here at other times of the year – there are many. Even today, in the middle of a quiet autumn spell, our trip – one of Mammut Mountain School's level-two, private-guiding days – would've been cancelled if there'd been strong wind or heavy rain forecast.
Read the full story on the Mammut website: Scrambling Helvellyn: A Guided Scramble of Striding Edge
Or take a look at the other pieces of content marketing we've worked on for Mammut: