Content Marketing: Hiking in Northumberland's Cheviot Hills
As part of our ongoing work with Mammut UK, we asked creator Athena Mellor to head to one of Britain's lesser-explored corners, The Cheviot Hills in Northumberland National Park for this walking guide.

Words and photos by Athena Mellor
Being the highest peak in Northumberland National Park at 815m, it felt only natural that we would attempt to summit the Cheviot on a cold but dry day. Yet the closer time drew to our planned 15km hike in the Harthope Valley of Northumberland, the more temperamental the weather forecast appeared. Low clouds were predicted to obscure the majority of the route, paired with high winds that always make progress slow for any level of hillwalker. We considered changing plans a few times, wondering if we should stick to the lowlands rather than setting our sights so high. But for my partner Harvey and I, the draw of the wild is almost always victorious over any imperfect weather forecast, so we laced on our boots, threw our rucksacks over our shoulders filled with a few extra layers and copious amounts of trail snacks, and headed into Northumberland's higher hills regardless.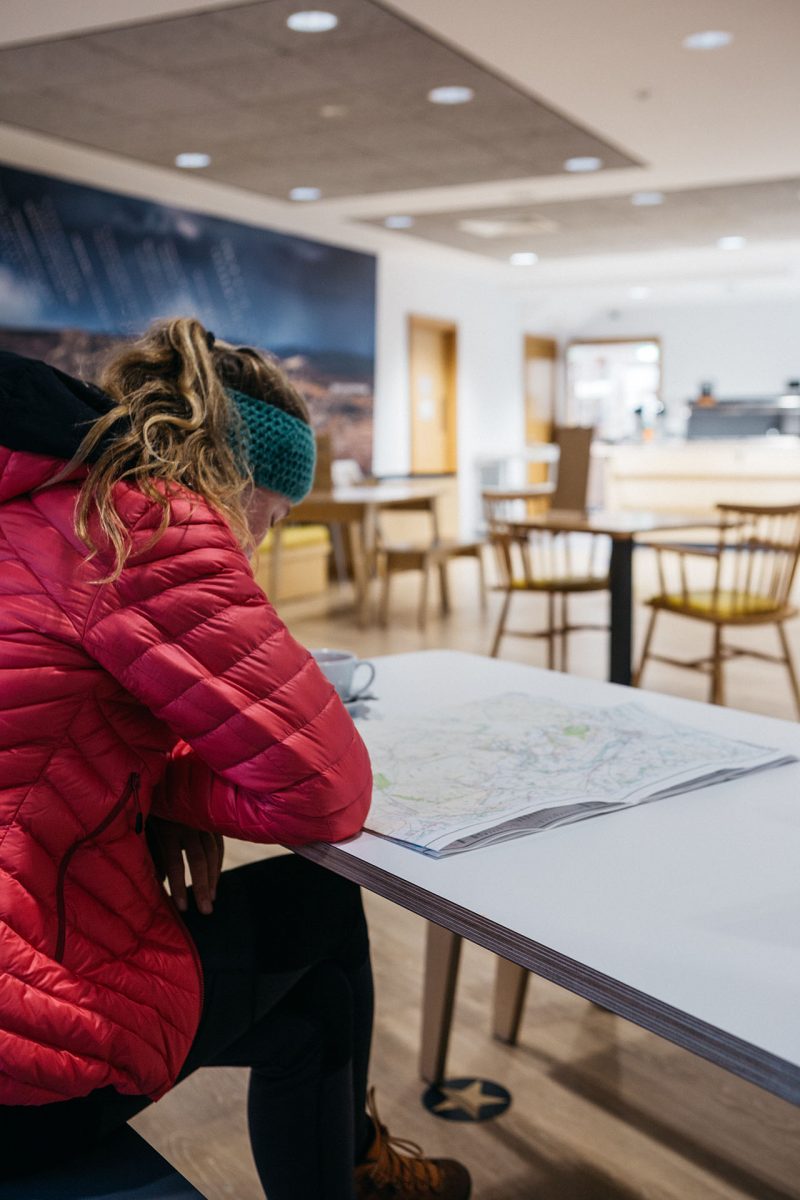 "After a hearty breakfast and a few cups of coffee to fuel the day ahead, we hit the road for the starting point of our walk — the Harthope Valley…"
As someone who spends a lot of time exploring wild places around the UK, I have spent but a very short amount of time in Northumberland National Park. It was somewhere I saw as being rugged, mysterious and filled with history, and a part of the UK of which I was eager to explore more. Home to England's cleanest rivers, clearest air and darkest skies, Northumberland is a nature lover's paradise; somewhere with endless opportunities to hike, swim, climb and explore. Being so close to the Scottish border, I imagine that many people bypass Northumberland National Park in favour of the Scottish mountains, meaning it is also one of the least visited and least populated National Parks in the country. But for me that is just another reason to visit… with the hope of having the hills all to ourselves, as we did on this particular day.
Our day began at YHA The Sill at Hadrian's Wall where we had stayed the night. The youth hostel is in a striking building, with a beautiful living roof that is designed to reflect and blend in with the surrounding landscape. We also took the opportunity to wander down to the famous Sycamore Gap at Hadrian's Wall at dusk the night before, so Harvey could live out his childhood (and adulthood) dream of visiting the site made famous by the 1990s classic, 'Robin Hood: Prince of Thieves'. After a hearty breakfast and a few cups of coffee to fuel the day ahead, we hit the road for the starting point of our walk — the Harthope Valley, another 60 miles north into the National Park.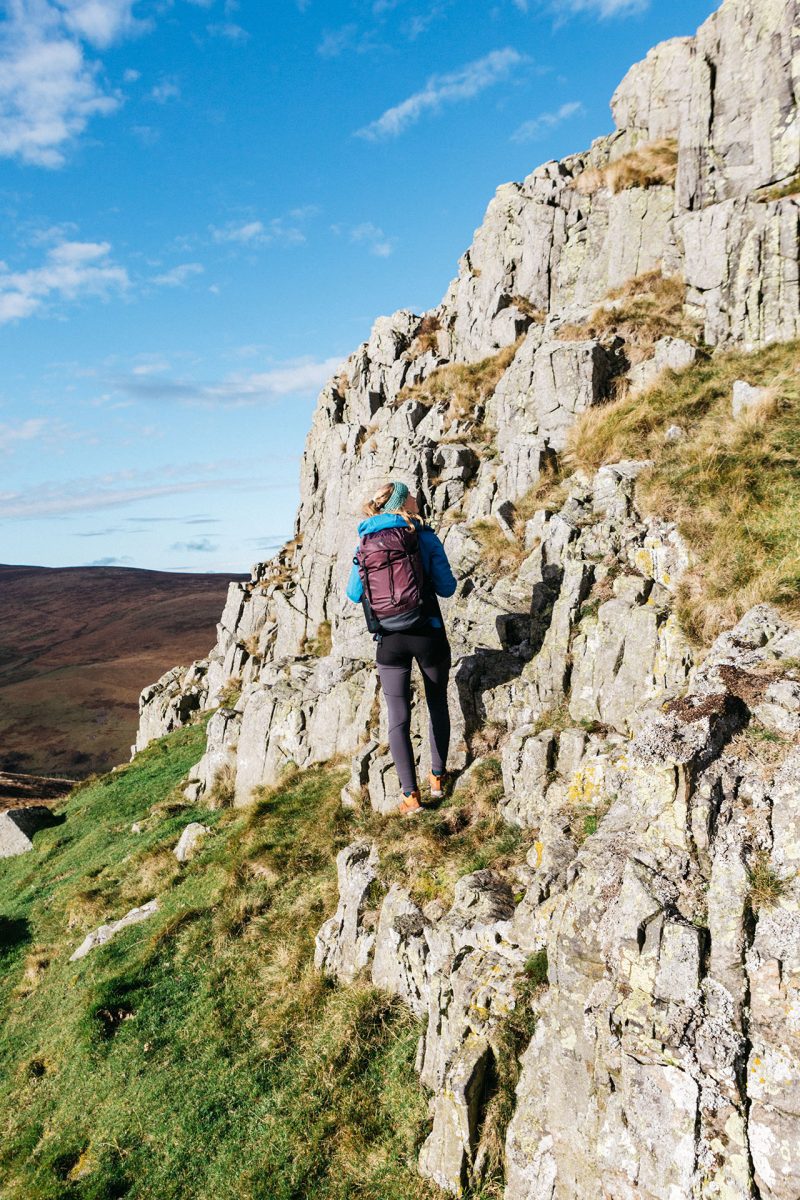 "We probably spent much longer than we should have exploring Housey Crag and its neighbouring Long Crags…"
I chose this valley for our walk as it is the site of Northumberland's two highest peaks, and I am someone who loves to gain height to really get to know an area in which I wander. Yet as we approached the valley, we could see clouds clinging to the higher peaks and I was fairly confident that there would be no 800m views on this day, but all in all the hills were clear and in that moment I was overwhelmingly pleased that we had stuck to our original plan.
Housey Crags
Ascending from Harthope Burn, views soon began to open onto the surrounding hills and valleys; a blanket of textures and colours, without another soul in sight. Soon we arrived at Housey Crags, a prominent rock formation amidst a landscape of rounded peaks. The tor, formed of Hornfells, offers views across to the Cheviot herself – still obscured by cloud – and over the meandering burn in the valley below.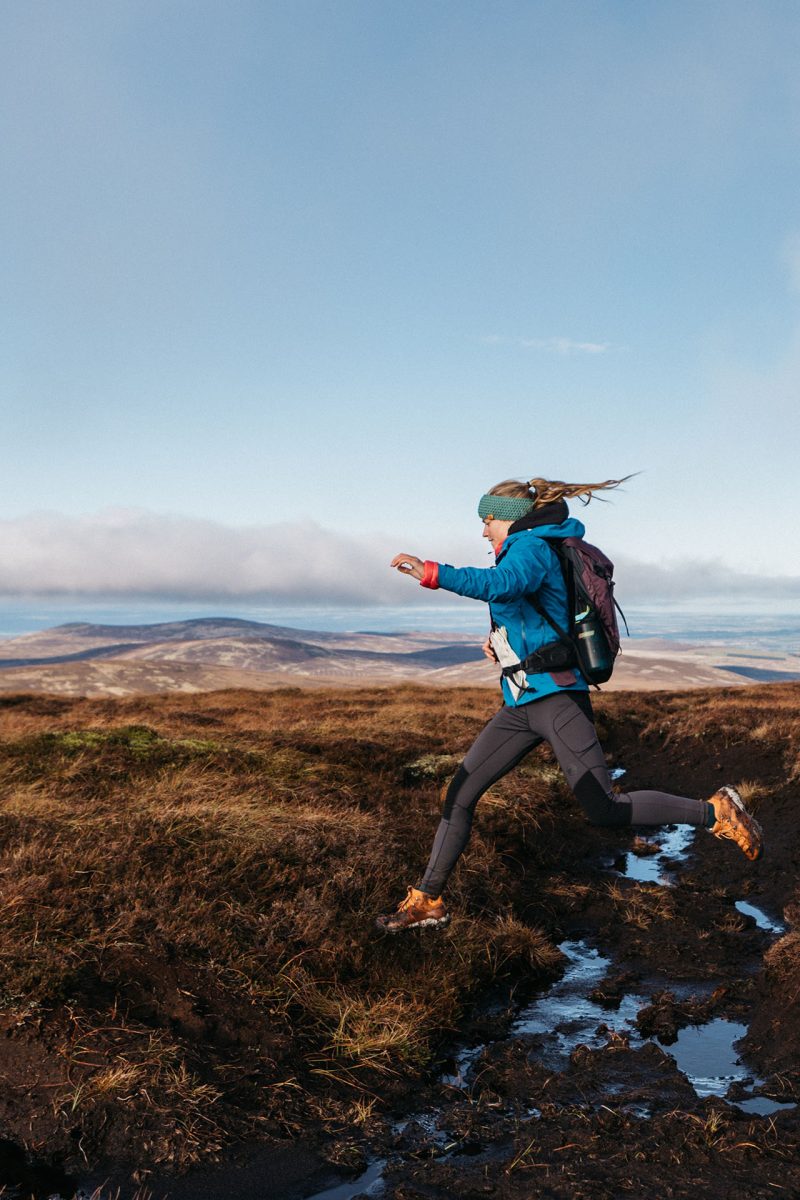 "With the sun beaming between clouds and views wide and vast, it was difficult to draw ourselves back onto the footpath…"
Our Ordnance Survey map showed sites of a few ancient settlements near to Housey Crags and Long Crags. After investigating for some time, we couldn't see any traces of them, yet knowing that once upon a time in the Bronze and Iron Age there would have been people living here, on the hillside, was fascinating to us both. I later read that there were six hut circles at these sites, and that the better climate in those ages meant that people could live and farm at the higher altitudes.
We probably spent much longer than we should have exploring Housey Crag and its neighbouring Long Crags. With the sun beaming between clouds and views wide and vast, it was difficult to draw ourselves back onto the footpath for the steep ascent to our first peak of the day…
Read the full story on the Mammut website: Walking in Northumberland's Cheviot Hills
Or take a look at the other pieces of content marketing we've worked on for Mammut: