An Interview with Alex Hornsby from Weird Walk Zine
Shooting the breeze with the Weird Walk co-founder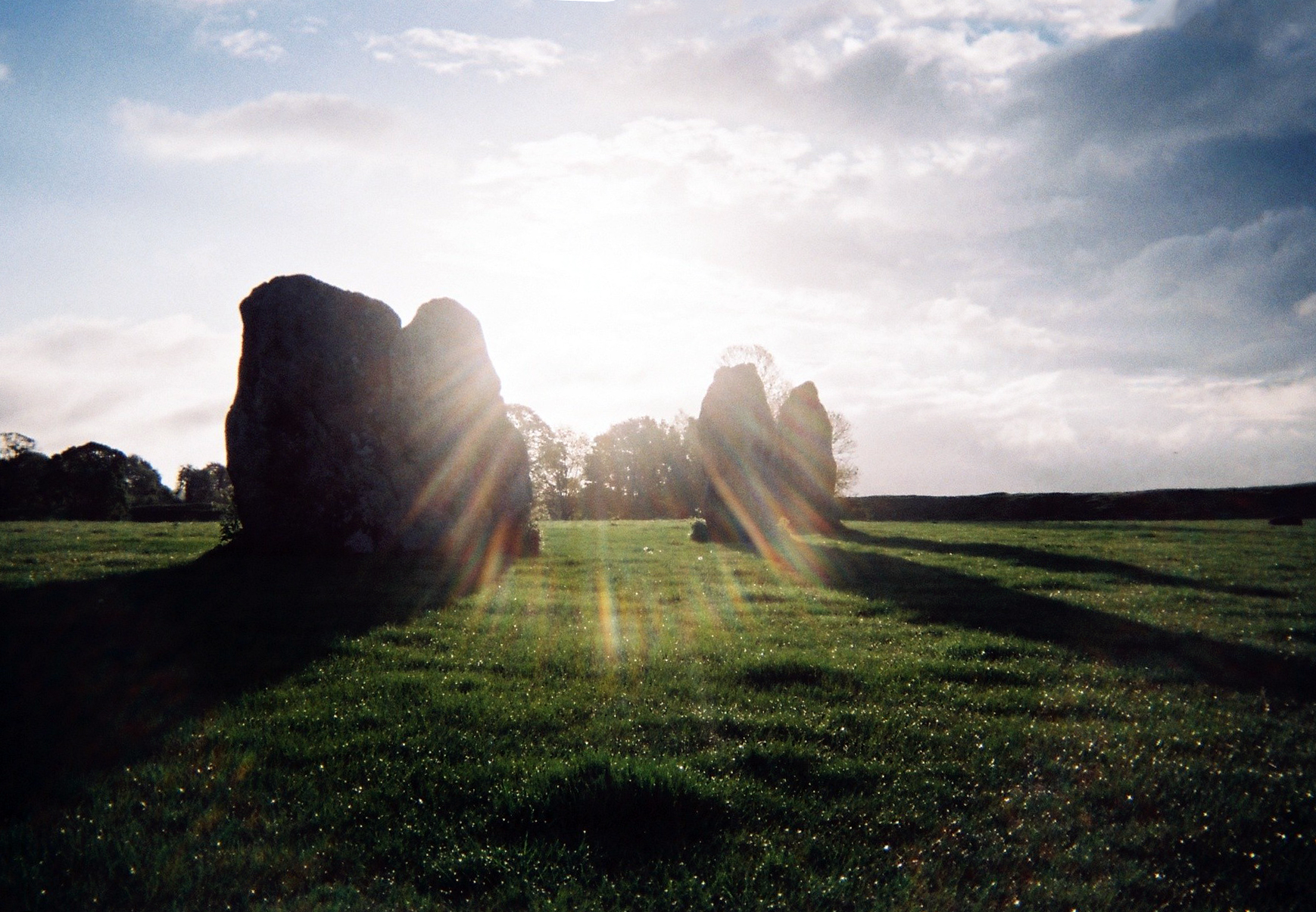 To some people, spending time in the great outdoors is all about setting the fastest time, in the worst conditions, whilst wearing the most expensive gear. This is all well and good, but it's far from the only way to enjoy this green and pleasant land.
Sometimes it's nice just to pootle about, seek out some interesting old landmarks, and soak up the stories that lie behind them.
That's the sort of world Weird Walk comes from. Dubbed by its creators as 'A Journal of Wanderings and Wonderings from the British Isles', this zine is a refreshingly slow-paced ramble, that takes you well off the beaten path, steering you firmly towards the mysterious and enigmatic side of the British countryside—from standing stones to medieval graffiti.
With the fourth issue still hot off the press, we talked with co-founder Alex Hornsby about the zine, 'hauntology' and… er… mystical energy.
Starting at the beginning, how did Weird Walk come about? Was there a specific thing that sparked it off?
We (myself, James and Owen) had been for a really long walk along the Wessex Ridgeway and found the whole thing pretty transformative in an unexpected way. With very little planning, no previous 'hiking' experience and the incorrect footwear we spent three days walking an ancient trackway, visiting neolithic burial chambers, climbing sacred hills, traversing iron age earthworks, inventing cocktails and sleeping at haunted pubs. It was a great laugh and very soon after we were planning the next one.
The zine started as a way to connect together, and share, some of the ideas and experiences that surfaced over the course of a few years of rambling.
Was making a magazine something you'd had thought about before? What mags and zines were you into growing up?
Making things is what we do in our day jobs; I'm a designer, James runs a record label and makes films, and Owen has been making music for centuries. Print is a medium close to our hearts, so 'weird walk' becoming a tangible, printed 'thing' was probably inevitable. 
The first zines I can remember seeing were football fanzines. They had a different energy to them compared to anything produced officially, and they were usually funny… sometimes unintentionally. Zines are the ultimate medium for niche topics, it's a good fit for us.
How does the zine format effect Weird Walk? Are there certain things you do for the zine that wouldn't work on a web-page? 
I think having a website is such a responsibility… it would feel like you need to update and add new stuff all the time. What's great about a zine is it takes so long to make one and then send them out to people, it takes out the instant gratification element. That definitely suits our pace.
The internet is great though, and the convenience of digital is a revolution… for our zine about rambling and ancient rubble, the slowness of print seems to fit well.
Subscribe to our newsletter
The zine has a fairly classic style that brings to mind old woodcuts and that kind of fare. What sort of stuff did you look at for inspiration there?
The hope was the zine would look like it could've been produced any time between about 1973 and the present. Our big touchstones for design inspiration are things like British horror film title sequences, 1970s 'occulture' paperbacks, photocopied parish magazines, privately pressed folk records and old Letraset transfer sheets. We like warm, warped, analogue things, and as little evidence of the use of photoshop as possible.
It seems like now we're well beyond the old 'death of print' argument, and there are more magazines and printed odds and ends around than ever before. Why do you think this is?
It's difficult to say, but I think similar to the music business, the numbers might be smaller than the old days but if you put something of quality and value into the world people are excited to check it out. And you can't really understate the value of social media for spreading the word. Print and digital working together can nourish both. 
What's the process of putting an issue together? How do you three work?
So far we just wait until enough ideas build up and then we start to piece it together. It's nice to bring in one or two outside voices on each issue, but essentially it's just the three of us pleasing ourselves, exploring the things we are interested in, trying to make something cool.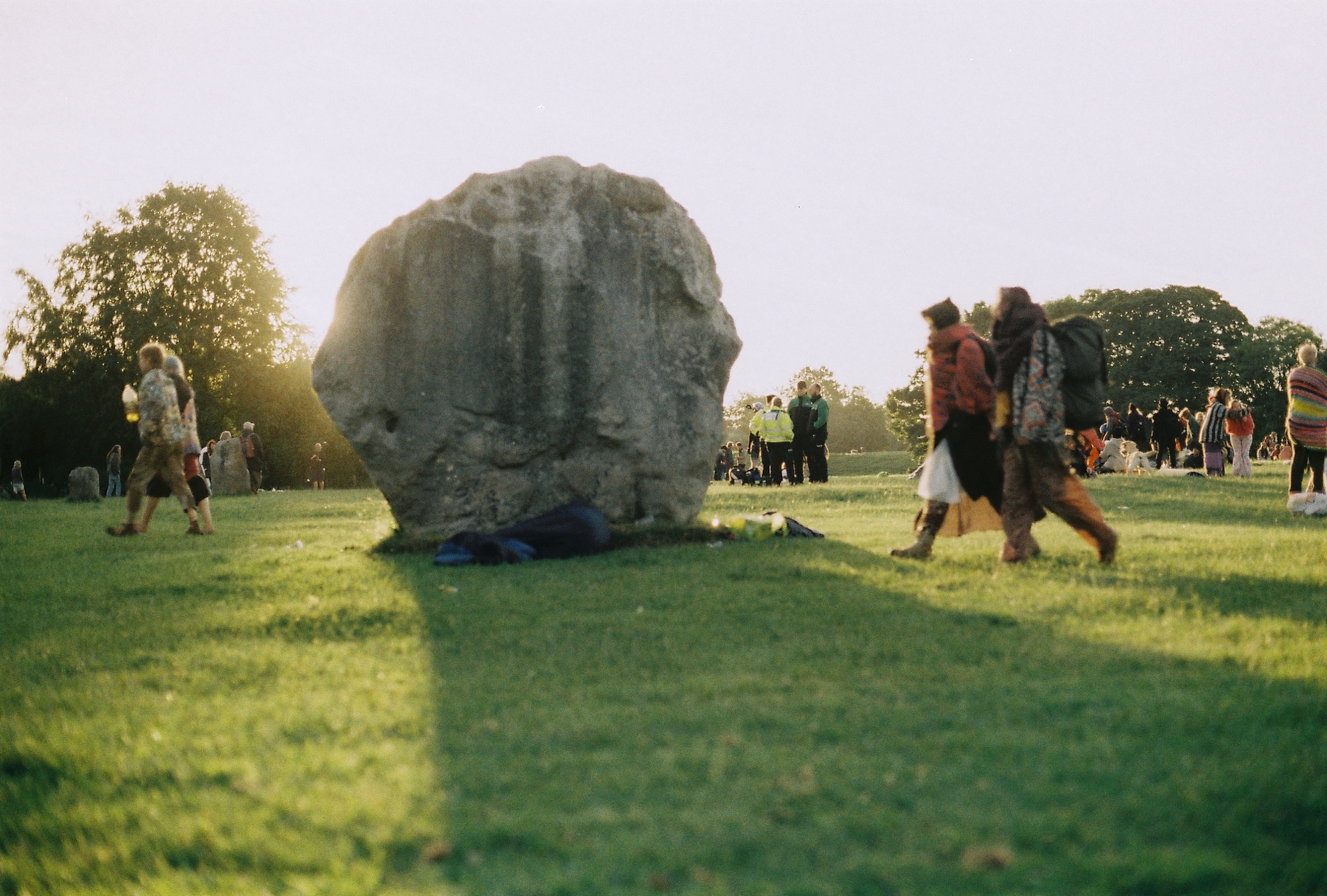 Even now, a lot of stuff heavily borrows from American culture, whereas Weird Walk seems undeniably British. Was this an intentional thing? Is it important to celebrate what's on your doorstep, instead of dreaming of places miles away?
I think keeping it local has been pragmatic and a good starting point, the British landscape seems to be the part of the venn diagram where all our interests (folklore, music, myth, magick, megaliths, etc) converged… but once you open a portal, who knows where it will take you?
I suppose the stuff you feature could maybe be classed as hauntology… although I'm never too sure what that word means exactly. How would you describe it? 
I'm not sure that I can. It's more of a vibe. The term is borrowed from some clever philosophers and cultural critics and describes a kind of nostalgia "for lost futures". It has a fairly well codified meaning nowadays when talking about certain kinds of music. A recurring element in all the things we are drawn to is the idea of the revenant, something from the past haunting the present. We see that in old stones in the landscape, in old customs and folk traditions, and you can see it in the look of the zine too.
Why do you think people these days are drawn to this… er… hauntological stuff? Is it a yearning for simpler times?
It could be that—our lives are pretty hectic these days, so it's refreshing to unplug now and again and just wander off into some hills. I think it's also pretty cool to be discovering how much old, weird and cool stuff is just lying around the British countryside, being ignored and obsessed over in equal measure.
"A recurring element in all the things we are drawn to is the idea of the revenant— something from the past haunting the present."
Yeah, it does feel a lot of it is pretty overlooked. How into this stuff are you? I know a lot of people like reading about pagan rituals and stone circles and stuff… but where does the obsession end? Are you lot fully-fledged druids, or just fans? 
Weird Walk is rumoured to be a secret society, or a kind of esoteric guild observing sacred rites. Read the zine and look for the clues.
I'll try and work it out. What do pagans think of the zine? Have you had much feedback from any practicing neopagans?
I hope the pagan community dig what we are doing, because we have a lot of time for them. Pagans make the best mead too. Wassail!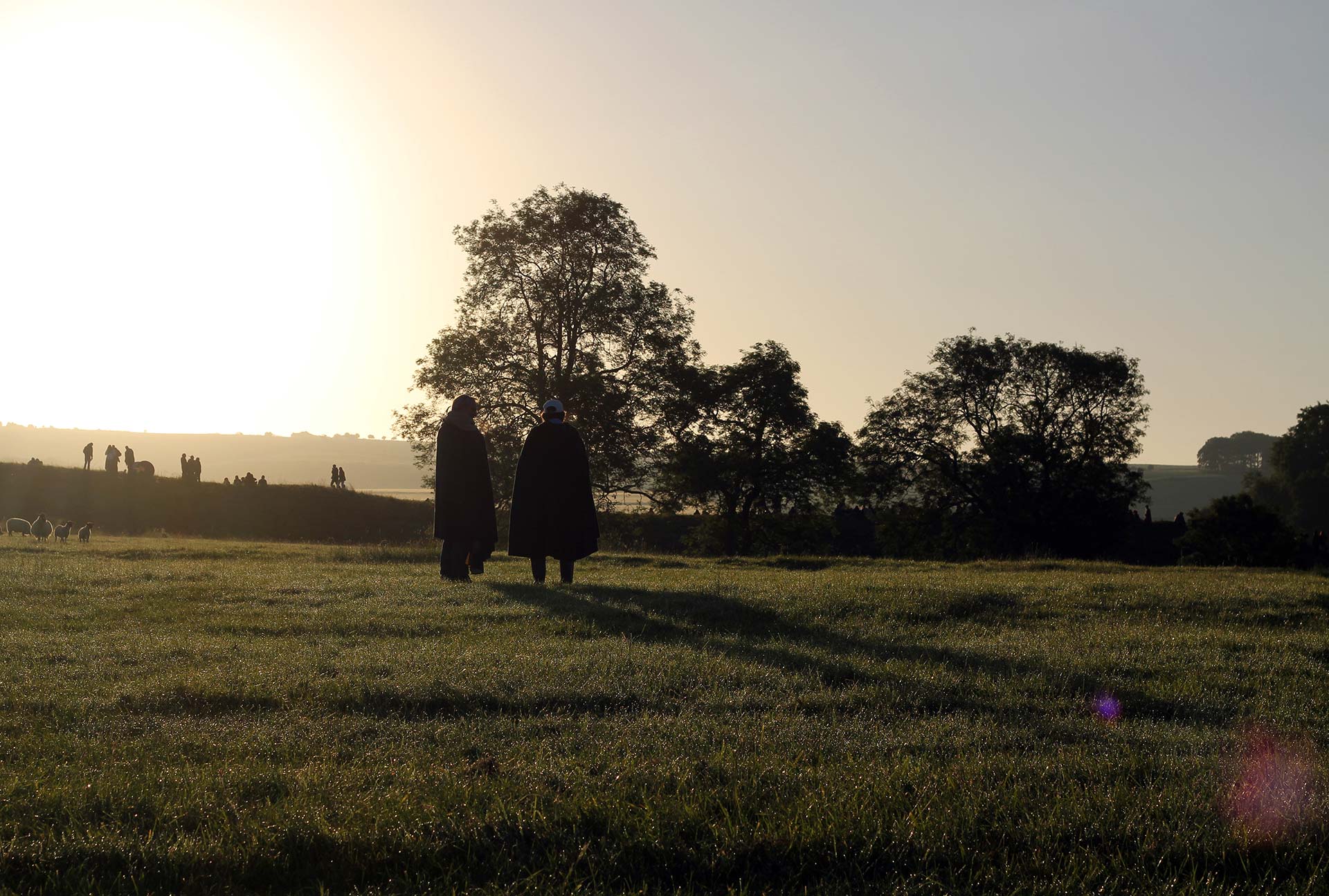 Jokes and stuff aside, have you had any encounters with the powerful energies that a lot of these neolithic sites are sometimes said to possess?
There is definitely a vibe. At some sites more than others. It's very easy to understand what the effect of travelling to one of these sacred places to witness a ritual—or to celebrate or do business there—might have been when you approach them on foot after a day's hike. Neolithic sites tend to sit within the natural space in cleverly thought out ways too, to maximise the impact for the approaching traveller (see Julian Cope's description of 'the Silbury game'). 
Having a stone circle all to yourself at sunset is pretty magical, but equally being at Stonehenge when it's crawling with tourists, or solstice revellers, is probably closer to how it would've been experienced by the people who built it and used it. The Longstone at Minchinhampton stands fenced off on a scrap of land between a road and a rugby club, it has no right to continue to exert the vibes that it does, but each time I have visited it has cast the same spell. Last time I was there my camera (a 40 year old film SLR) temporarily stopped working and the 4G coverage was quite patchy… explain that!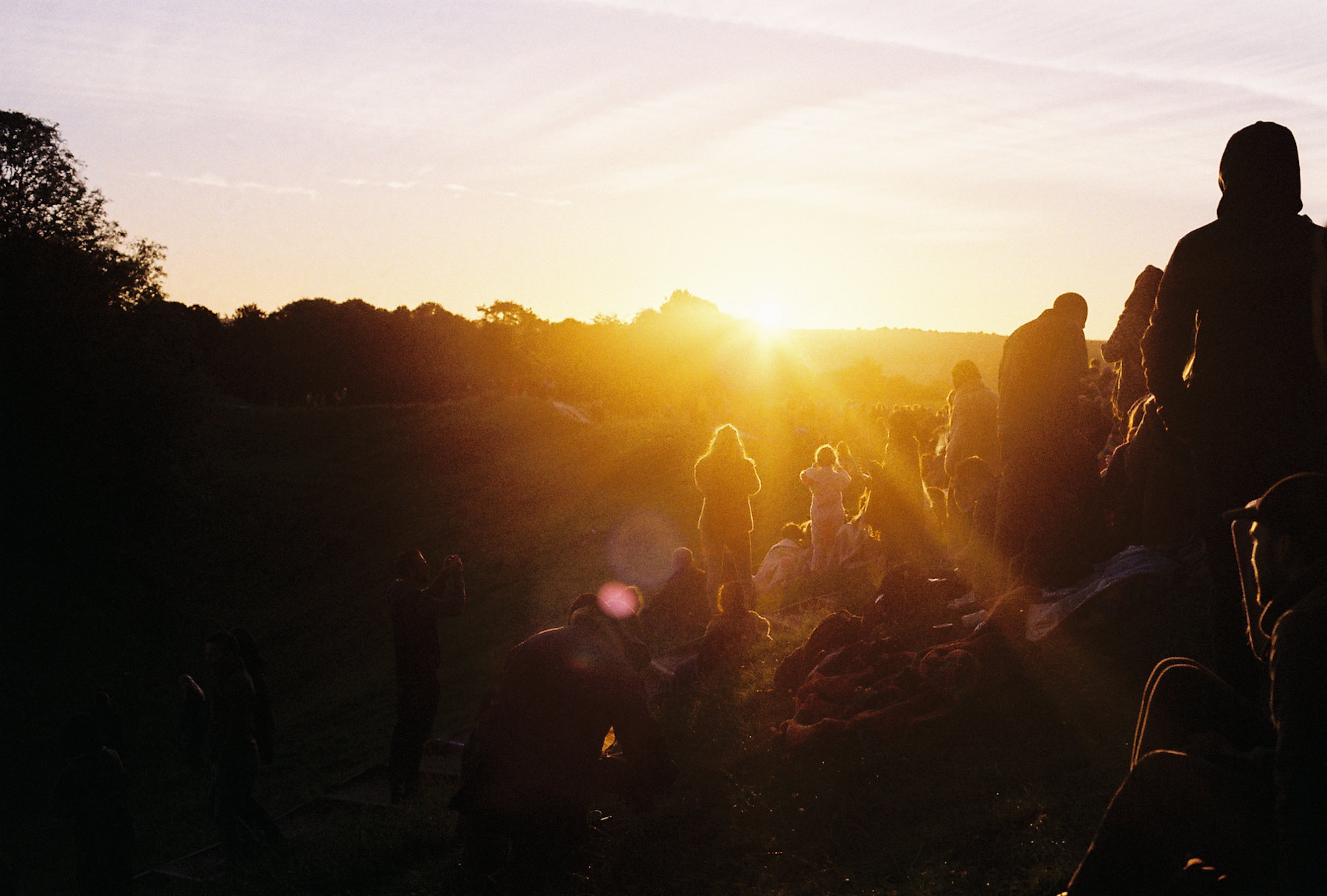 Talking about lockdown is admittedly very boring by now… but as a magazine which focuses on rambling, I suppose there's something to say here. Do you think the fact hardly anyone has been out of the country in over a year has helped people gain a new found respect for the British countryside?
That has to be true doesn't it? Or everyone is completely sick of it by now? Either way we'll still be out there, lurking around the trails…
Where have you been walking lately?
Just keeping it local. Which for me means Wiltshire and the North Wessex Downs… which, as luck would have it, is an area absolutely rife with ancient sites and arrangements of old stones. Weird Walk is a product of its environment.
The sheer amount of time some of these sites have existed is pretty impressive. What do you think will stand from 2021, thousands of years from now? And what do you think should be celebrated from this era? 
Depressingly quite a lot I expect. I don't know what will be celebrated, but It would be quite cool if this period was looked back on as a turning point where humanity corrected its trajectory, because there does seem to be some green shoots of optimism from the so-called 'Generation Z'… I'm backing the gen zedders to pull us out of this nosedive.
The vogue for stone circle building is gaining pace again too, so we might also be in a NEW new stone age, and as we know stone circles are built to last.
Rounding this off now, have you got any wise words to end this with?
Keep walking weird.
Find our more about Weird Walk here.