An Interview with Ben Lamb and Nick Jones from Nature Studio
An in-depth conversation with the illustration and design double-act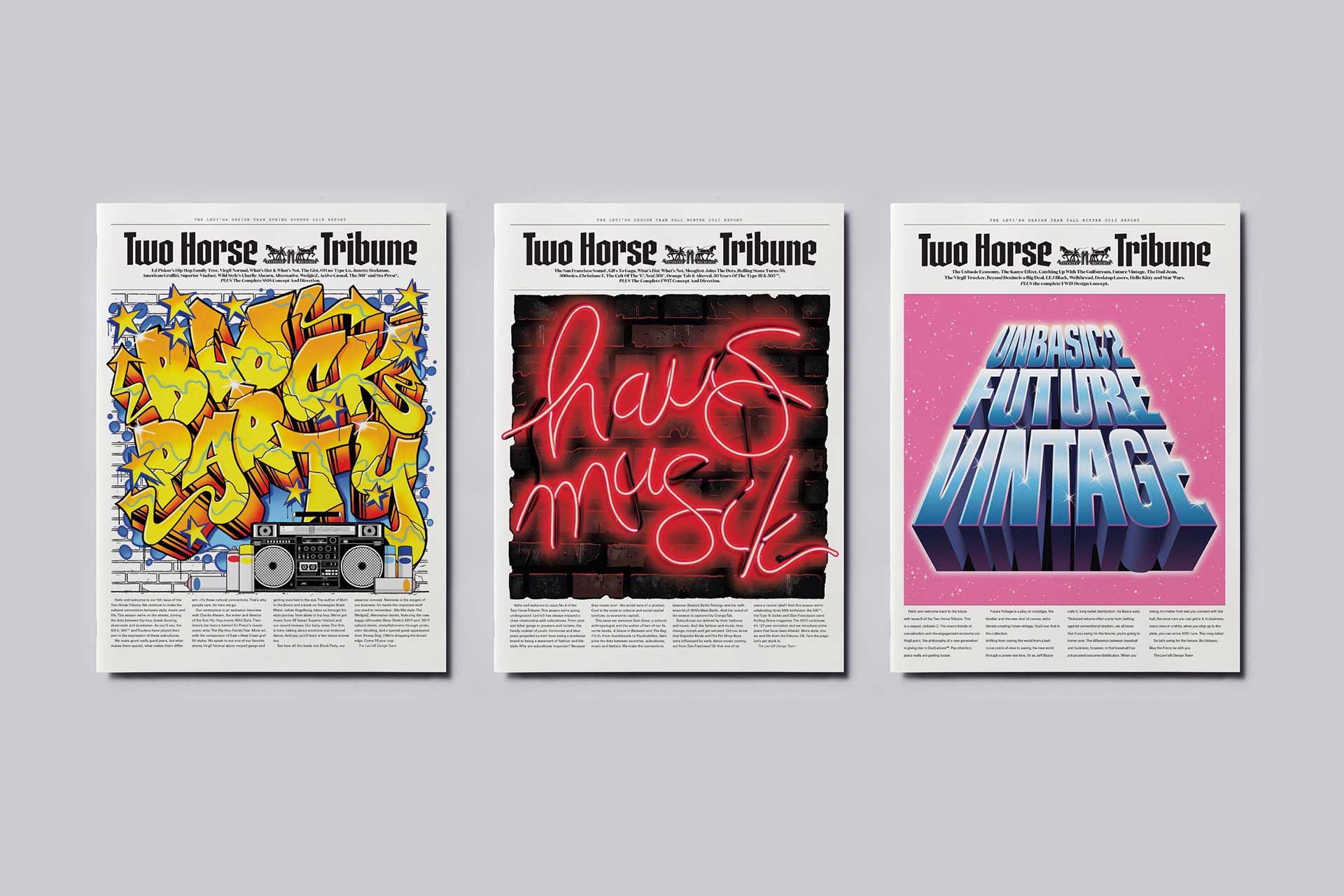 Consider this interview as a bit of a two-for-one deal.
Ben Lamb is an illustrator currently based in Wales, who has drawn everything from muscle cars for Mr Porter, to the haunting visage of Laura Palmer for the front cover of The Guardian Guide.
Nick Jones is a graphic-designer and art-director based in San Francisco.
Together, they're Nature Studio—a trans-Atlantic double-act creating books, t-shirt designs and logos for brands like Levi's Vintage Clothing, Manastash and Manchester's very own Good Measure, to name just a few.
In this conversation, conducted via the wonders of modern video technology, they talked about how they met, how they work, and the importance of collaboration in the creative world…
Starting things at the beginning, how did you two meet? You've known each other for a while haven't you?
Ben: I moved to Manchester in 2000, and Nick was one of the first people I met. I hadn't really done anything creative for a long time since I'd left uni, and then I moved to Manchester because my cousin lived there and had a spare room. I wanted to do something creative again, and I ended up having some beers with Nick and a few other people. I think we had some mutual connection somewhere. 
Nick: I remember I'd been in that record shop on Tib Street, Beatin' Rhythm, and you had done some t-shirts for the shop—they were all around the walls. So when we got chatting in the pub, I realised you were the guy who made the t-shirts. I was in that time when you leave uni and you go and stay back at your mum and dad's and try and figure out what you're going to do with your life. 
Ben: Yeah—I think we were both trying to find something to do creatively. We started meeting up quite regularly, and for a while, along with a couple of other mates, we'd have some beers and brainstorm ideas. We'd do these little creative projects for fun. We used to do these posters—one person would start a poster on a theme, work on it for a week, and then we'd meet up. And then someone else would take the poster and remix it. I do remember that we had a lot of fun—it wasn't work.
So it wasn't for anything—just doing it to do it?
Ben: Yeah. I think we all had slightly different skill-sets, and we just tried to have fun with them—just have a laugh. 
Nick: And then we started the Mixtape Club.
What was that?
Nick: We took money off friends, and promised them we'd release a physical mixtape every month for six months—and we almost fulfilled that promise. The last one came a year later. 
Ben: We intended for it to go on, but I don't know what happened? Maybe we got too busy. 
Nick: If we kept going with it, we'd probably have a record label by now.
So at that point Ben you were doing illustrations for these tapes. Did you always want to be an illustrator?
Ben: The only thing I really enjoyed at school was art, but at the time I didn't really understand that you could go and study illustration, so I did a fine art degree. I really enjoyed it, but by the time I'd finished it, I knew I didn't want to be an artist—it didn't appeal to me. But then, around the end of the 90s, illustration was having a really big renaissance—you'd go into places like Magma or record shops like Piccadilly Records, and illustration was everywhere. 
It was only then that I thought it might be a good thing to try out, but I didn't have any clue how to go about it. So these early projects, like the Mixtape Club, were really the first time that I got to try out being an illustrator. It was something that I landed on. I didn't approach magazines or anything, as I didn't have a portfolio—I just had this desire to try drawing stuff in an illustration context.
Another project that we did was designing stuff for Night and Day Cafe. We went in one day and asked the guy running things if we could have a go at designing the monthly listings guide, and he was dead sound and said yeah. There was a tiny budget, but I got to draw the covers of these listings magazines every month—so I started building up a little body of work, and maybe developing a style. That was really how I fell into illustration.
Subscribe to our newsletter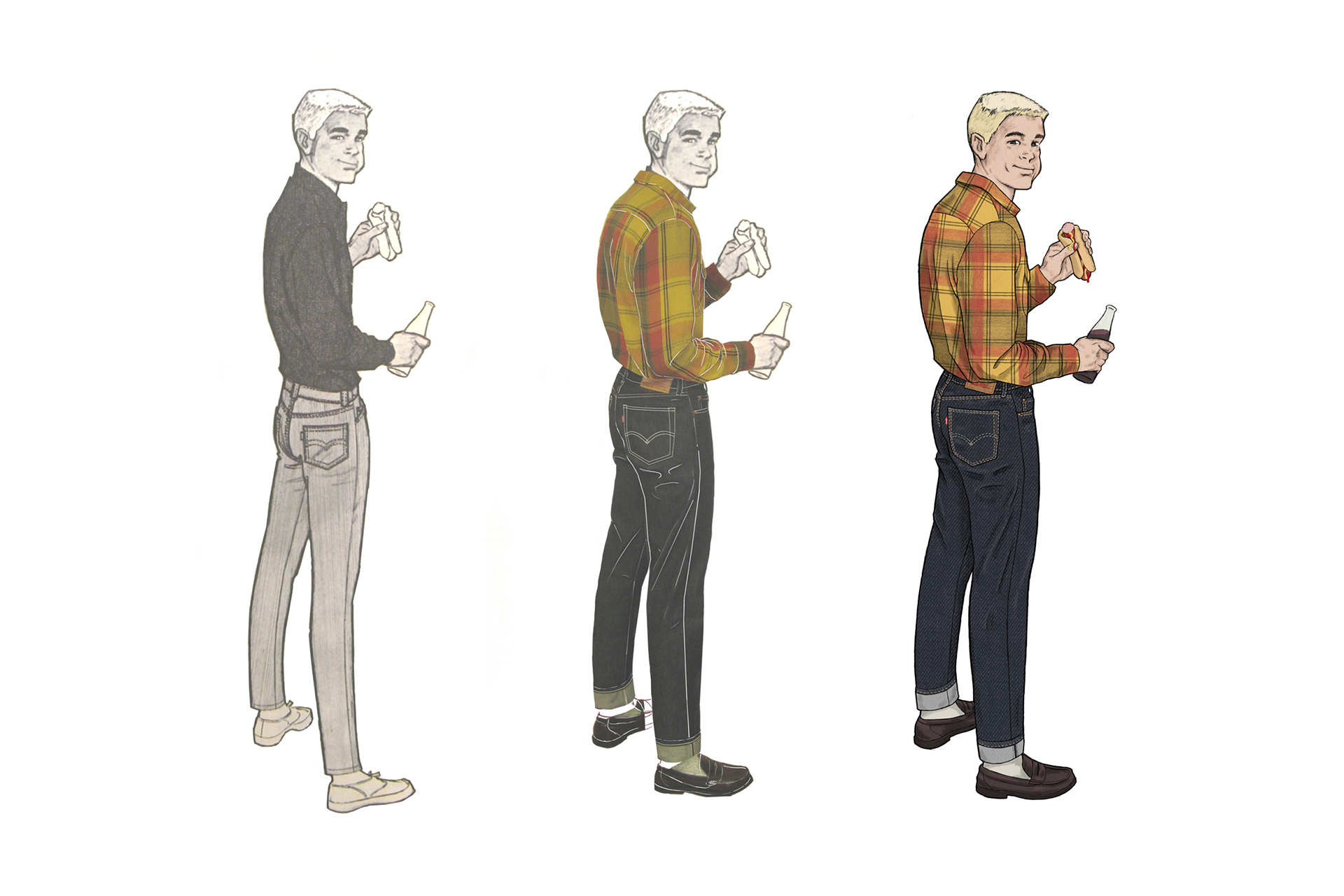 Illustration maybe isn't the sort of job that's laid out for you—there's not exactly an obvious path with it. Was there someone you were looking up to with your work?
Ben: Yeah. I'd go into Magma and look at all the illustration books. There's a lot of illustrators who were working a lot then whose names I can't remember. I liked hand-drawn stuff—anything with nice pencil or ink work. I was massively into comics when I was younger, and I was really, really into Robert Crumb. If there was anyone whose work I used to obsess over—it was him. He's got this amazing ink style, with loads of cross hatching. So at the time, I was kind of working like that. 
And what about you Nick? You went down more of a graphic design angle.
Nick: Yeah—I studied graphic design at university. When I left in 2001, everything changed and graphic designers were moving onto Macs. My university had one room of eight Macs which were being used all the time, so I ignored them. So when I left, I decided that I was going to have to teach myself how to use a computer. It was almost like starting from the beginning in a way. 
So I was the same as Ben. I had some things that I was interested in—but I wasn't into that corporate stuff. I was into visual stuff—record sleeves, books, magazines and clothes. One of the first things I did was I spent loads of my money making some t-shirts that I never sold. They're still at my mum and dad's house. 
Ben: Which ones were they?
Nick: They had a design which was taken from Star Wars. It was a graphic shape that was totally uncommercial. I can't even remember why I did them—I just wanted to make stuff. Doing a few t-shirts led to a bit of work down in London. I think I got that by calling around—I'd go through the phone-book trying to talk to people. It seems so long ago now—things are so different. So through that I realised all the factors that go into designing stuff—basing a design from a mood-board or visuals.
I was never very good at getting into working on personal or conceptual projects—I find much more motivation with real stuff. 
But you did the stuff with Ben though—was that because there were other people involved?
Ben: Yeah, it's funny thinking about that. I struggle doing personal projects myself these days, largely because it's hard to find the time—but back then all we had was time. We were learning from each other, as well as having fun. Learning how to use Photoshop and Illustrator. That's where me and Nick started to feed off each other and complement each other's work. Over the years that's become more and more apparent. 
Nick: I think Ben is an illustrator with strong design skills, whereas I'm a designer with illustration skills. I'd never call myself an illustrator, but I often end up drawing things. It fits together quite well.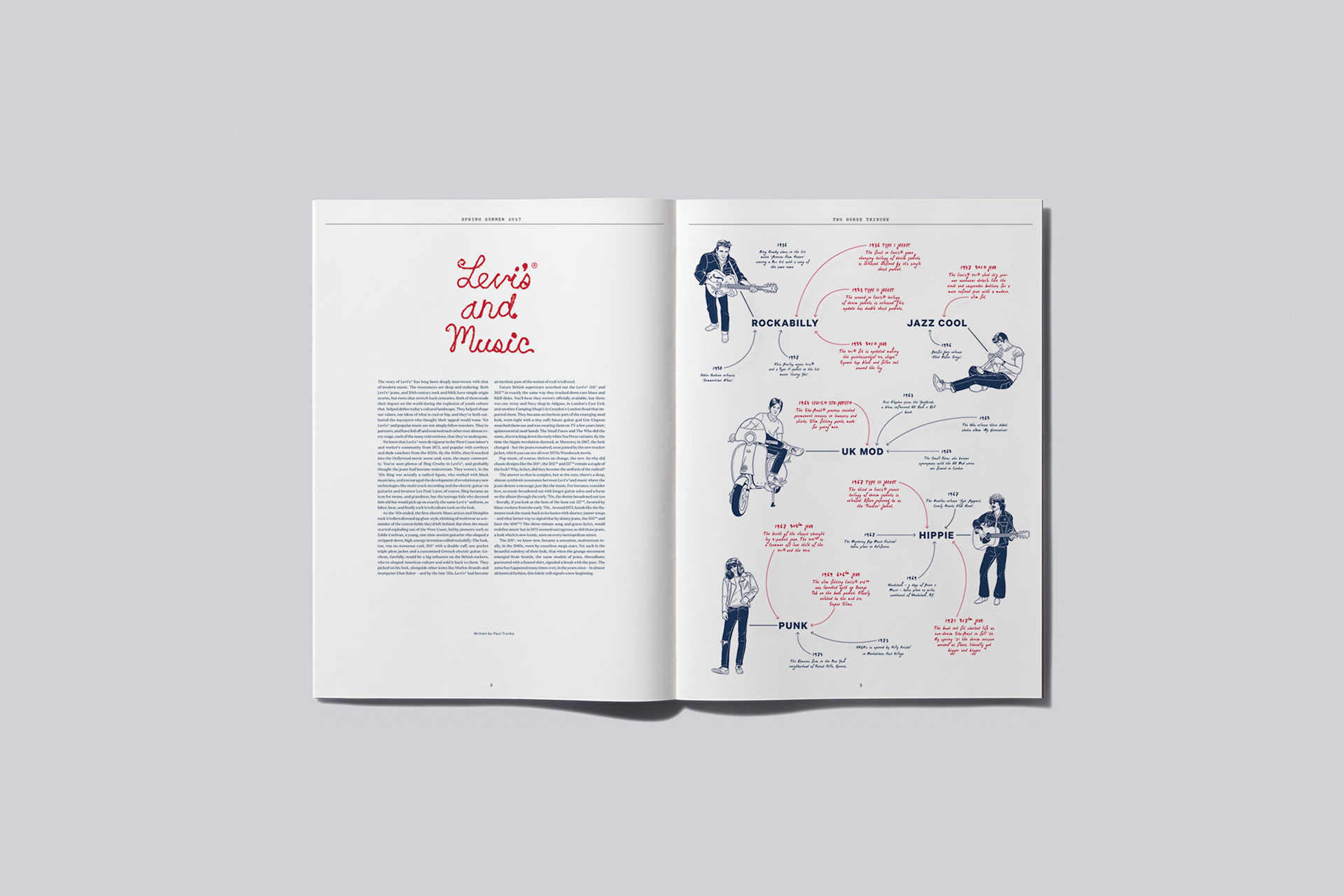 When did you first start properly working together?
Ben: That would have been on one of the Levi's Vintage Clothing look-books. 
Nick: To cut down a long story, I started working in Amsterdam for Levi's, and then I got offered this really great job to oversee all graphics for Levi's Vintage Clothing and Levi's Made and Crafted. 
With LVC we started off this series of books that are all linen bound—making them into more than just a look-book—they had stories in them, and we elaborated on the content. And because Levi's has this incredible archive, with illustrations of people wearing stuff in the '60s, we wanted to do that again. And obviously Ben is the perfect person to do it, because he's so good at working from reference.
I'd provide him with these archival images from old Levi's adverts from the 60s—teenagers wearing Levi's Bedford cords and things like that, and then Ben basically drew out versions of those, but with the current collection on the characters. That became a series—twice a year—and I think Ben did illustrations in maybe eight or nine books. And between all that, we did all sorts of bits and bobs together. It worked really easily—I'd sketch something on paper, then Ben would elaborate on it.
Ben: That period of working together—those jobs were the things that I looked forward to the most. Not only were they for a great brand—we both love heritage brands and digging into all the old archival imagery—but we had loads of fun doing it as well. If I think about the fun we used to have when we were doing stuff at the start, there was still that element of having a great time. 
It makes it easier when the people you're working with get what you're doing—especially on creative pursuits where you put a bit of yourself into the work.
Nick: Definitely. One of the main things I've learned working on projects is that if you're on the same wavelength, it's so much better. We've been pretty lucky to be working with people we get along with. 
"In any creative endeavour there's a bit of exploration and development—trying to figure out what you're going to do, and what you're striving for."
Ben: Any job where you can squeeze a bit of humour in is good. Those look-books—the illustrations were so fun. We were always saying, "Oh, what if we did this…" 
Nick: Also, with LVC, props always go to Paul O'Neill—we'd ask, "What record should the guy be holding in this picture?" And Paul would be straight on it. 
Do you ever have it where you two don't see eye to eye on things? 
Ben: I don't think so. There can often be a bit of a journey to get to the end point—in any creative endeavour there's a bit of exploration and development, trying to figure out what you're going to do, and what you're striving for, but I've always valued Nick's input. 
Nick: I often think that my work is way better when people have looked at it and said what they think about it. 
Ben: It helps with me when I'm drawing stuff. An integral part of it is asking Nick what he thinks of what I've done—that back and forth is what makes the end product what it is. I can't think we've ever fallen out about it.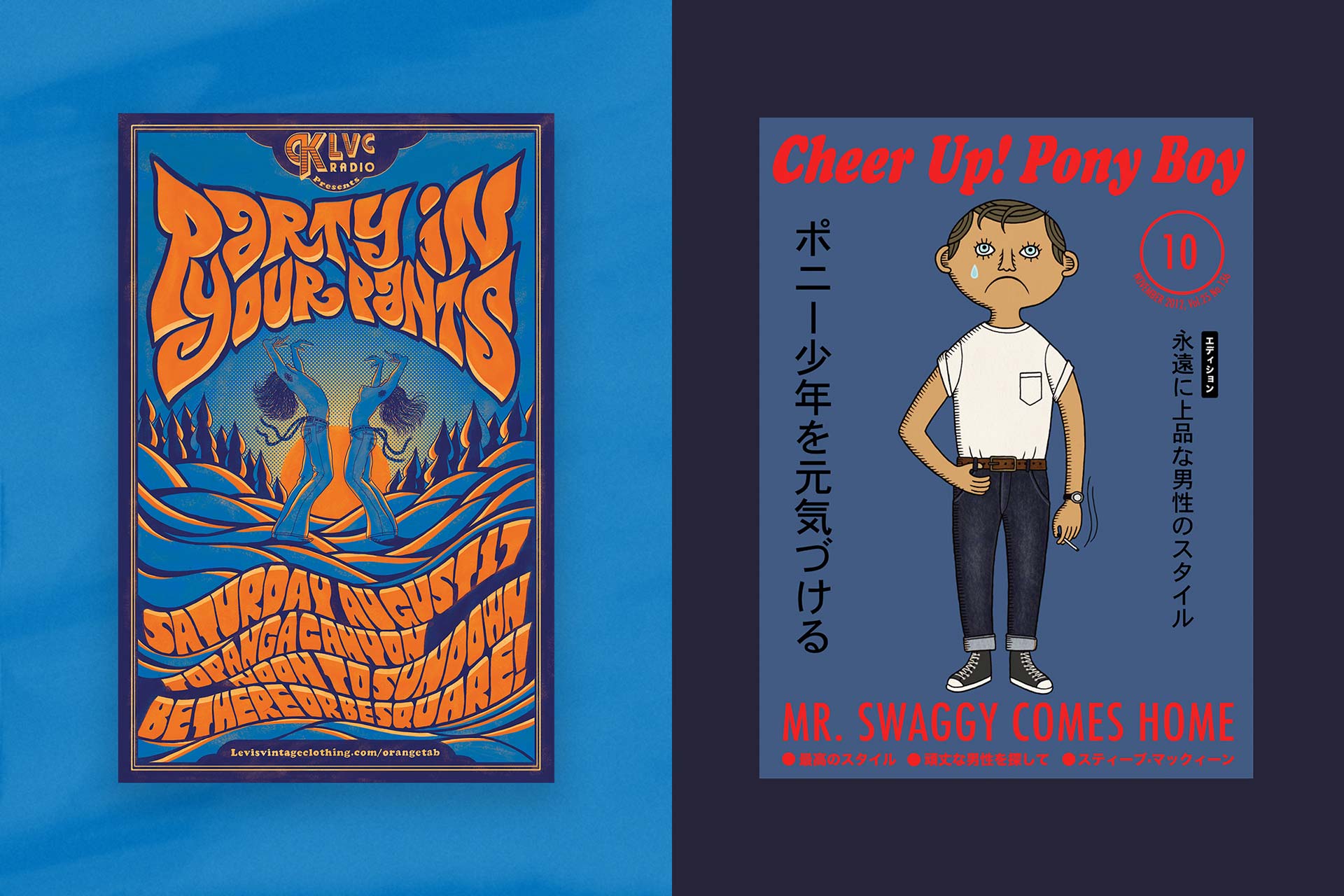 How is it working together across continents? 
Ben: It's worked out pretty well really. In fact, sometimes it's an asset. Because Nick's eight hours behind, when we're working on a project together and there's a lot to get through, I get up in the morning and do my day's work on it, then just as I'm getting to the end of my work-day, Nick's is starting. 
Nick: It's a 24-hour design machine. 
Ben: We might have a quick video call to update each other, or leave an audio message. And then Nick carries on, and then when he finishes his day, he'll leave me a message. Then I wake up and pick up where he left off. So in that sense, it's a good system. But yeah, there's definitely times when I wish we could be in the studio together. There's probably some stuff we'd do more of if we were in the same place together, but this is just how we've been working for six years now—and I'd say it generally a positive.
What's your working process with your illustration Ben? Are you mostly on computers now? 
Yeah, I've got a tablet. When we started doing stuff together back in 2001, I was doing everything on paper, by hand, but there came a point when I started to get more work where working on paper was just too inefficient. Everything's been digital for a long time now. I can't remember the last time I had to use pen on paper for something. 
I discovered this guy who made really good digital brushes—he now works for Adobe, and builds all the brushes that Photoshop comes with—and those brushes are just amazing. They really opened up my work digitally, because I was struggling to figure out how to make the same marks I'd make on paper, in Photoshop. But with these brushes, you can make any kind of mark you like—there are watercolour brushes… oil paint brushes… you name it. When I discovered those, it opened my eyes to what you could do digitally. 
So yeah, everything's been digital for a while, which is an asset for me and Nick, cos when we're working on stuff together, we've got these shared files and folders, so when I've got the illustration up to a certain point, Nick can open up the Photoshop file and check it out. He'll get his pink pencil out and draw over things… telling me to move bits over. And we couldn't do that before.
Yeah, you'd be scanning things in or waiting for things to dry. And you draw from reference images? 
Yeah, for something like those Levi's look-books, Nick would provide me with samples of the garments—or quite a lot of the time, I'd fly over to Amsterdam and we'd shoot reference shots of the garments on models. And then I'd take those photos, and look at the kind of piece of archival reference that I'm trying to recreate, and cut things out of the photos to shape them to match. I'd build up this composite of elements, and then I'd draw them. 
The fun is then trying to replicate the style of the reference. I think of them like solving a puzzle. Sometimes I'd be trying to recreate a style that I've never worked in before. It's loads of fun trying to figure it out. Ultimately you end up with this thing that looks like an old piece of advertising, but it's put together with ultra-modern methods and techniques. 
What about you Nick? What's your process?
Nick: It depends on what I'm doing. Mostly these days I'm working for clothes companies, but I've done a lot of different things for them. I've done branding projects—like a big project for Dockers where we took one of their old logos, then cleaned it up and revised it for now. But then when we're doing a collection of t-shirts, that's a very different process. And then we've done packaging or advertising—so there, the process there is more thought driven, whereas a collection of t-shirts has more emotion in it. 
Yeah—it seems you're both very varied with your work. Does that keep things more interesting?
Ben: I think so yeah. I'd like to think we can apply our skills to a broad range of things. We even did little animations at one point. It's good to be able to flex your creative muscles on different kinds of work.
I'd like to expand on all this—we've talked about doing some mural—that's something I'm really interested in. Murals and street art are really having a huge creative boom, with some incredible artists working in that area. I used to do a bit of graffiti way, way back, but it's been a long time since I've handled a spray can. I think it'd be fun to work more physically in larger formats. Another thing that we're interested in, that we like to work on whenever we can, is lettering, so I'd love to take those bits, and see them on a wall somewhere. I hope one day we'll get around to some of that. 
There's a few bus-stops in Wales isn't there Ben?
Ben: Yeah! I once tagged a bus-stop on my way home from school when I was 15, and a lady in the house opposite saw me doing it, just as I finished the tag. She came out and absolutely bollocked me. She threatened to call the police, and in the end I made a little deal with her that I'd clean it off and she wouldn't call. So that's the last time I tagged a bus-stop. I had to go out and scrub it off.
Nick: With all the shops closed around here, there are loads of murals going up. But they're not very good.
There's a lot of squiff characters out there. Going back to the start, back when you were making those tapes, did you think this is how you'd be doing stuff nearly 20 years down the line? 
Ben: I don't think we had a clue what was ahead of us. If someone said we'd be recreating vintage illustrations for a huge brand, or making animation, or even designing a collection of t-shirts, we would have just been like, "What are you talking about?" 
Nick: We were working towards trying to make it into full time jobs. That seemed possible. Creative industries kind of exploded after the year 2000. There must have been a time when you didn't meet that many people who did that.
Ben: We were lucky that we were in Manchester as well. Certainly for me, Manchester has been an instrumental element in everything I've done. Right place, right time, maybe. There was so much creativity in Manchester. I'd come from Cardiff, which is a nice place, but I'd never seen so much creativity and so much good music, as I did when I moved to Manchester. I do remember at one point thinking, "Is everyone here a graphic designer?"
Nick: Or a DJ.
Ben: Or both. Yeah, I love Manchester. It's been super important. And it still is. We're about to do some stuff with Good Measure from Manchester. it doesn't matter that Nick's in San Francisco and I'm currently stuck in Wales.
Nick: Manchester's a great place—people just do stuff there.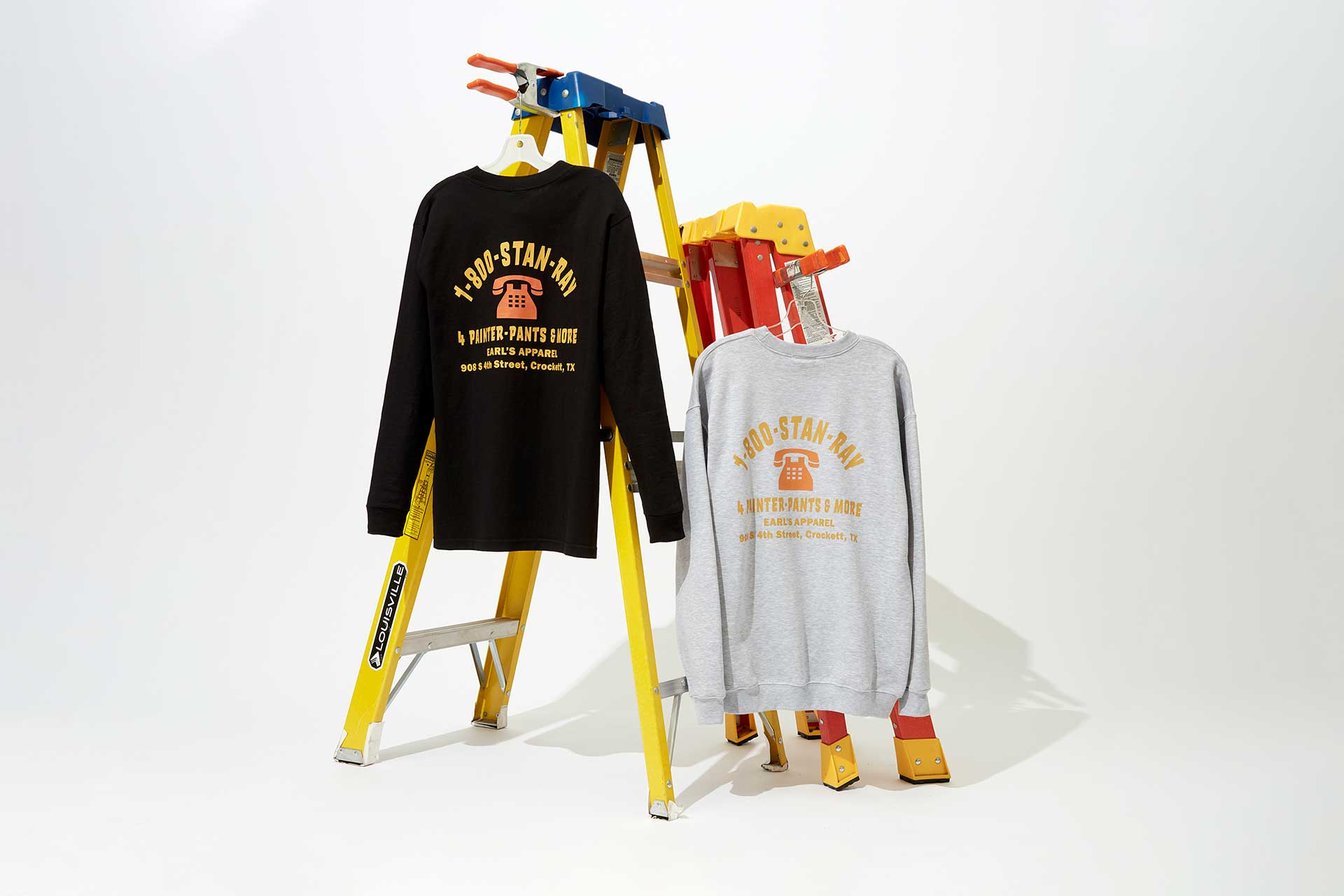 Definitely. What's the buzz from your work? Is it seeing someone wearing a t-shirt with one of your designs on, or finishing something?
Ben: I like the satisfaction of making good work, and a happy client. That might sound a bit trite, but I love it—especially if they come back and ask for more. Don't get me wrong, it's great to see your work out in the wild, that is a massive buzz. 
Nick: I like the thought of a happy client as well. Part of the process I really like is near the beginning when you're coming up with ideas about what you can do, when the possibilities are endless. The idea generation stage—there's something about that that I really enjoy. 
Ben: Yeah—that initial bit when you're sparking off each other—those bits at the start when you're shooting the shit. I suppose that's probably the most joyous bit.
I suppose that's the bit before you've got to properly knuckle down. We've maybe talked for a while now and I think I've pretty much covered everything. Have you got any wise words to wind this up with?
Ben: I think it's really important to meet people. Meeting people, and maintaining good friendships—I've always thought that's a really important bit of a satisfying creative life. Doing the kind of work that we do, is in some part because of the friendships we've made along the way. 
The most satisfying jobs come with an element of a good relationship—whether that's having similar tastes, or trusting each other. I think that's an important part of work life. That's kind of wise, right?
I'd say so yeah. You could be creating the best work in the world, sitting at a computer on your own, and sending it off to someone you've never met, but it's maybe not very fulfilling. Having a laugh along the way adds a lot to it. 
Ben: Absolutely. Jobs have come out of just having a good conversation with someone and ideas sparking. Next thing you know, or maybe even be somewhere down the line, you might be working on a project together. You've got to maintain those relationships and be nice to people.
Find out more about Nature Studio on their website here, or via Instagram here @naturestudio.co.