An Interview with Kestin Hare
An in-depth chin-wag with the esteemed Scottish menswear designer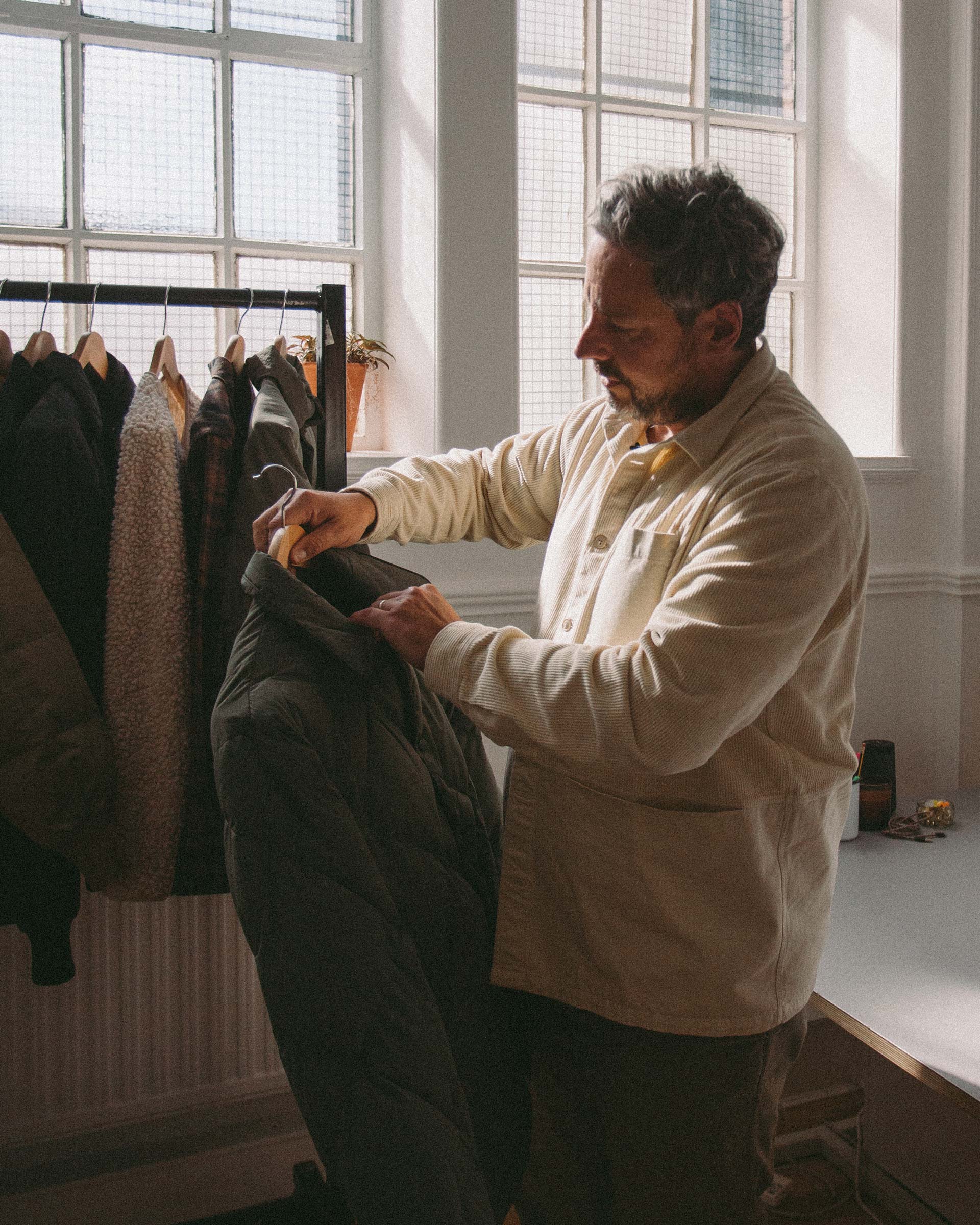 Kestin Hare creates clothes built for today, but informed by the past. Taking inspiration from those sturdy pillars of classic menswear—military, work-wear, outdoor and sportswear—his clothing expertly samples details from his extensive vintage collection, and brings them bang up to date. The result? Functional, modern clothing with a story to tell.
In this interview we talked to him about his design process, the importance of moving things forward and his new gig as the Creative Director of legendary sailing brand Henri Lloyd…
I know you've been designing clothes for a lot longer, but your brand, Kestin, has been around for nearly 10 years now. How has running a clothing company changed since then? 
Technology has completely revolutionised the way we sell stuff. In the early days when we were making a jacket in the East End of London, we'd have to make 50 of them, but we couldn't afford a store, so we'd sell them to Coggles and Oi Polloi. But then maybe someone knew somebody who knew somebody who could build you a website—so you'd sell a few on there. But back then your own direct channel was non-existent—no one knew who you were and you didn't have any reach.
But now, we're selling to 90 stores internationally, and the wholesale feeds off the direct channels. Somebody might see your stuff in a store in San Francisco, and then they'll go directly to your website. And that's the main difference between how things were in 2014 compared to now. Back then, it was all about wholesale—what stores you were in. The direct route wasn't such a big thing.
Subscribe to our newsletter
Is it a case now of everything working together? Having a shop and a website and selling to other shops all seem to help each other.
I think it really is. As a brand everything sort of helps everything else. We're lucky to be in some great shops who believe in us—but you can be in too many shops sometimes. You've got to learn to keep the distribution tight. 
I imagine the customers have changed too—people know a lot more now than even nine years ago.
When I first started out, guys knew about selvedge denim—but now customers are so savvy. They know more than designers know about weights of fabric, how waterproof something is, how things are made or where they're made. It's become this thing that men have really researched. Customers blow my mind with what they know.
It's like Top Trumps. Whether it's tinkering with old cars or reading about clothes, men seem to become quite obsessed with things. I think it's great that people are really into menswear, and they really appreciate it.
Does it spur you on more? It must be nice to know that people appreciate those small details.
I think it does, but for me I don't know if it's the customer who does that, or if it's just built into me anyway. The jacket I'm working on has always got to be better than it was last season—I'm my own worst critic, so I'm always pushing myself to do better. To some extent, the wholesale thing we were talking about that made it even more challenging—because you'd go, "We need a fabric that's water repellant that comes from Italy and looks a certain way, but it's got to be a certain price so it's still viable for us to sell to a shop." I can get carried away with using some £24 a metre cloth from Japan that's been tightly woven on narrow looms, with a Gore-Tex finish… you can get totally bogged down with that.
Where it stops being something someone might actually buy, and it almost becomes art? Or a folly?
It becomes part of the archive of things that never saw the light of day because they were too expensive to produce. I've got loads of them.
But maybe you need a little bit of something like that. Even if you just make a few, it adds a bit of flavour?
Definitely. Sometimes those things work, and sometimes they don't work. We had one this season called the Ormiston Jacket—made from this floral jacquard fabric from a Japanese mill. I remember we were sat in a meeting and our commercial manager said, "It looks like my granny's curtains—we're never going to be able to sell that." But I really liked the fabric—and when we launched it we sold out in a few days. Sometimes you can back a winner. 
People want a point of difference. Everyone makes a blue jacket, so if you make something even slightly different, you're going to stand out.
I think that's definitely been one of our strengths—sourcing great quality fabrics that are a little bit different. The shapes and silhouettes we use aren't like Issey Miyake patterns—menswear doesn't change that much—but it's in the fabric and the fit that we can separate ourselves. And I think men have more courage now to wear things that are a little bit more out there. Rather than years ago you'd walk in the pub and have your mates take the piss out of you, now you'll sit and talk about Japanese fabric. And I think that's really good. And also, there's now women buying menswear—we get a lot of women buying our stuff too. 
Yeah—that's been a big thing over the last few years. What's your process for designing something? Say you're making a new jacket, how do you go about creating that?
It either comes through a vintage piece that I've found, or maybe fabric that I've seen which inspires me. Then it's putting pen to paper—I'm still a strong believer in drawing—I've got a Moleskine book that I sketch in. And from there I go into Illustrator to start building something up and think about the details. 
"It's always about going back to the past to create something new for the future."
And also I'll wear the vintage pieces, and think about the details—maybe it's got a little tab on the collar or a storm-cuff—and from there I think about how I can pull those details in. Or maybe think, "Oh, that's a bit like an old Eddie Bauer jacket." So I'll then try and find that and wear that for a bit. So I'm trying to pull all these bits together. I usually pull together a lot of different details, whether they're from WW2 or work-wear or old Eddie Bauer or old Barbour… I suppose it's like writing a song. Picking bits you've heard and putting them together.
Like sampling?
Yeah that's it. And from there we'll then put together a sketch with a pattern team. Generally we work in a way that's called CMT, which is where we specify the fabric and the trims—and I believe that's where we stand out. We control every little aspect of our clothes—we buy the buttons and the zips—we're not just giving the factory a sketch and then letting them pick the details. Every little piece is considered. 
From there the first prototype sample will then come back, and then we'll wear-test it before going back to the factory with fit comments or detail changes. Or at that point, we might just think, "Okay, this isn't going to work." Even today, I think 80% of the time something is going to work, but the other 20% is on a whim—and I'm not sure if they're going to work or not. And sometimes they're the best things. 
Maybe that's where the magic is? That's when you make something different or exciting.
Definitely. You're always going to have things that are more commercial than other things, but I've never been one for just making product for product's sake—like "Okay, we need to make a £120 five-pocket chino." Why would you work like that? That's the high street mentality. If we're going to make five-pocket chinos, we're going to make the best five-pocket chinos we can. I know that things need to sell and analytics are important, but brands should be design led.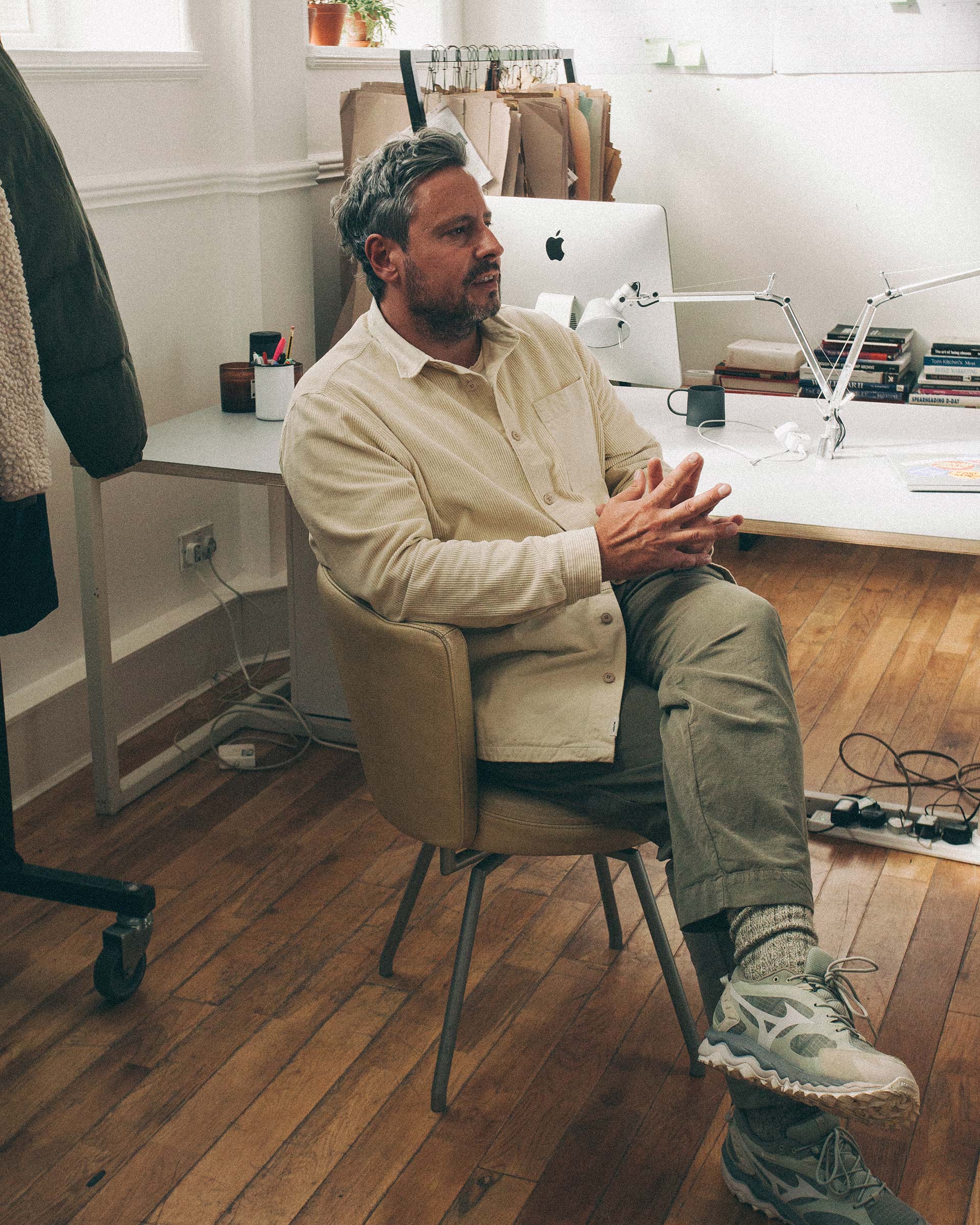 A lot of brands just tick the boxes—it's like they've got a list of things they think they need to make. I imagine that can kill creativity.
There's nothing worse as a designer than someone saying, "you need to make this at this price." But at the same time as things go on and it's your own business and it's your own money, it needs to sell. Another important thing is not overproducing things—that's really important. Everything we make is made to order—so if we sell out, we can't just suddenly get more of them. 
As well as all this, you've recently been appointed the Creative Director for Henri Lloyd. How did that come about?
Back in 2020, just before the world fell apart, we were in Paris showing a line we'd made for Berghaus called Berghaus Blueprints. We were showing that alongside our own collection—and the guys at Henri Lloyd saw what we'd done with Berghaus, and they liked how we'd taken inspiration from the archive to create something new. We're working on launching in Autumn/Winter '24, so we're right in the design process now—absorbing everything from the past. 
How is it working with a brand like that? There's a lot of history there.
I've been designing for a long time now, but I've learned so much from going to the factory in Poland—things I never even thought about before. For example, when you're taping the seams of a jacket, if the tape is slightly over to one side, that could mean life or death for somebody out at sea. I suppose as someone designing products for 'lifestyle', that's not something you really think about, but Henri Lloyd are very much on top of the game when it comes to making sailing clothing—making these suits that'll help keep you alive if you fall overboard. It's an incredible factory—they make a lot of things for the Polish military there too—so it'll be great to produce products there. 
"Designing clothes is quite an emotional thing—we're quite emotionally attached to the work that we do."
There's incredible heritage to the brand—and it's amazing how it's been adopted by so many different cultures and demographics over the years. It's quite a tough job to follow in a way—it's amazing that they've chosen me to do this. The way that I work is that I'm always looking back at a vintage archive and working out how I can make those designs relevant for today's lifestyle. 
How does designing this stuff differ from working on Kestin clothes? Do you approach it differently?
When I did my training with Nigel Cabourn we had 'Nigel Cabourn' the brand, but we also had a design studio where we did consultancy work on the side. People would come to us to relaunch brands or reinvigorate them and give them a new sense of life—so I was used to being able to put a different hat on, from doing Cabourn to doing something like Karrimor or Rohan or whoever we were working with at the time.
I like the challenge of being able to push myself as a designer all the time—so a new challenge is good for that. I think you can become a bit comfortable as a designer—it can become quite buyer-driven, where buyers want to buy things that sold last season—so new projects can push you to do something different. I'm always interested in technical or performance clothing, so a gig like Henri Lloyd gives you that opportunity, as well as the heritage, and that's perfect, because that's the way I like to work—but it's a different product to what we do with Kestin. You can learn things from one, that you can apply to another.
Things work both ways?
Yeah—you're constantly learning. And I think that makes you a better designer.
I think this relates to all creative jobs—but have you also got to learn to deal with criticism or outside input when you're working for another brand? I imagine there's a different level of freedom when you compare it to working on your own brand.
That is always a challenge—and whether you're a writer or a photographer or a designer—whatever you do, you're attached to that work, and it's difficult to take criticism sometimes. For me designing clothes is quite an emotional thing—we're quite emotionally attached to the work that we do. I remember in the early days we used to have the design studio in the back of the shop, and you could hear people in the changing room saying, "I don't like this—it doesn't fit properly." And I'd be there crying into my Illustrator sketch in the back room…
I suppose you put yourself into these things—so it's hard not to take criticism as criticism of you, isn't it?
Yeah, and that's the difficulty. With Berghaus and Henri Lloyd, people generally have an idea of what these things should be, and what these things should look like—and that's quite difficult to balance. You need to listen to everyone and their opinions, but you also need to put your own stamp on it. Some people are purists, and some people are futurists—so it's difficult to get the balance right sometimes. It's like the design of an old Land Rover Defender versus a new Defender—for me it's about making sure that design DNA runs right through from the old product to the new product. It needs to be instantly recognisable as Henri Lloyd—that's critical.
Yeah—like making the new Mini. It still looks like a Mini, but it's not a 1960s car.
Yeah, and people are really opinionated about that. Some people like it, and some people don't. And sometimes it's a monstrosity, and sometimes it's better than the original. And it's difficult to be better than the original—it's like movies… although Home Alone 2 was up there.
Yep—and the second Bill and Ted is better than the first one. I suppose it's like making a new Star Wars film—if people have an emotional attachment to something, they're going to be critical of a new version.
Yeah—there's been all these great Henri Lloyd jackets—like the Jib Jacket and the Viking Smock—and then there's the rugby shirts and polos. It's amazing the prestige the brand has—you want to get it right. 
It's clear that looking at vintage clothing plays a big part in what you make. Obviously with Henri Lloyd you've got the archive to look at, but when it comes to your own brand, are there certain designs you find yourself always going back to?
There are definitely a load of French work-wear jackets that keep coming back out. We make a lot of shirt-jackets as they're such an easy thing to wear, whether it's in summer as a jacket, or as a mid-layer. For those, we also look back to WW2 design and the USMC jackets, with the combination of twill and herringbone. 
With the contrast pockets?
Yeah—there are different variations of those jackets, but they'd mix either herringbone and twill, or herringbone and canvas. They'd be sewn together and then garment dyed, so there's this subtle contrast between the two fabrics. And then I'm a big Eddie Bauer fan too. I'm constantly looking back at old Eddie Bauer jackets—they really inspire me in terms of big outerwear. 
Although you take a lot from these designs, you're not just reproducing them. How important is it to put your own spin on things? 
I think it's really important. What's the point in just reproducing something? There's nothing wrong with being a purist, but it's not for me. 
And maybe those old designs weren't perfect anyway. Maybe they need longer sleeves or some new details?
Body shapes have changed a lot over the years. That's actually how I got started—I couldn't understand how to take 2D forms, and make them into 3D shapes. All the womenswear designers on my course were creating these incredible patterns, but I couldn't seem to get my ideas across. I was really struggling to take my designs from paper to cloth, so my tutor said to me, "Go out and buy something you like the fit of, then cut the seams, and there's your pattern. And if you want to make your sleeves a bit longer, just make them a bit longer—don't think about it too much." And that was probably the best advice anyone ever gave me—just go and find a shape. I still do that now. I'll find a deck jacket I like, and from there there's the process of adding other details or a new fabric. 
It seems like with men's clothing, everything always comes back to military design or outdoor gear or sportswear. Why is that?
People talk about form following function… and I think menswear has to be wearable, and it needs to work. Looking at the military clothing they made during WW2—the detail and the workmanship that went into it was just incredible. I think in the area of menswear we're in, we like quality and we like detail, and those details generally come from something before. It's always about going back to the past to create something new for the future. For me, if something isn't inspired by what's gone before, it lacks character and personality. I think to be a really good designer or artist or photographer, I think you need to understand what's gone before. 
As someone who takes influence from all these different elements—how do you describe your clothes? Are they outdoor gear? Or sportswear? Or something else?
There's lots of elements, aren't there? What we're trying to do is produce really good quality clothing that's about quality, function and performance. We're trying to make the best possible products we can, and really push ourselves forward with that. We've always got this Scottish element too—not just in terms of the history of textile production in Scotland, but also the landscape that we have here. Being prepared to survive the elements. And that's quite challenging sometimes when we're selling to shops around the world—by default, our clothes are quite heavy because of our climate here—we need fleeces and down jackets even now in Spring. 
A jacket ain't just for winter… Rounding this off, is there an archetypal Kestin item? What items sum up what you do best?
It's difficult. They're like your children. You're emotionally attached to every piece—even the quite simple ones like the Inverness Trousers we make season after season. I think we've nailed the fit of that over the years. And then there's our Dunbar Quilted Jacket, or the Gullane Parka. It's hard to pick one from the other. It's an emotional thing—and I don't let anything go out of the door that I'm not incredibly proud of. There's got to be a reason for everything, and it's got to be the best it possibly can be.