An Interview with Photographer Pete Hill
We talk with the Sheffield photographer about buildings, bands and the reality of Steel City in the 80s.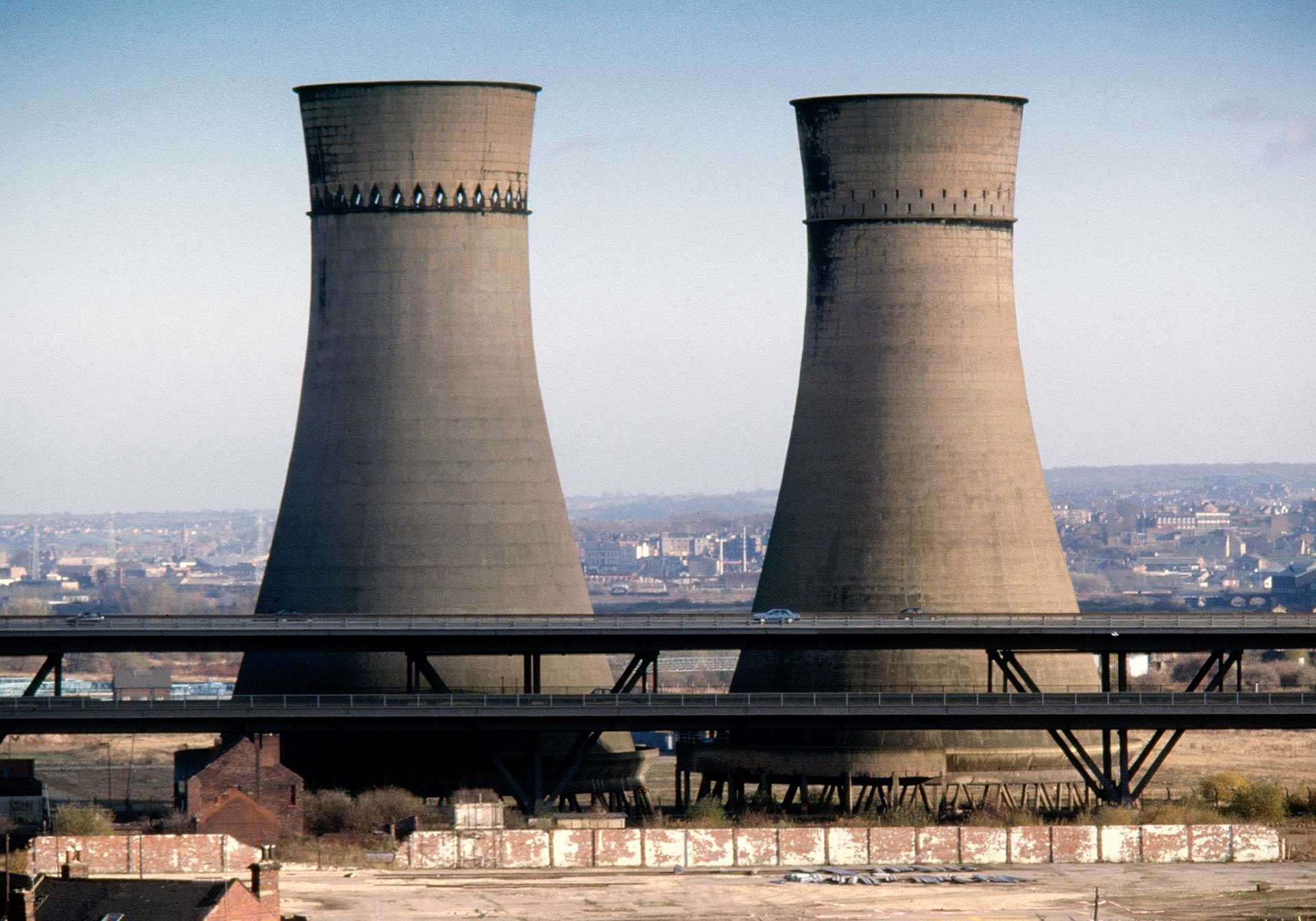 The cities of the north of England have changed rapidly over the last 50 years, with skylines endlessly evolving as the region's industrial past is erased to make way for the swanky apartments and multi-storey car parks of modern life.
Luckily for the people of Sheffield, Pete Hill spent a large portion of the 70s and 80s meticulously photographing the streets, buildings and people that made up our Steel City—offering a rare glimpse into the reality of urban life in these now-distant decades.
With a technical, composed style, Pete also documented the city's music scene, shooting bands like Pulp, Cabaret Voltaire and ABC, and still works as a photographer today.
In this interview, we talked with Pete about his early days on the streets of Sheffield, sneaking his camera into gigs and the knack of shooting endless catalogue photos of cutlery in the pre-digital age…
Starting back at the beginning, how did you get into photography? Was there a specific thing that set you off with it? 
I remember my first camera was called a Diana, I was probably only six or seven at the time. Apparently they were made in the millions and given away. I was devastated when I left it in the back window of the family car whilst on holiday, and it melted. My first proper camera was a Zenit B which I got for my 15th birthday.
What sort of photography were you into back then? Was there anyone you were trying to emulate at first?
I grew up with the Time Life series of books, you'd get sent one every six weeks, and could send back the ones you didn't want to keep. I'd read them cover to cover, so grew up with the great American masters, and particularly liked Alfred Steiglitz and Edward Steichen, and then the later Life photographers of the 40's and 50's like Margaret Bourke White and Alfred Eisenstaedt.
I suppose we mainly wanted to talk to you about your street photography. What was your routine for going out and taking pictures back in the late 70s? Was it just a case of wandering around and snapping what interested you? 
Pretty much, bear in mind I was only a teenager. I used to buy bulk rolls of Ilford FP4, load it into old cassettes in my darkroom in the family attic, and head off, photographing anything that caught my eye. In those days kids would come up and ask what I was photographing, I wasn't much older than them myself, and they'd inevitably say, "Tek us photo mister."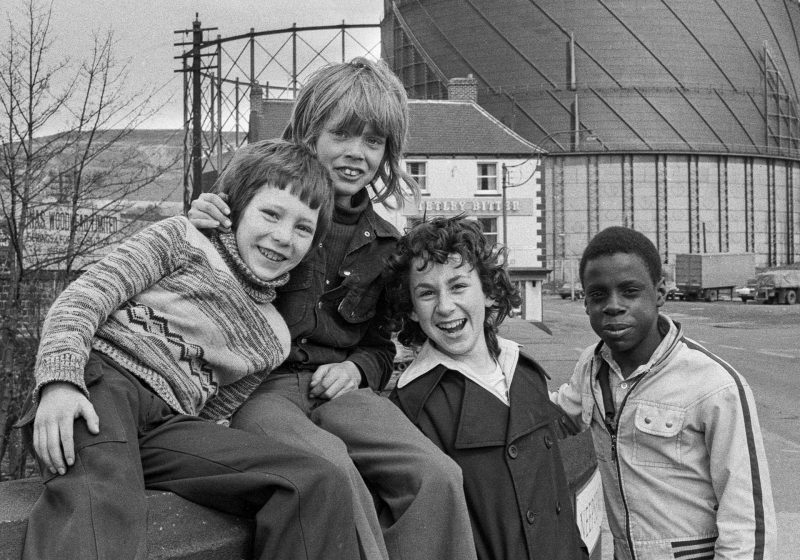 What were you looking for back then?
Anything really, at the time it was all very mundane, everyday life. It's only looking back 45 years later that it becomes so interesting.
Yeah—the history element adds something extra to them. Your images have very considered composition—often using the lines and angles of buildings as major features. What was your process for taking the photos themselves… would you revisit the same buildings trying to get the perfect shot?
Thank you! I've always tried to have a strong graphic element to my shots. I did have favourite locations where I thought all the elements came together. When I took most of the street stuff, it was before I could drive, so I used to walk into the centre of Sheffield, and obviously passed a lot of the same locations again and again.
Subscribe to our newsletter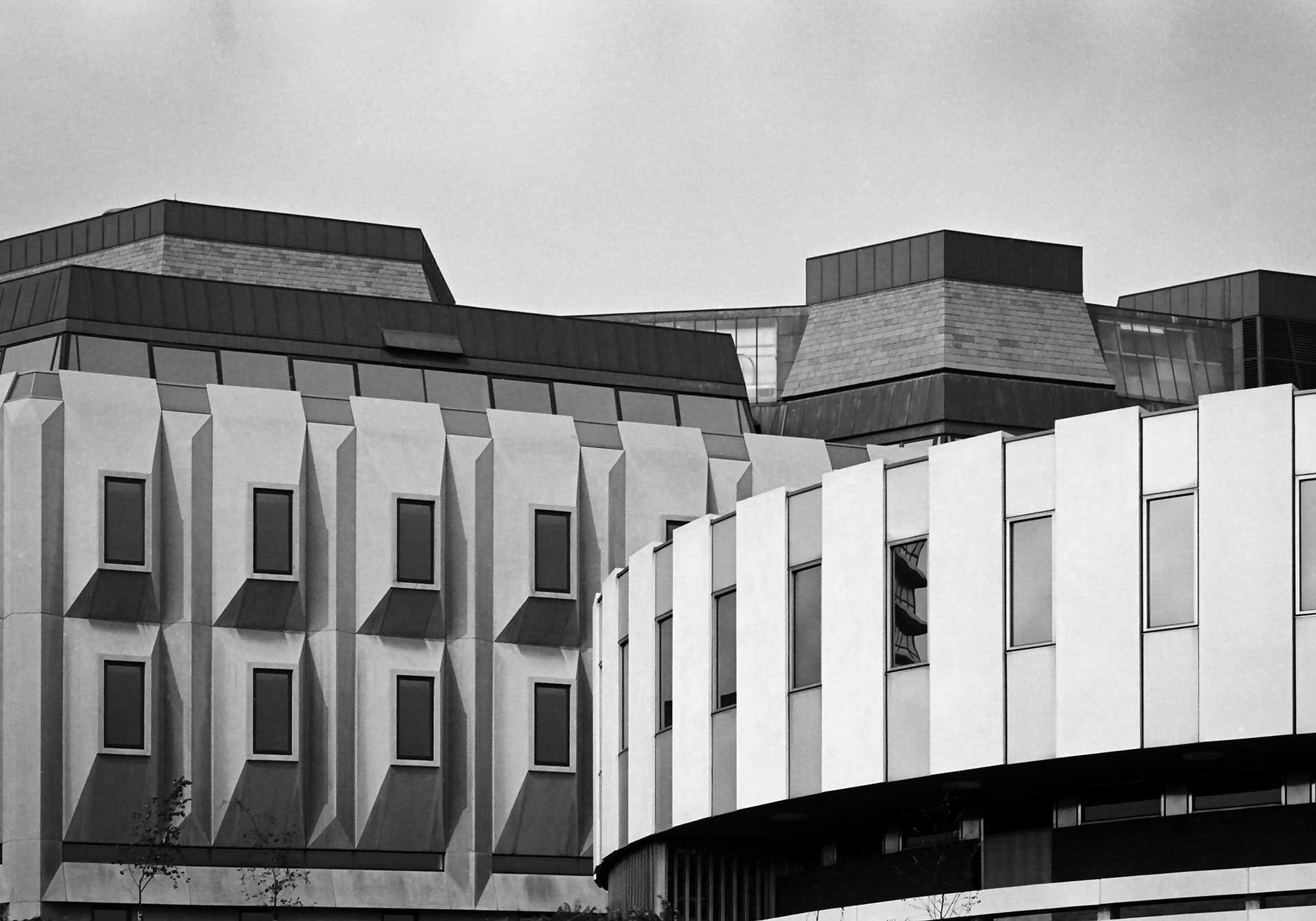 Another thing that stands out is how strong the colour and the light is on your slide photos. I don't really know what my question is here… but it's amazing how well they've held up today.
When I was younger I used to shoot Kodachrome, but later Ektachrome, and then later, mainly for my commercial work, Fuji RDP 100 by the bucketload. I've always tried to shoot stock stuff in strong sunlight, which helps with the saturation, and also the "graphicness" of the images, if there is such a word. As I've scanned the old stuff I've not really done much to enhance the colour, just remove any casts that have crept in.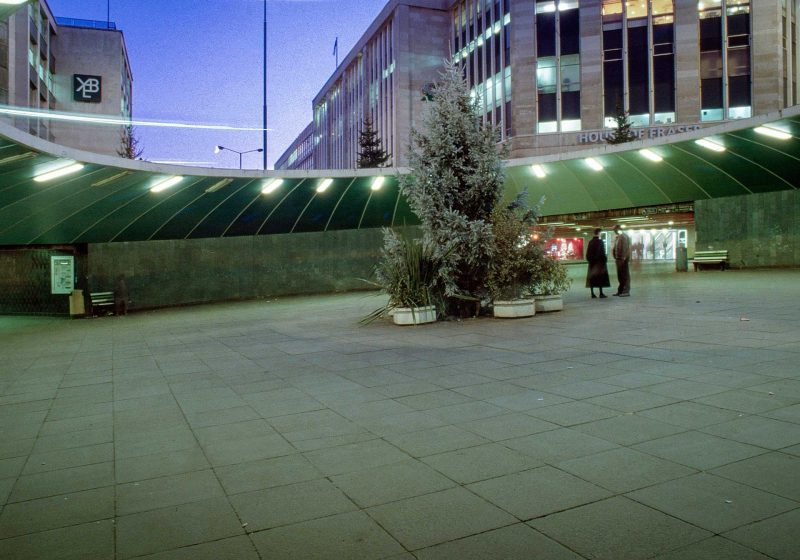 What were people's reactions to your camera? I can't imagine many people were wandering the streets with a camera around their neck back then?
I suppose it was pretty unusual, I've always been pretty small and nondescript, so I probably just blended in! I did used to have my camera on a strap round my neck, nowadays I'd keep it in a shoulder bag, and pull it out when I'm ready.
It seems like now there's a huge interest in documentary photography, but was there much of a demand for it back in the late 70s and 80s? What did people think of your photographs?
They were really just taken whilst learning my trade, so I never did much with them. I did enter a Royal Photographic Society 'young photographer' competition once, and got a picture selected. Actually on my 18th birthday went to the gallery in London, and saw it exhibited, which was pretty good.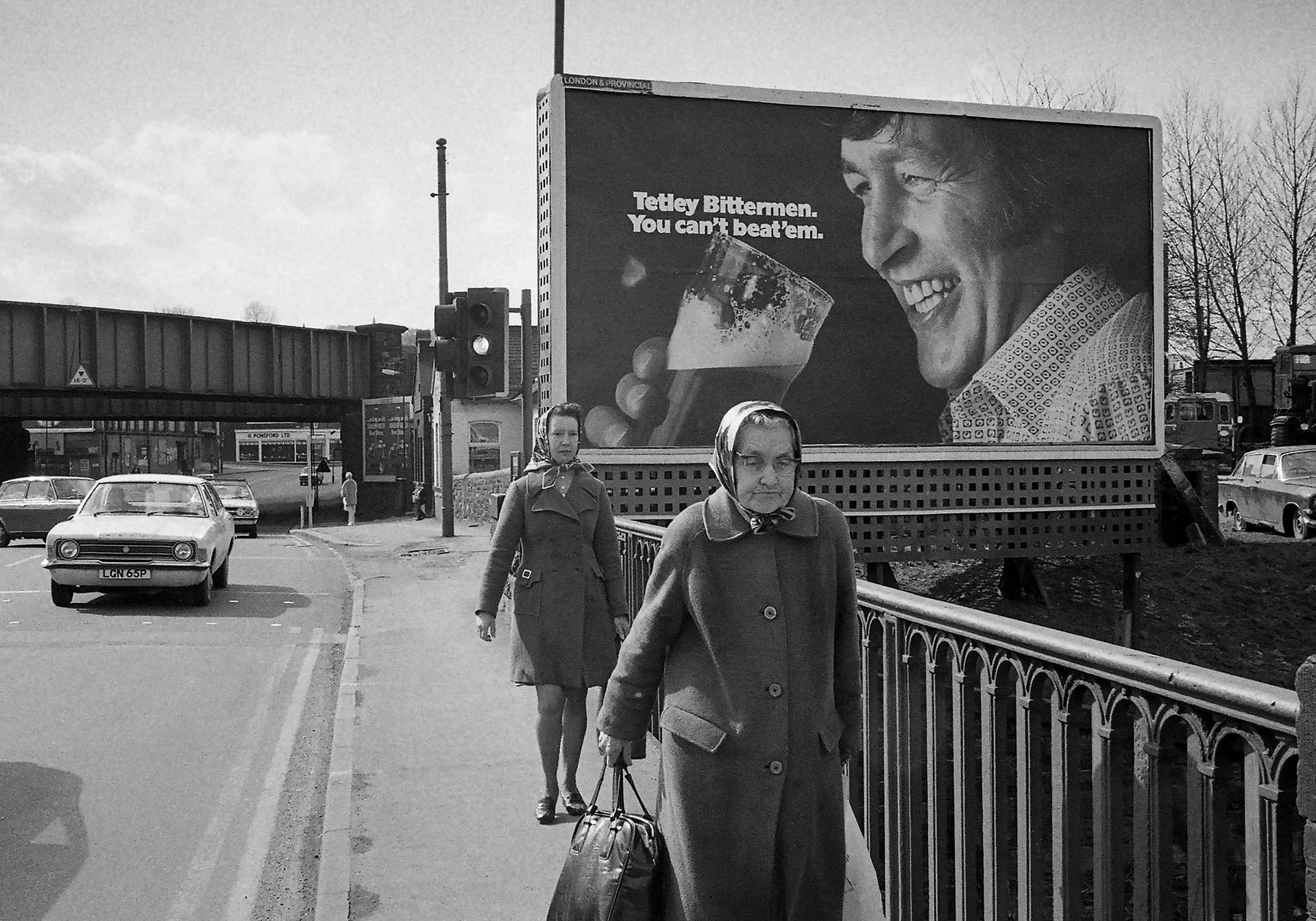 A lot of the stuff you shot around Sheffield has been knocked down now. Was it a conscious thing to document the 'old Sheffield'? Were you thinking ahead at all with your photographs?
In short, no. As I said, grew up with the Time Life books, with great shots of New York in the 40's and 50's, and I was just trying to copy them, thinking, 'Okay, it's not New York, but it's all I've got'. Not that in any way I'm knocking my home town! I love Sheffield.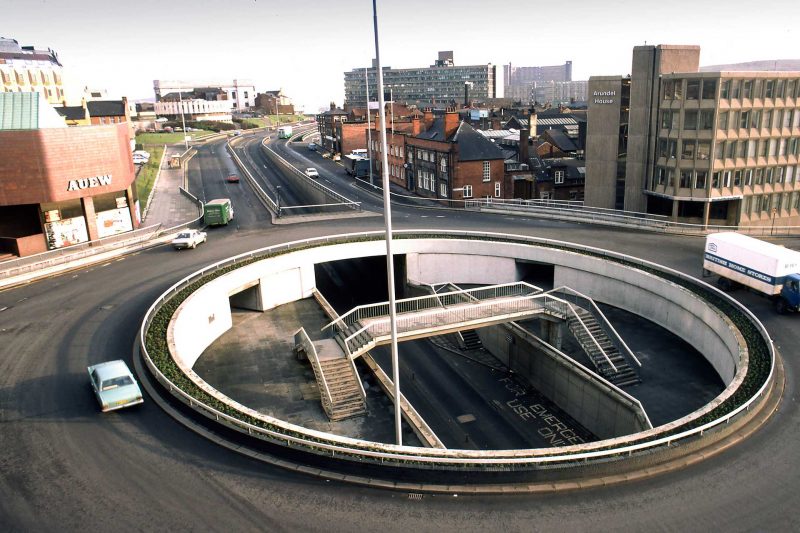 The buildings you shot tended to be more on the brutalist side of things. I know a lot of people are into modernist architecture now, but I can't imagine many teenagers were bothered about those concrete structures back in the late 70s. What drew you to these fairly harsh looking buildings?
Sheffield has always had quite a lot of brutalist buildings, and I've always loved them! I think a lot of us who grew up in the 70s did. There was the infamous 'Hole in the Road', an enormous complete rabbit warren of an underpass, and 'The Eggbox', or town hall extension. Again I think it's just the great graphic geometry they had, and just the fact that they were new and exciting, not grubby and old. 
I think it's really sad that so many have now been pulled down, we're losing a whole era of architecture. In the 60s everyone did up their houses, covering up old fireplaces and panelled doors, now they're considered highly desirable period gems. Fashions will change, but the buildings will be gone.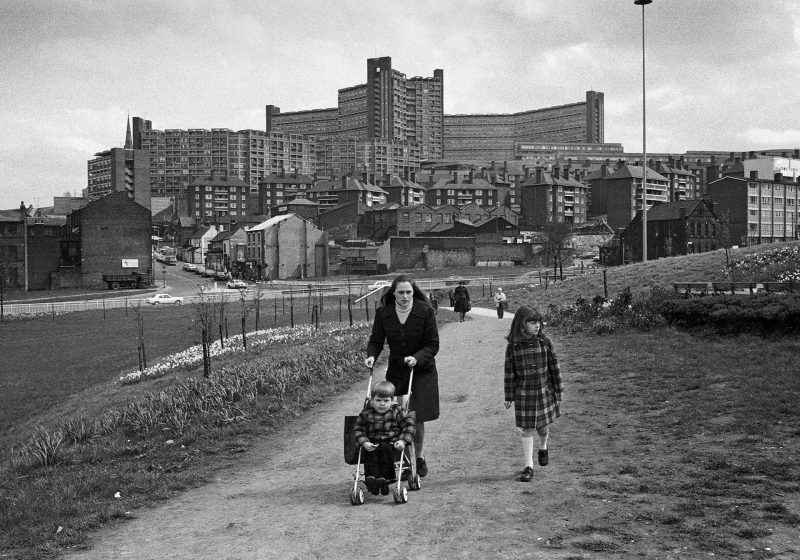 It can be easy to be nostalgic when looking at old photos such as yours, but what was the reality of Sheffield back then?
I had nothing to compare it with, so it just seemed very normal. As I've gone back through all my old negatives, that I meticulously filed at the time, it strikes me how busy everywhere was, with hoards of people in town. 
I post a lot on a Facebook site, and there's lots of comments from people saying how clean it used to be back then, but I can assure you it wasn't. As I've scanned the negatives, and cleaned up all the dust and hairs from processing in an attic, you can see all the cigarette ends and litter on the streets. I make a point of leaving them in. 
When I started as a professional it was the early 1980's, and it was as a commercial photographer, and then it was tough. There was a big steel strike, and obviously Sheffield is known as steel city.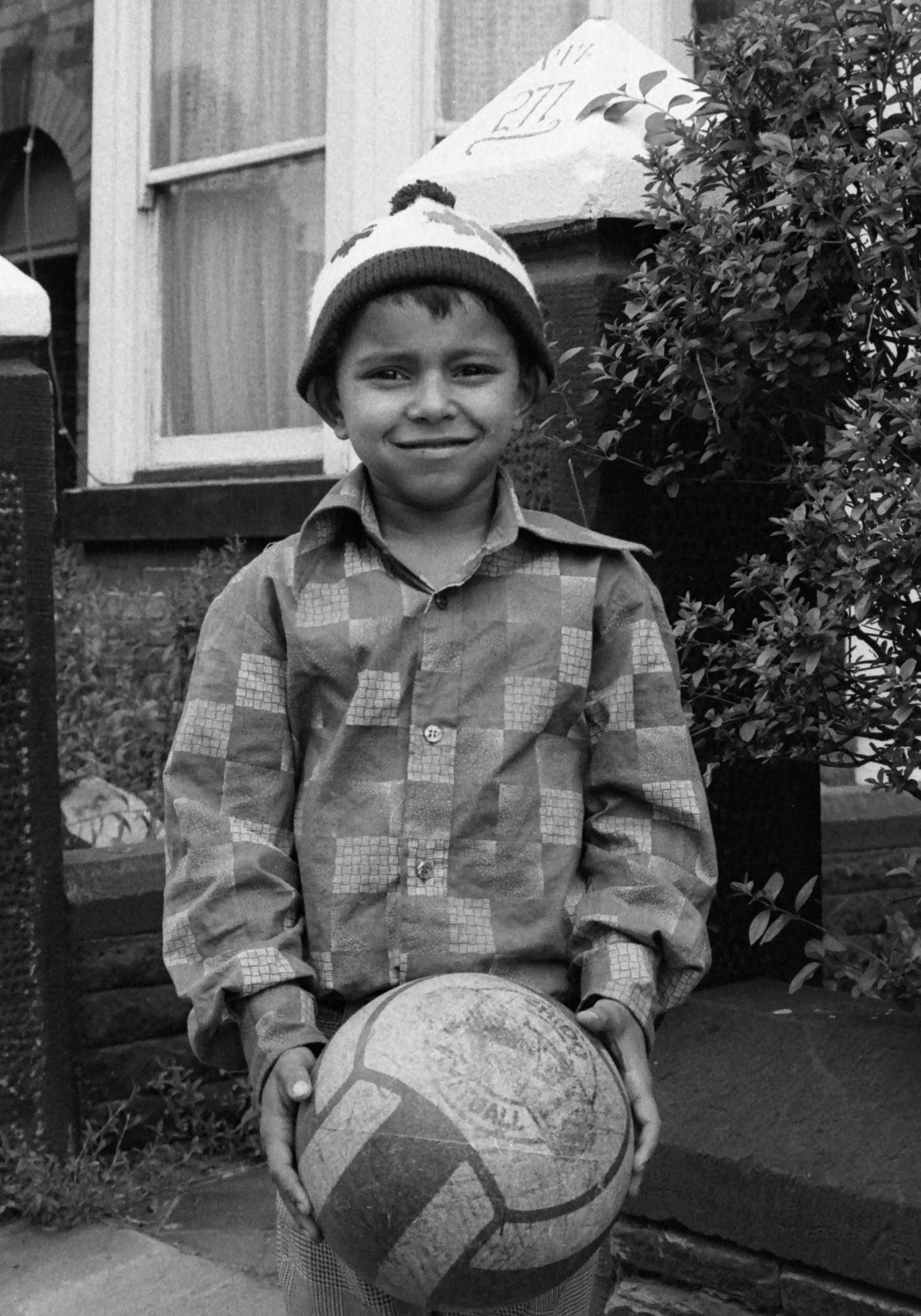 As well as your street photography, you also photographed bands like Cabaret Voltaire and Pulp. Was that just another part of the same thing for you? Was photography all 'one thing', if you get what I mean? 
Again, it was the early 80's, and music was my other passion. I started going to local gigs, a lot of my friends were musicians, and it just seemed a natural thing to do. We were all just youngish kids trying to make something out of nothing. I've always, and to this day, thought of myself more as a hack than an artist. It's my job to translate other peoples' desires onto film, hopefully adding some of my own style and vision along the way.
What was your technique for shooting a gig?
I used to go to loads of gigs at The Limit in Sheffield, which was great. There I mainly had to use flash, the ceiling was so low, there was never much light getting on the performers even if they had much. It got to the point where the management let me in for free in return for prints. At Sheffield City Hall I used to have to smuggle the camera in, lens in one pocket, body in the other. Then used to send prints off to NME, Melody Maker, Sounds and Record Mirror. It didn't pay much, but it was fun.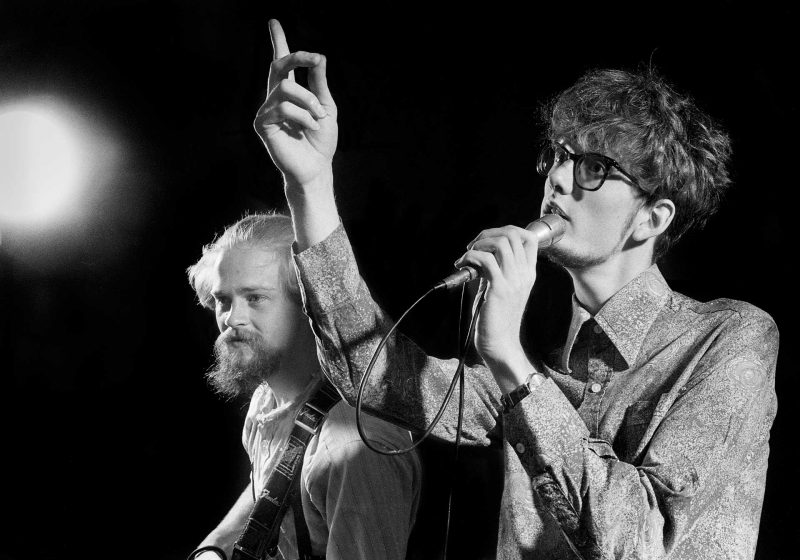 Did you have a favourite band to photograph?
My favourite actual band was Vice Versa, who went on to become ABC—we had the same pop music ethic. To photograph it was probably Artery, who never got the recognition they deserved. They were really more an art project!
The most notorious shoot was the time they wanted to be photographed hanging upside down naked from a tree. One Sunday morning we met up in the local park, and each member of the band had a friend with them. They stripped down to their underpants, tied rope round their ankles, and were manoeuvred into position. When we were all set, their friends would lower them down, I snapped away, until one would start screaming in pain, when the friend would rush in and take their weight. All the time families were walking past, urging their kids to not look and get a move on!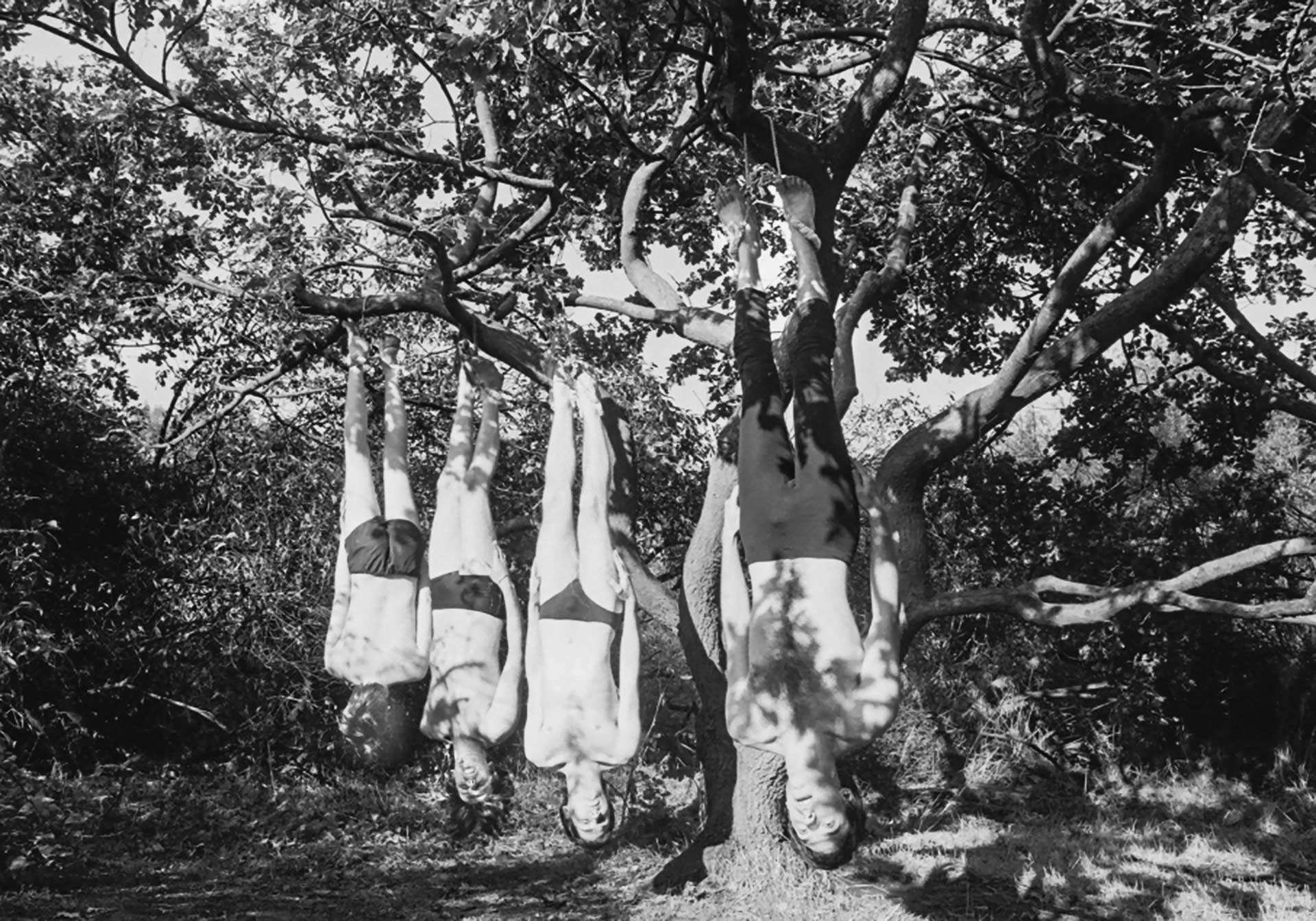 How did all this fit into working as a photographer and trying to earn money? What was a normal day like working as a photographer in the 80s?
Tough! I started out professionally mainly as a studio product photographer. I then got talked into shooting editorial for a local magazine, and discovered I had a knack for photographing people. So then, as now, I do a lot of PR, editorial and corporate work.
How did getting photos in magazines work back then? Was it just a case of sending your prints off and crossing your fingers?
Not really, I worked hard at getting commissions. I used to send out mail shots to both consumer and trade magazines, and also take numerous trips down to London, hawking the portfolio round. But then, as now, the most effective way of getting work was word of mouth. If you do a good job, it gets round. Art directors move from one mag to another. You start doing work for a small trade mag, then the art editor moves to somewhere like Good Housekeeping.
Product photography maybe isn't the most riveting subject to talk too much about in an interview… but I'm interested in how people shot endless household items quickly in the age before digital cameras. What was the process behind it back then? I imagine there was a fair amount of waiting around.
You didn't shoot products quickly in the 'olden days'! It was very time consuming, working on 5×4 transparencies, and you couldn't have things cheaply cut out in Thailand, as I sometimes do. 
Sheffield was the centre of tool manufacture, so there were endless catalogue shots of milling cutters, lathe tools… I generically referred to them as spanners. I do still shoot catalogue stuff, the most high profile job is for upmarket cutlery and kitchenware retailer David Mellor. I think it's now been 35 years—at some point they'll probably realise I'm crap, but so far so good.
Haha—you seem to be doing okay so far. You still work as a photographer today—what's the secret to your long career? What keeps it interesting for you after all these years?
I still love it—going out meeting interesting people and seeing lots of interesting things. I think that's why I'm still so busy. Love what you do, give the clients what they want, and treat every job like your future career depends on it. Never get complacent.
Wise words. Wrapping this up now, technological developments aside, how has working as a photographer changed since the 80s? 
In some ways it hasn't. I always say it's not the little box that takes the picture, but the person holding it.