Patagonia NetPlus Product Launch 
Creating awareness and sell-through of Patagonia's new recycled fishing net product range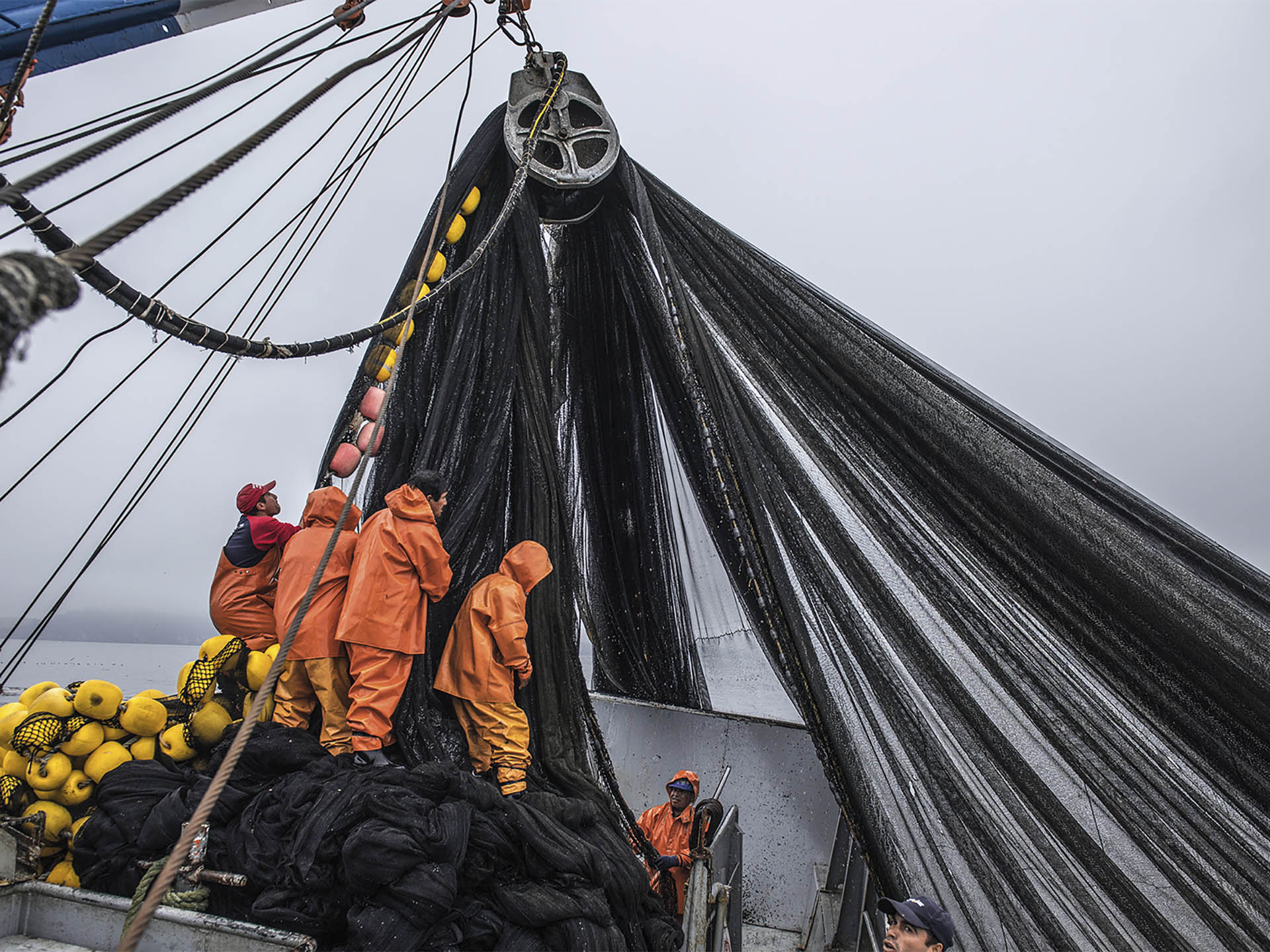 As part of their AW21 collection, sustainability leaders Patagonia focused on finding ways to take old fishing nets, otherwise destined for landfill, and turn them into something wearable and long-lasting. 
Unlike other products normally made from plastic, there isn't a natural alternative to fishing nets, which can take hundreds of years to break down in marine waters – so Patagonia wanted to do something positive about this problem. 
In collaboration with a company called Bureo, which takes old fishing nets and turns them into hat rims, skateboards and sunglasses, the NetPlus® collection featured things like jackets, shorts and hats – all made using this same forward-thinking form of recycling. 
Don't waste it, wear it
Off the back of running similar multi-platform, multi-market campaigns for the European Patagonia team, such as Shell, Yeah! and R1, we were asked to collaborate on the paid campaign strategy as well as the paid ad deployment across the European marketing channels. 
Our objectives were:
to create awareness of Patagonia's new recycled fishing net product range, Netplus

drive engaged traffic through to the Netplus campaign landing page and product pages

encourage Patagonia's eco progressive customers to consider purchasing Netplus as a more environmentally friendly alternative

build audiences of engaged eco progressive prospects for future Netplus campaign launches
We split the campaign into a three-phased funnel: Awareness, Traffic and Conversion – with each layer optimised to match each chosen platform's strength depending on the objective.
Bringing wearable recycled plastic to an eco-progressive audience
Since Patagonia's Facebook boycott, we have been utilising a variety of alternative advertising platforms, such as YouTube, Pinterest, Snapchat, Reddit, Google Discovery and Twitter, in order to reach the brand's key target audiences. 
By taking advantage of a carefully chosen combination of these platforms, we were able to devise a strategy that introduced NetPlus® to the right audience, at the right time, in the right way. 
Video creative was used at the top of the funnel to introduce the problem to those with an interest in sustainability and recycling, followed by more prescriptive creative which sent people through to the campaign landing page, where they could be further educated on the issue. Product focused creative rounded off the journey down the funnel, with carousel and product-centric ads being shown to those who had taken an interest in the NetPlus® story.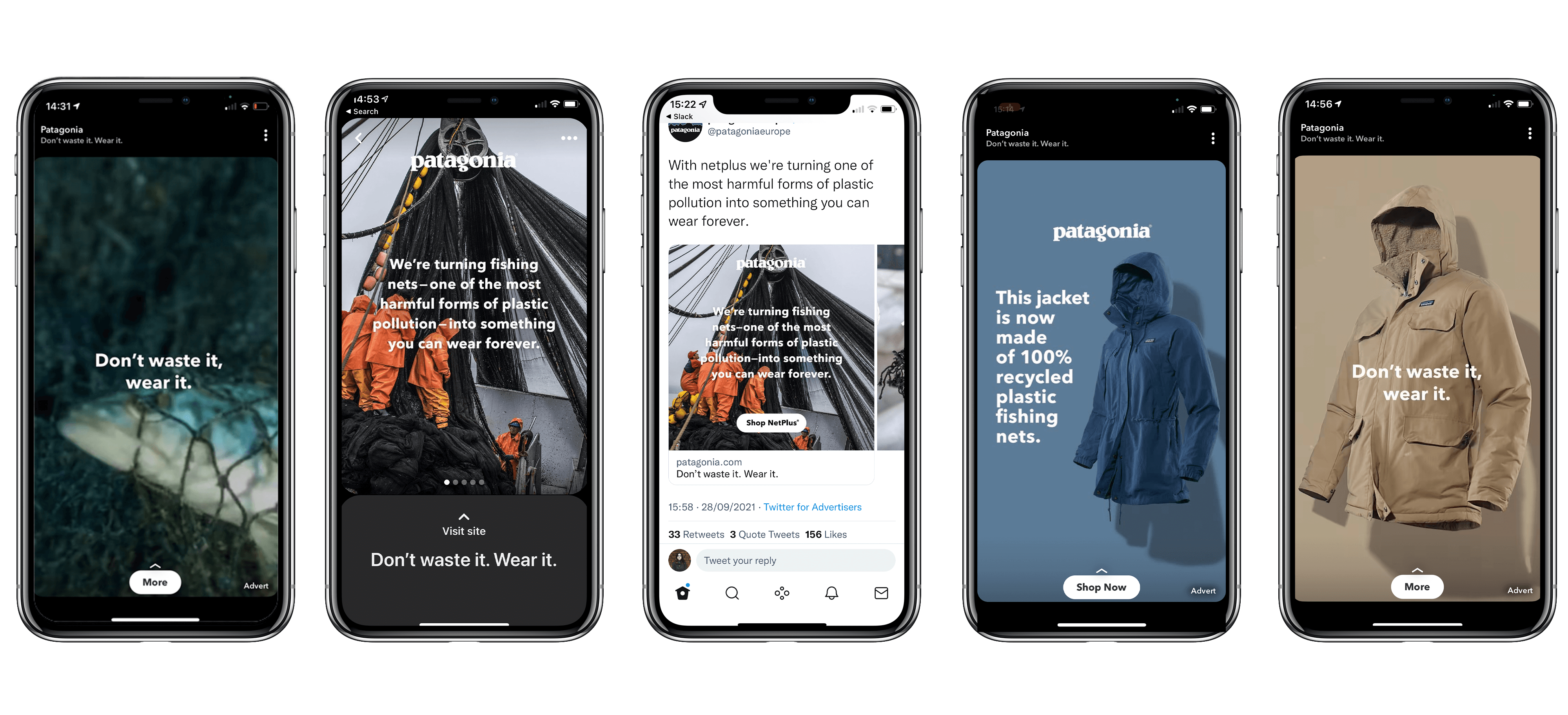 The result?
We helped Patagonia's NetPlus® campaign receive in excess of 43 million impressions from eco-progressives and fans of the brand in 5 European markets across 5 social platforms. 
The traffic driving aspect of the campaign was well received by the target audience, with a reassuringly high CTR for a campaign that put environmentalism and sustainability at the forefront of its messaging.
The eCommerce portion of the campaign also achieved very impressive results with a return on ad spend (ROAS) far higher than the KPI we were working towards. 
By running the campaign in this way – across multiple phases, markets and platforms – we were able to take a deep dive into the data and provide the brand with a plethora of insights: such as which markets resonated with the campaign best, which creative was the most successful, and which demographic was most likely to add a piece from the NetPlus® launch to their collection.
NetPlus® proved to be a highly successful product launch for Patagonia. The environmental credentials of the collection and how it was received by their audience reinforces that Patagonia not only has its finger on the pulse when it comes to what their customers are interested in, but also how they can offer them new and exciting product launches whilst still upholding their long-held brand ethos. 
Do you want to achieve these kinds of results in your next campaign using advanced audience targeting and carefully curated social media advertising funnels? Get in touch to discuss your next project.