Scottish Munro Bagging in Glen Coe
In 2019, James 'Mountain Man' Forrest climbed 282 Scottish Munros in just over 6 months. We got him to write up climbing four of them as part of a content marketing campaign for Mammut.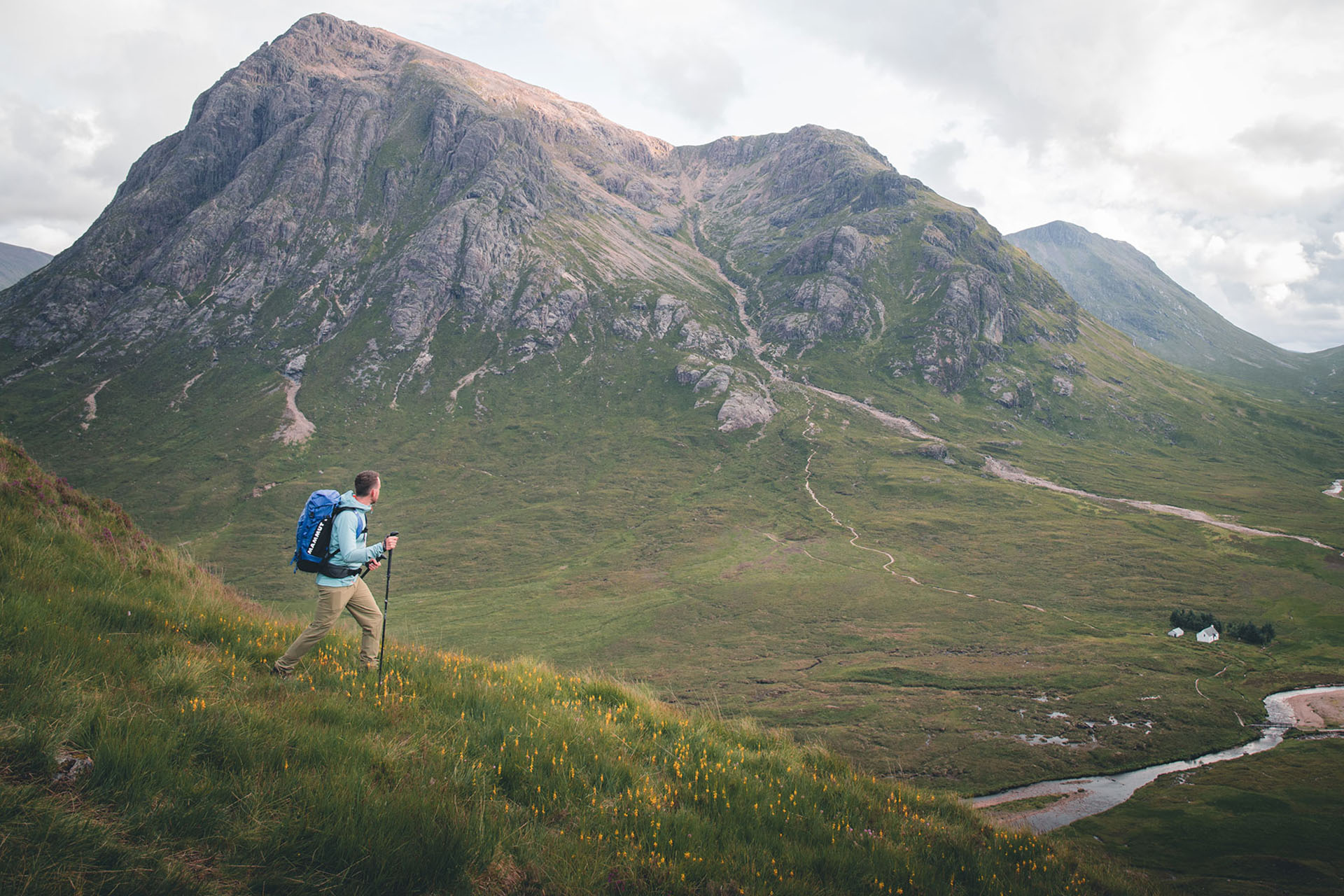 Written by James Forrest. Photography by Edward Fitzpatrick. 
Loading up an OS map on my phone, I look over our weekend routes and show them to Nic. "Four more Munros in the bag this weekend, all being well", I say.
"Gotta keep ticking them off," she replies, with a hint of determination in her voice.
On the hit-list for Saturday are Stob Dearg (1,022m) and Stob na Broige (956m), the two Munros that, somewhat confusingly, collectively form what is known as Buachaille Etive Mòr (the Big Herdsman of Etive in Gaelic). For Sunday our sights are set on The Buachaille's smaller brother, Buachaille Etive Beag (Little Herdsman of Etive), which includes the Munros of Stob Dubh (958m) and Stob Coire Raineach (925m). I'm giddy with anticipation.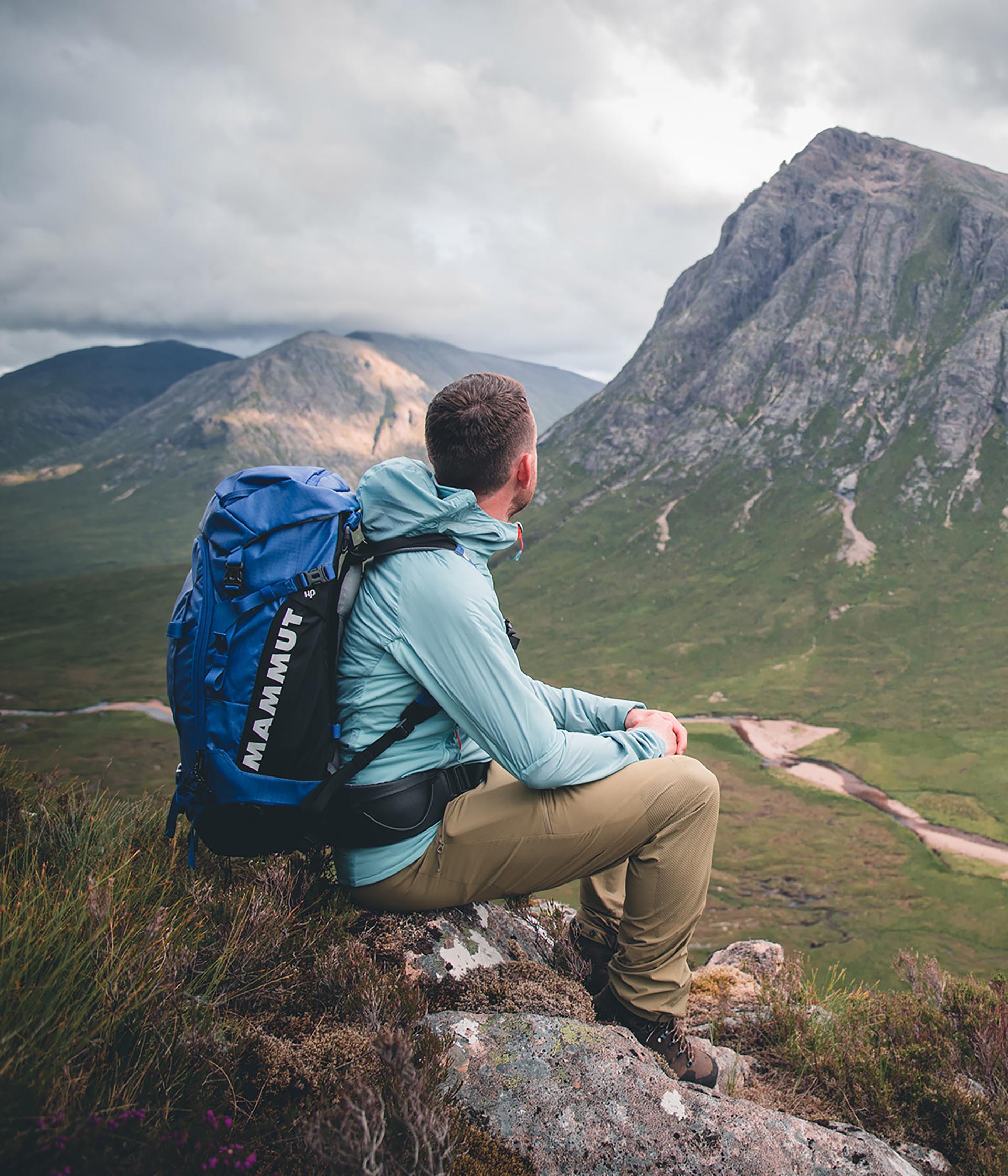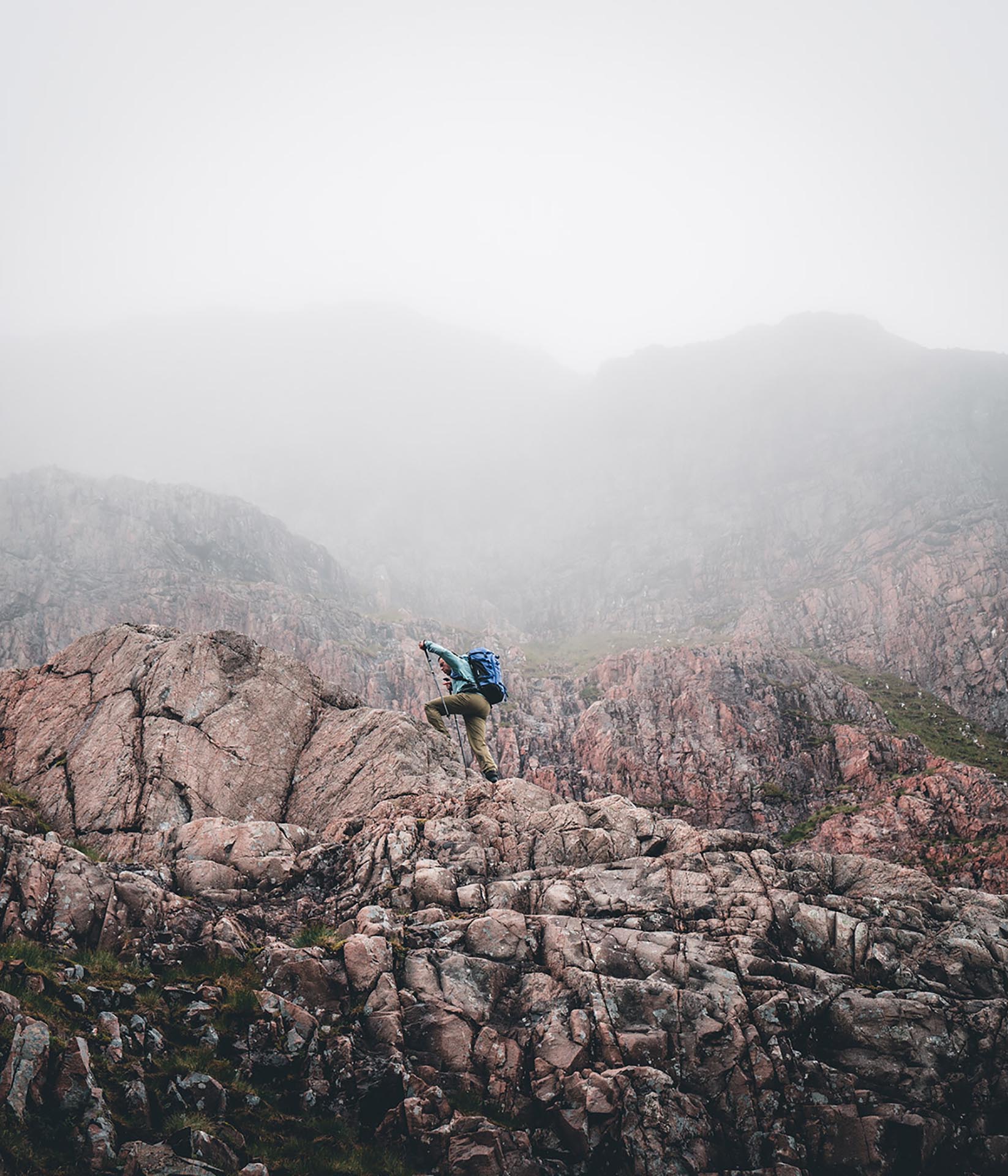 The following morning, wrapped up in Gore-Tex layers, we shut the door on our mountain hut and pick up a good path heading south towards The Buachaille. From here the mountain looks impenetrable and unclimbable, a domineering mass of knobbly outcrops and precipitous faces of rock, gashed dramatically by vertical gullies.
The upper slopes are shrouded in a ubiquitous – and somewhat uninviting – clag. But thankfully, while climbers head left for more difficult routes such as the Curved Ridge and North Buttress, we fork right aiming for Coire na Tulaich, a scree-filled gully that provides the lowly hillwalker with access to The Buachaille's higher reaches via an obvious break in the otherwise imposing crags. Our hands grip boulders and our boots crunch on stony ground, as we slip and slide over rivers of rock and ascend through the clouds along a tumbling burn. Sweating and breathing heavily, we negotiate a few easy scrambling moves and top out onto the ridge. We turn left, climb over shattered rocks, and make it to the summit of Stob Dearg. "One down, three to go…"
Subscribe to our newsletter
Follow more of James Forrest's 282 Munro challenge, 'Munro Bagging in Glen Coe', by reading the full article on the Mammut website. Or take a look at the other pieces of content marketing we've worked on for Mammut: