An Interview with Outdoor Wear Mag
We grabbed Outdoor Wear Mag for a chat about 'zines, the environment, and great looking outdoor gear.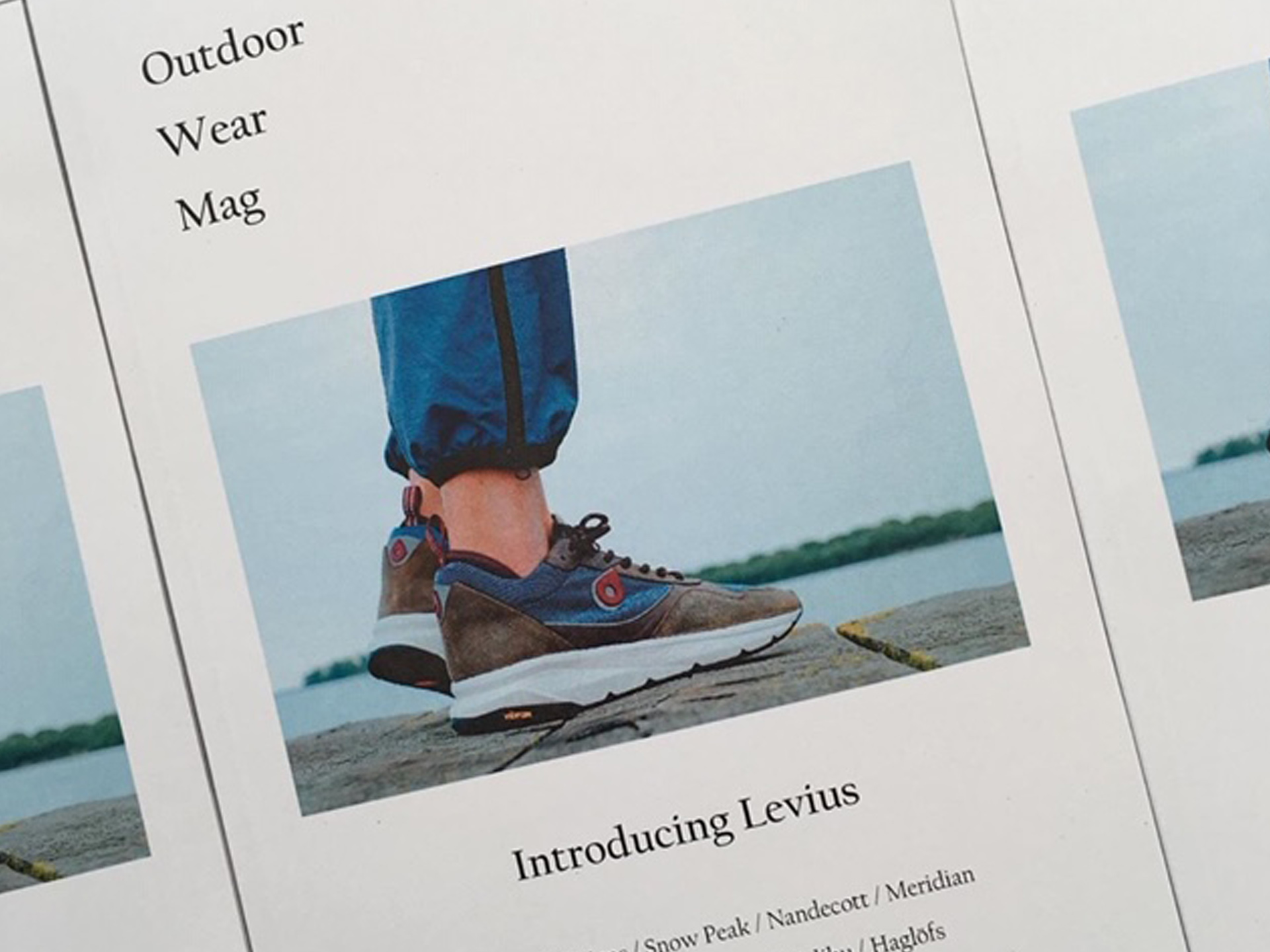 If you've been too busy heading out on the hills or had your thumbs well away from Instagram for the last couple of years, you might have missed new outdoor clothing magazine, Outdoor Wear Mag popping up. As well as an Instagram feed stocked full of snaps of nice-looking coats and boots, the bi-monthly print mag includes interviews and features on the up-and-coming and well-established outdoor brands and stores that bring together practicality and aesthetically-minded design. 
As we share something of a passion for well-made outdoor gear, and as we've worked with many of the brands and stores it's featured, we thought it would be a good idea to grab Outdoor Wear Mag for a chat and find out what's motivating him to put the magazine together and his thoughts on things like 'zines, the environment, and, of course, really good outdoor clothing. 
First up, let's start at the beginning. What inspired you to create Outdoor Wear Mag?
I started the mag to learn more about the brands I'm interested in. I wanted to know more about the manufacturing processes, design of the product and just generally what it's like to run an outdoor brand or store. It was always my intention to have an actual print magazine as well as an Instagram account. I'm a massive print fan and think you can have a greater connection with the features if you're reading in an actual physical copy of a magazine. 
With issue 10 just around the corner, what have you learnt from getting the magazine this far and what, if anything, do you wish you'd known when you first started?
I've learnt that people still like to read print magazines. My big worry when starting out was that we'd do well on Instagram, but people wouldn't buy the magazine (luckily, they have!) I wish I would have known how helpful and easy to talk to people from outdoor brands and stores are, so that I would have started the mag earlier.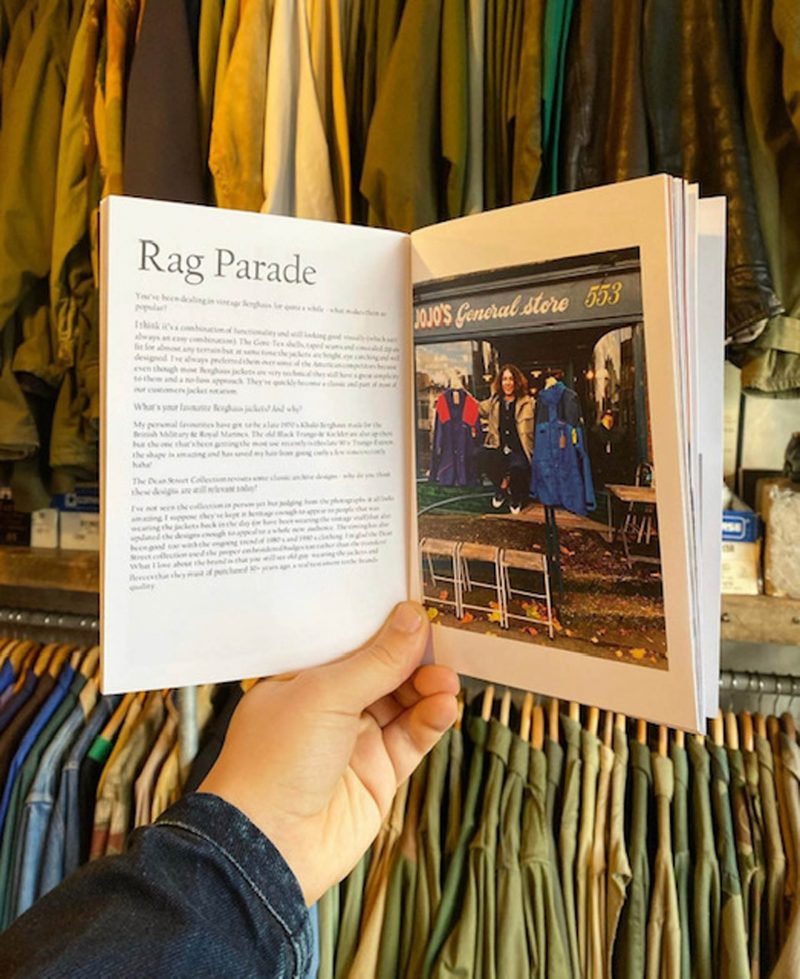 Outdoor Wear Mag includes features on independent stores like Jojo's General Store in Sheffield
What other 'zines do you read and take inspiration from?
I've always been a massive fan of GO OUT magazine from Japan. I started buying those around six years ago and had to purchase them direct from the publisher. It's just packed full of really cool outdoor gear from around the world and they feature such a diverse mix of brands. They also do these really cool festivals and events. I'd love for Outdoor Wear Mag to evolve into something like this.
Why do you think people are so into outdoor clothing brands? Is it the superior suitability in weather conditions, or is there something more? 
I ask this question a lot to the brands and stores we feature in the mag and the answer is usually very similar. People now want to buy clothing that is better quality so that they can buy less. The majority of people are becoming more conscious about the environment and specifically their own impact on the environment. I think the style aspect comes into it as well.
Subscribe to our newsletter
Do you have a theory on where the outdoor lifestyle trend began?
I think this crossover of everyday and outdoor wear and the outdoor lifestyle trend in general has been influenced by a number of things. Firstly, I think the influence from Japanese style has had an important part to play with Japanese brands and even US and European brands that have been reborn in Japan becoming increasingly popular here in the UK and in the rest of Europe. This has also influenced dedicated fashion brands in their collections which have started to become a lot more outdoor-inspired, so there's more fleeces, more technical jackets and I think that has just followed on from the heritage look which was prominent a few years ago.
Something that we'll be talking about in more detail further into the interview has also had a part to play as well and that's the environmental aspect of outdoor clothing. As people are becoming increasingly aware of the environmental problems facing us in the future, they are turning to more environmentally friendly clothing brands which tend to be outdoor brands and the obvious example of this is Patagonia.
"People want to know where the stuff they are buying was made, that the people that have made it have been paid fairly…" – Outdoor Wear Mag
What, if any, are the stylistic differences between outdoor brands from America, Europe and Japan?
I think they are becoming increasingly less. Instagram is showcasing style from around the world instantly and that is definitely having a role in this. You've only got to look at the brand lists from stores in these areas of the world – they are becoming increasingly similar. 
Out of all the outdoor brands, do you have a favourite? Why?
What a question! It would be impossible to pick one so I'll just run through all of my favourites which could take a while. Really appreciate the likes of nanamica, North Face Purple Label, Goldwin, Battenwear, Topo Designs, Snow peak as well as the more traditional outdoor brands such as Patagonia and Fjallraven. In the UK we have a great heritage of outdoor brands that continue to make amazing gear such as Berghaus, Craghoppers, Rab, Rohan and Sprayway.
In terms of footwear – Danner Boots are classic, they look amazing and can stand up to the harshest conditions, Mephisto are great for day to day use and are incredibly robust and hard-wearing. New Balance are still doing good stuff, and I really like Tarvas and Levius for sneakers as well. Two upcoming European brands that are using really high-quality materials and doing things the right way.
Which lesser-known outdoor brands do you think have the potential to get big? Why?
I think CAYL are amazing and have done for years, they're based in Korea and make some amazing gear utilising a great mix of both innovative and classic materials such as Pertex for jackets but also Cord for climbing pants. Although they've been about for years, Aiguille Alpine are still quite "underground" despite some high-profile collaborations with fashion brands such as Albam. They manufacture all of their bags, packs and equipment from their workshop in the Lake District and the stuff they do is timeless. I'm not sure if the people behind either of these brands would want to get big though if that makes sense, I think they're happy doing what they're doing.
The Level Collective are also doing good things and are concentrating on doing things in an ethical way which is great to see. They want to be able to tell the customer where the materials that have gone into the product have been sourced from and know that they've been sourced correctly. Their collaboration with Fracap was spot on too, and up there with my favourite releases of 2019. Stay Hungry Sports are another brand that I think will do very well, again because they're really keen on making sure that what they're doing is made in the correct way.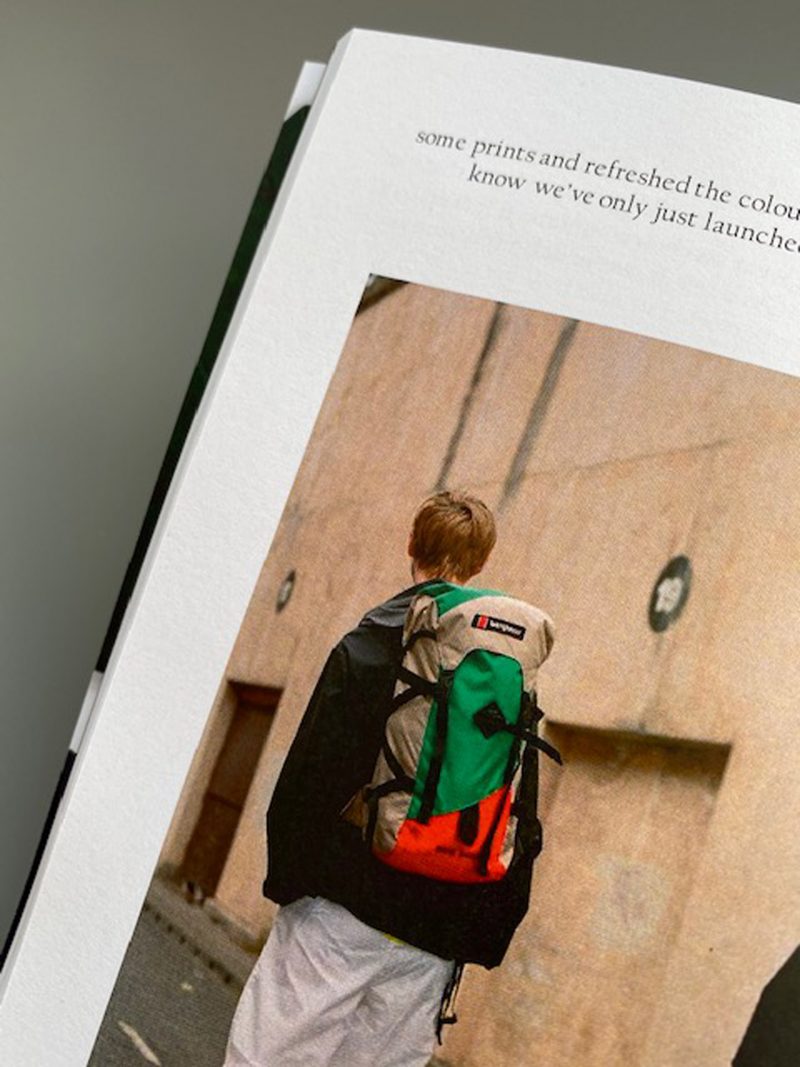 The mag covers independent brands like CAYL and more well-established brands like Berghaus
What shops do you think have the best representation of the brands and style that Outdoor Wear Mag is about?
There's quite a few to be honest. In the UK, I'd say Outsiders Store have to be up there because of their impressive mix of brands and product – they really sit in the middle of the crossover between everyday and outdoor style. Working Class Heroes as well for the same reasons and then This Thing Of Ours, a new store based in Manchester seem to be stocking a lot of what we talk about in the mag a lot so they definitely have to be in there. 
In Europe, Deru Store are stocking a lot of what we like – and I'd say based on the amazing lookbooks that they do that their style is the most similar to what we're about. FixteenSixteen is another store that represents the mag very well, again mixing everyday and outdoor style seamlessly. 
The environment is very much at the forefront of people's minds at the moment. From your experience, would you say that your readership are interested in the sustainability and ethical manufacturing process that goes into making their outdoor wear?
Definitely. I think this is reflected in the brands that people are buying and the way that other brands are adapting and changing. People want to know where the stuff they are buying was made, that the people that have made it have been paid fairly, that they're working in good conditions and that it has been made sustainably.
I recently read "Let my people go surfing" by Patagonia founder Yvon Chouinard and it's easy to see why Patagonia have been leading the way for big brands in the way they manufacture. He really is so passionate about doing things sustainably and ethically. Having said that, I think the next step is to ensure that sustainable and ethically manufactured clothing (and food) is affordable. I completely agree with the "buy better, buy less" sentiment, but you have to be able to afford to buy better in the first place. 
If the climate reached apocalyptic levels tomorrow, and you were destined to live a feral life resorting to Ray Mears survival behaviour, what Outdoor Wear would you take with you to aid your survival?
I'd have to take my trusty Rab down jacket. No idea what it's called but it was a sale purchase which I made a good few years ago now, and is incredibly warm, has pockets galore and packs away too. I'd also make sure that I had good footwear, so a pair of Danner Mountain Light boots complete with Gore-Tex lining and Vibram sole. An Opinel knife would probably come in handy too.
What outdoor activities do you do?
Hiking is the main one for me as I'm near to both the Pennines and Peak District so there really is an abundance of open space to get out in. 
What exciting things are in the pipeline for Outdoor Wear Mag?
We'll be releasing six magazines this year (next issue February) and then every other month after that, and hopefully be talking to and featuring the same great mix of brands and stores that we've been lucky enough to work with so far. 
Sounds like a busy year. We're looking forward to reading them. That's all we've got time for, I think. Thanks for the chat!