El Calafate to El Chaltén by Bus
In 2019, Nativve's James spent a year travelling through South America. Here he recounts the 200km dash through the vast grasslands of the Patagonian Steppe, one of the most captivating bus trips in the world… even when soundtracked by some questionable music.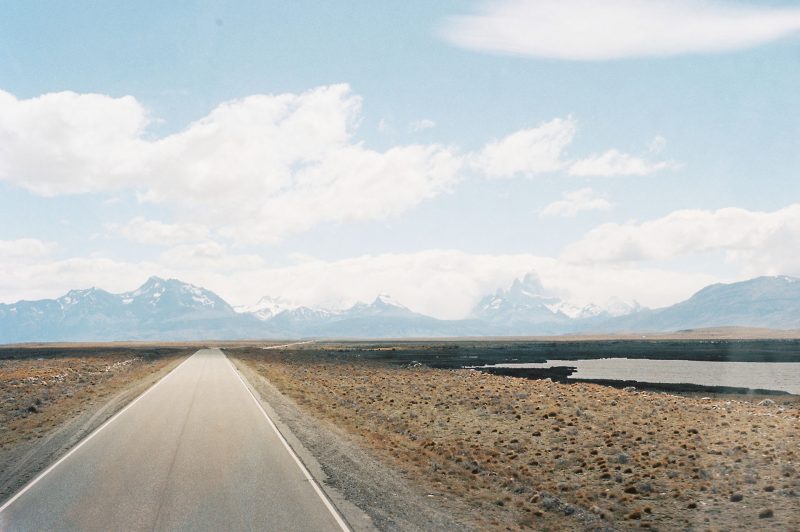 Words and Photos by James Moor
The driver must have been one of the better-dressed guys in the whole of Santa Cruz Province. He wore a crisp grey shirt, tight jeans, and flashed straight white teeth under his Aviators as he smiled and joked with the waiting locals and the odd female backpacker. He seemed to know everyone. As he strode around the station readying the bus, he found time to stop and chat and I spotted him agreeing to run more than one errand with a handshake. Once he'd slipped an armful of letters and parcels on the bus – a transaction that had looked more favour than official postal service – he started work loading the pile of backpacks into the hold. When he did, he found mine at the top, meaning I managed to get on to the bus first and bag the best seats in the house: the top deck, front and centre. The panoramic windows were going to be put to good use on this bus ride.
Shortly after we got going, as the last of El Calafate's colourful and corrugated iron-roofed bungalows trickled to a smattering behind us, we sped into the first of the Patagonian Steppe, a panoramic expanse of mottled brown. Our man downstairs in the driver's seat decided on a little music for the occasion. Personally, I would have gone for some accordion-led Cumbia, maybe even some tango classics to set the atmosphere right. He wasn't a fan of all that though. For him, it was a mega-mix of 90s Euro-pop that was a better fit for this journey. Fair enough. As the road straightened up, piercing through that cinematic Argentinian desert and an endless moody sky poured out above us, I felt the kick drum of SNAP!'s 'Rhythm is a Dancer' pounding the bus's floor below me. Great.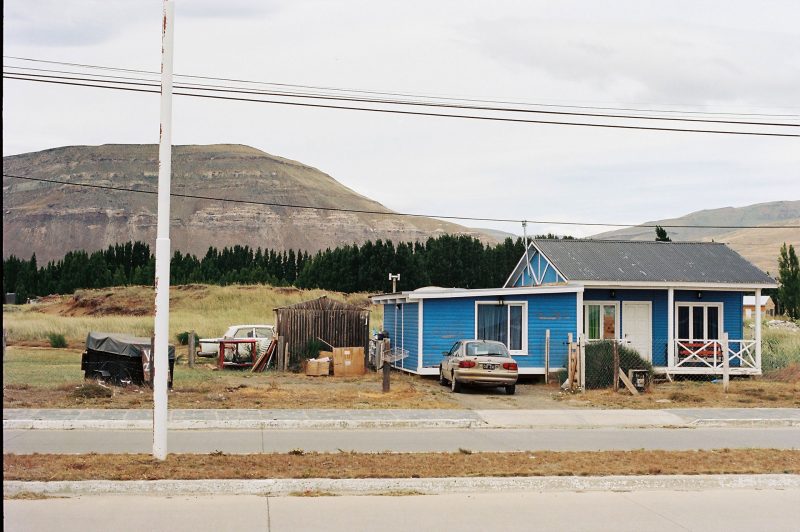 A house in El Calafate
I was heading from El Calafate, the jump-off point for trips to the Perito Moreno glacier, to El Chaltén, the mountain town and hiking mecca just over 200km to its north. In total, the bus journey would take around three hours, a short journey by Argentinian standards but in other ways typical. The eighth-largest country in the world, Argentina is dominated by plains. To its north, it's the Pampas that unfurls from Atlantic to Andes, all 750,000km2 of it. Up there, the straight roads pass through the unending pastures of the soon-to-be fodder of every parrilla in Buenos Aires and the BBQs of the world. Here, in the Patagonian Steppe that covers most of the bottom half of the country, the unfertile soil and lack of rain mean farmers are hard-pushed to graze cattle anywhere else but on the thin strips of green accompanying the occasional trickling streams. In this desert, the expanse is sandy, endlessly brown and, at first glance, lifeless.
Subscribe to our newsletter
But it wasn't lifeless. Far from it. It might have appeared like that as we first left El Calafate in our dust, that the nothingness itself was something to stare at, but as I grew used to it I could better pick out the details. Against a background of dusty brown, it was grasses and shrubs that gave these plains the textured, muted beauty Monet would have been proud of. There were dozens of types, each adding their own flecks of subdued colour; footballs of faded duck egg, blasts of flowering yellow, speckles of red, their dots coalescing and fading into the horizon. Every now and then, in amongst them, there was movement. Occasionally, we passed guanacos, ugly cousins of the llamas, staring vacantly from the roadside, chewing dry mouthfuls of shrubs. Then I spotted a rhea, an awkwardly large flightless bird, pecking at some roadside rubbish and then scrabbling out into the steppe as the bus passed. I had seen photos of El Chaltén though, and as I remembered its verdant woodlands clung to rolling mountain meadows, I had to wonder how that was going to spring miraculously out of this dry flatland in a mere matter of hours.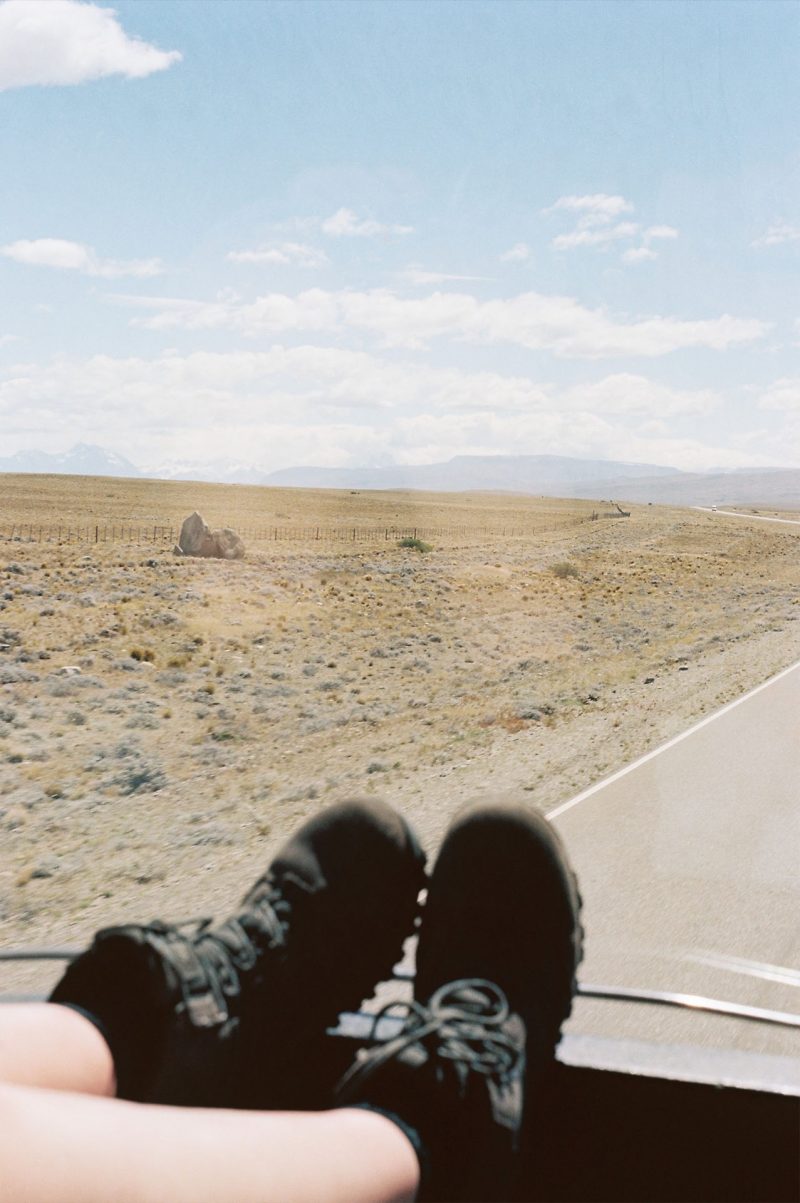 After twenty minutes heading east away from El Calafate, we swung left to head north on the famous Ruta 40 road, the Argentine equivalent of Route 66 and likely as popular with road trippers and escaping criminals; we passed more than a couple burnt-out cars. Here, the infamous Patagonian wind picked up and whistled around the bus, swaying it. It didn't faze the driver. He didn't seem to want to ease off the accelerator and it sounded like he'd turned his stereo up to compensate for the noise which was now blasting Scatman John to all four corners of the vehicle. I overheard some grumpy older Australian tourists behind me muttering something about getting the music turned down, but they were soon distracted by the view as we drove alongside the easternmost end of Lago Argentina, its waters toothpaste blue and choppy in the gusts, its far shore framed by the distant, serrated black shadows of the Andes, swathed to their midriffs in bleached patches of summer snow.
The bus climbed after the lake, the road swerving briefly and then straightening up as we levelled. Here, the steppe felt somehow wilder. Now brown and yellowing hills rose up from the plains occasionally fronted by rocky outcrops. It was achingly remote but there were still signs of civilisation. Fences followed the roadside and occasionally, breaking them up, there would be a rough log-built gate overhung by a sign for a place called something like El Rancho under which gravel tracks would penetrate arrow-straight out into the nothing. The bus wound round this cartoon cowboy land for a few hours but it wasn't until we started the brief descent that we glimpsed one of the people proudly eking out an existence out there. A gaucho, an Argentinian cowboy complete with leftwards-drooping beret, was sat up on his horse on the verge overlooking the road, his two dogs yapping at a gaggle of guanacos and his face drifting expressionlessly as he followed our passing bus.
It was further on that we passed Parador La Leona, a historic restaurant and hotel that was first built by Danish immigrants and dates back to 1894. It still welcomes tourists to this day, but it was back in 1905 when it greeted its most famous foreign guests. Butch Cassidy, the Sundance Kid and his wife, Ethel Place dropped in for a night's kip after they'd robbed the Bank of London somewhat down the road in Río Gallegos. They were pursued a few days later by Chilean police but, as the story goes, they didn't get caught until a few years later way up in San Vicente Canton, Bolivia. I don't know how much of it is true and how much is tourist bait, but today La Leona's more museum than outlaw hideaway and it looked busy with road trippers and hitchhiking backpackers trying to catch a ride 'con dedo' from its car park. 
"As if the driver didn't want us getting too caught up in the moment, he chose then to turn the volume up a little more, but even the saccharine synth of Real McCoy's Another Night wasn't enough to kill the vibe."
After Parador La Leona, passing a bridge over the river that shares the same name, we found Lago Viedma, another sprawling body of icy blue water that spread out away from us. Joining it first at its easternmost tip, we then turned off Ruta 40 just beyond it. As it came back into view when we rejoined it along its northern shore, the Andes filled the horizon across the lake's far shore, a row of black incisor silhouettes from the south up, parting only to allow a glacier to ebb its way into the lake. As we continued, the shadow of Mount Fitzroy joined them out in front of us, poking through tufts of white, looming in amongst its neighbours. My fellow passengers stirred, DLSRs were produced, and I was joined at the front by a crowd of crouching photographers and ticking shutters. The road was dead straight, pointing towards our destination, and each minute forward revealed new details on the enlarging massif: another spire of its sister peaks, fresh shades of blue in a glacier, gold fingers of light, the snow giving way to rock kissed with rusty brown. As if the driver didn't want us getting too caught up in the moment, he chose then to turn the volume up a little more, but even the saccharine synth of Real McCoy's Another Night wasn't enough to kill the vibe. In fact, I think I even caught the grumpy Ozzies getting lost in the excitement and starting to bob along.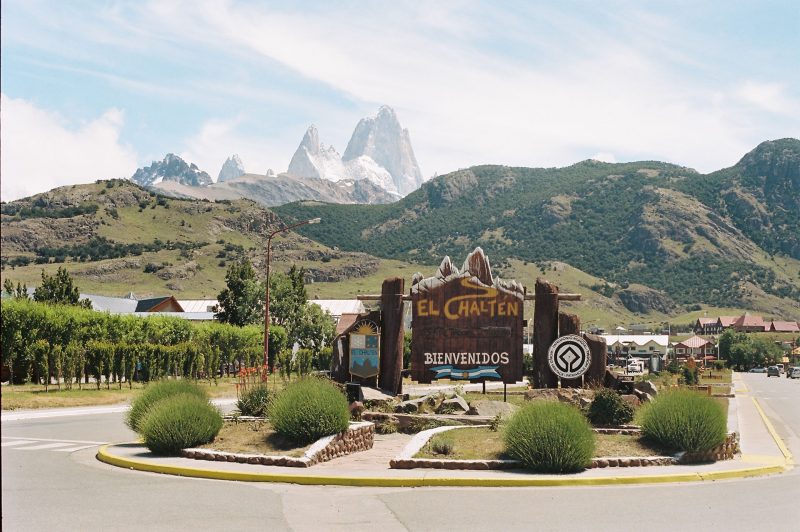 El Chaltén Town Centre
We lost the view some twenty minutes later as we met briefly with the Andean foothills. The road climbed and then dropped, and on the other side we came down into a valley greener than the steppe behind us. Mount Fitz Roy reappeared wider, and as we drew closer we found the rooftops of El Chalatén and the milky blue meanders of the Rio Las Vueltas. Minutes later and we were pulling into the bus station on the outskirts of the small town. I was last off and my bag was waiting for me outside. As I hauled it up, I exchanged a brief smile with the driver. Leaving the station ahead of me, the other passengers b-lined for their campsites and their weeks of hiking some of the best trails they'd ever hike, their necks permanently craning to take in the view, tripping over their feet as they went. The driver didn't need to even glance. He leafed through his CD wallet nonchalantly, cigarette in hand, picking out the mix for the home run back to El Calafate.
Subscribe to our newsletter