Shopify Case Study: Gramicci
How we helped the legendary climbing brand establish a successful Shopify store in Europe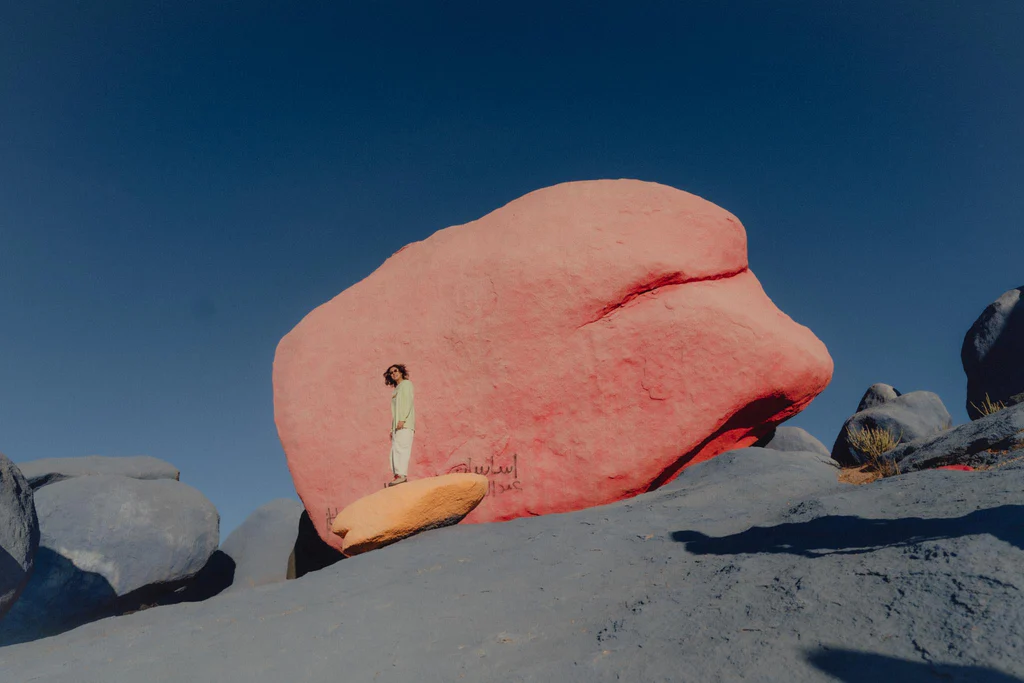 Since 1983, Gramicci have been making hard-wearing outdoor gear, built with movement in mind. Founded in California by legendary Yosemite rock climber Mike Graham, their much-imitated G-Pants and G-Shorts are rightfully regarded as design classics, loved far beyond the climbing wall.
Now based in Japan, the brand makes a full range of everyday outdoor clothing, worn around the globe.
In 2019 the brand approached us to help develop their European digital marketing strategy. Familiar with us through our work with shops like Patagonia, Outsiders, Oi Polloi and Deru, Gramicci knew that we'd understand their market and—to put things simply—get it. Thanks to our years of experience working with some of the most interesting names in outdoor clothing, they trusted us to support sales on their new direct-to-consumer website and grow brand awareness in their key markets.
After a slight delay, we finally got started in early 2021.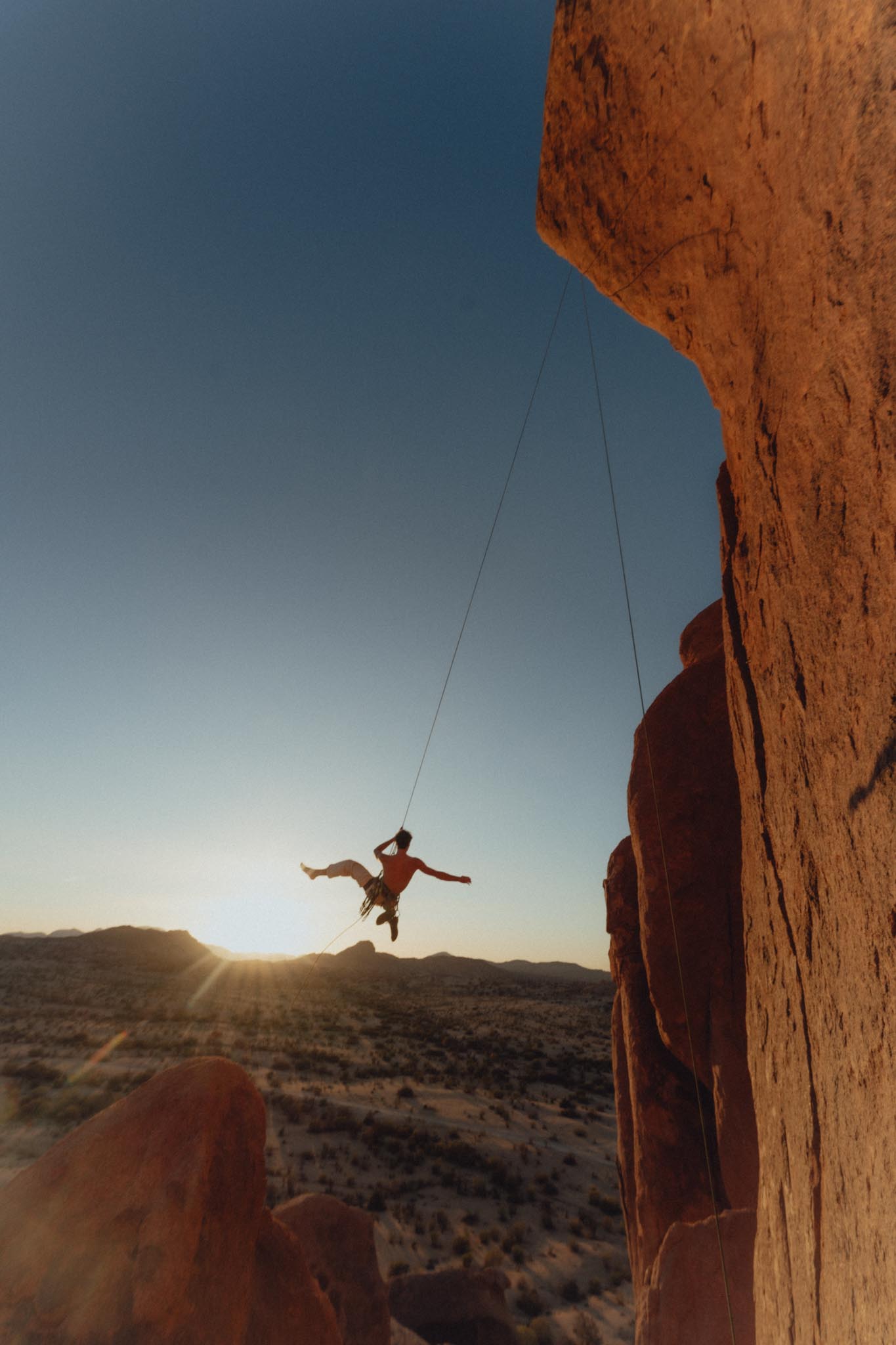 The Aim: Grow Gramicci's Shopify Store
Gramicci's European distributors had already gained enviable spots on the rails of some of the continent's most well-respected menswear shops, but they were keen to expand their DtC business and build the traffic to their own website.
Whilst the brand is a highly-respected name in rock climbing circles, it's always been fairly under the radar, especially on this side of the Atlantic—so they needed to build awareness and help those looking for tough outdoor clothing find Gramicci. That's where we came in—tasked with boosting traffic to the new European Shopify site and increasing direct-to-consumer sales, joining the dots between this classic brand and the kind of people who'd appreciate it.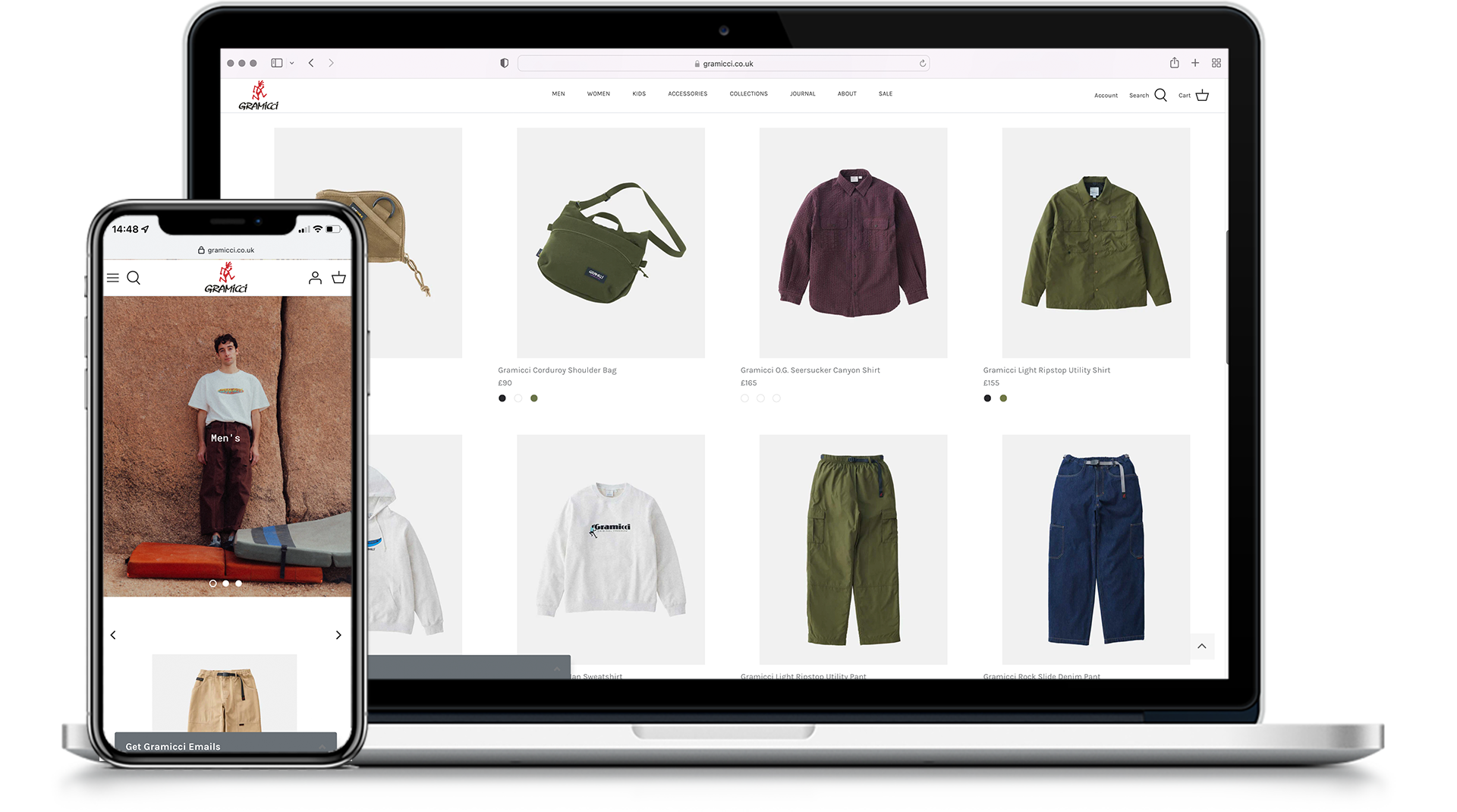 Creating an Effective Digital Ad Strategy
To get things started, we linked the site to a new Google Ads account, and worked out a strategy for Google Search, Shopping (later Performance Max) and Display ads. This meant a full GA4, Google Tag Manager and Google Ad pixel implementation as well as opening a Google Merchant Centre account to create internationally optimised feeds that could serve Google Shopping Ads with both EUR and GBP prices from the same Shopify store. Translation? The Gramicci site was fully linked up and ready to roll with effective ads across all platforms.
Which brings us to the ads themselves. Written with the Gramicci customer in mind—they cut out marketing spiel in favour of straight up, engaging copy that explained the brand, its clothes and its history. Looking into what works, and what doesn't, we made sure we used the most effective formats and image sizes to create eye-catching ads that would stop thumbs from scrolling.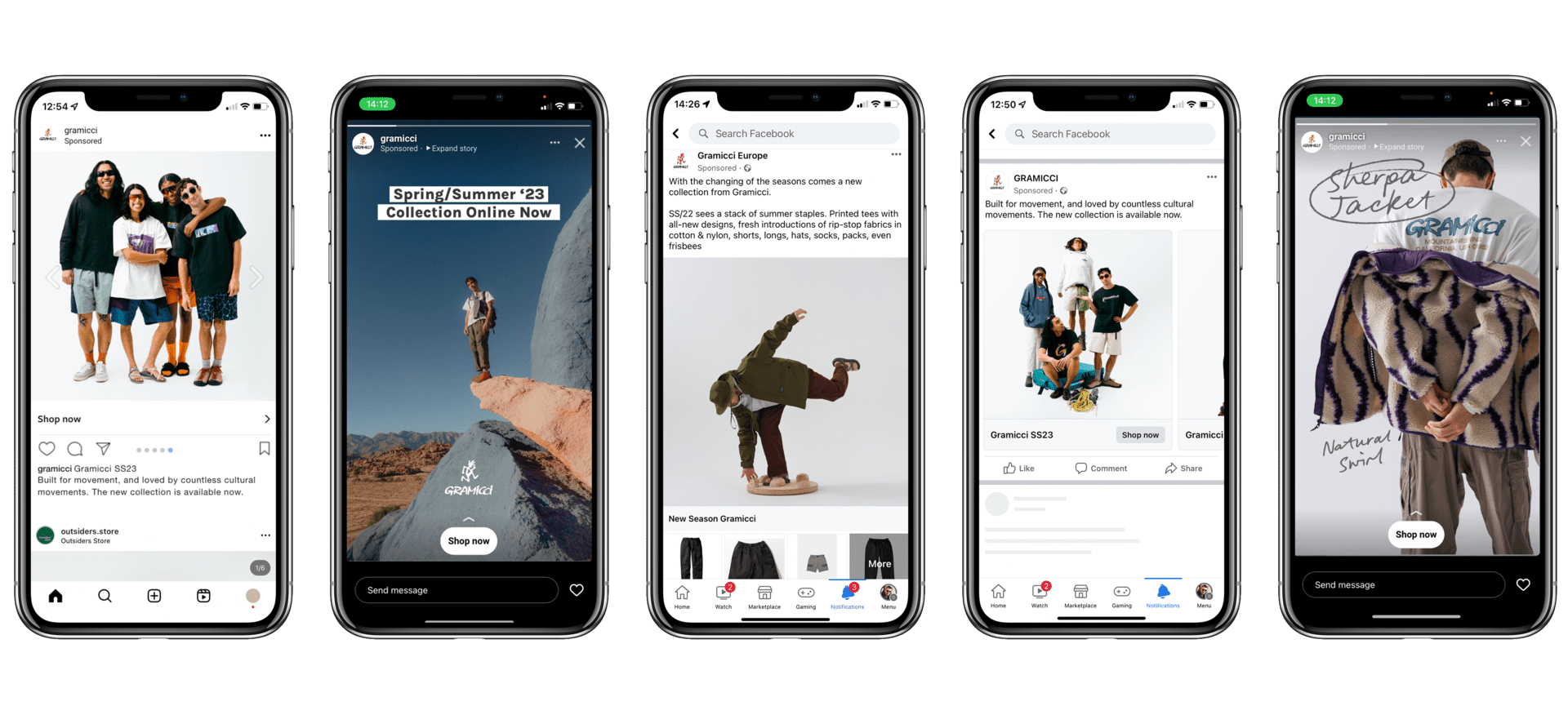 Knowing that the period between the end of a sale and the launch of a new season can sometimes be slow—we created a series of 'always on' ads that highlighted the core-classic year-round pieces that Gramicci always stock, like the G-Pants or NN Pants, helping to drive conversions at a time hardly renowned for being busy.
Then once the new season gear landed, we announced the news with a multi-channel campaign. By splitting our ads into two categories, prospecting and performance, we spoke to two equally important types of people—those who love Gramicci and want to bag the new gear first, and those who aren't familiar with the brand, but appreciate clever outdoor clothing.
Since January 2022, we've helped reach a mix of prospecting and remarketing audiences delivering over 24,461,597 impressions for Gramicci at a CPM of £3.96. With an average CTR of 1.52%, we've grown the overall ROAS by over 280% across all paid media activity since working together.
The Perfect Partners: Engaging with Retail Partner Audiences
Building on Gramicci's presence in some of the finest outdoor lifestyle shops in Europe, we partnered with two of the best, Outsiders Store in the UK, and Deru in Germany, to create fully-integrated multi-level campaigns which were optimised for traffic, awareness and conversions.
Both stores speak to those with an appreciation for authentic outdoor gear with a story to tell, making them the perfect partners to help spread the word of our DTC business.
You've Got Mail: Email Marketing That Makes a Difference
Knowing the power of a well-managed email newsletter, we migrated their mailing list over to Drip, created a fresh email template for the Gramicci team to use, and implemented a strategy that'd let them create regular fortnightly emails to send out.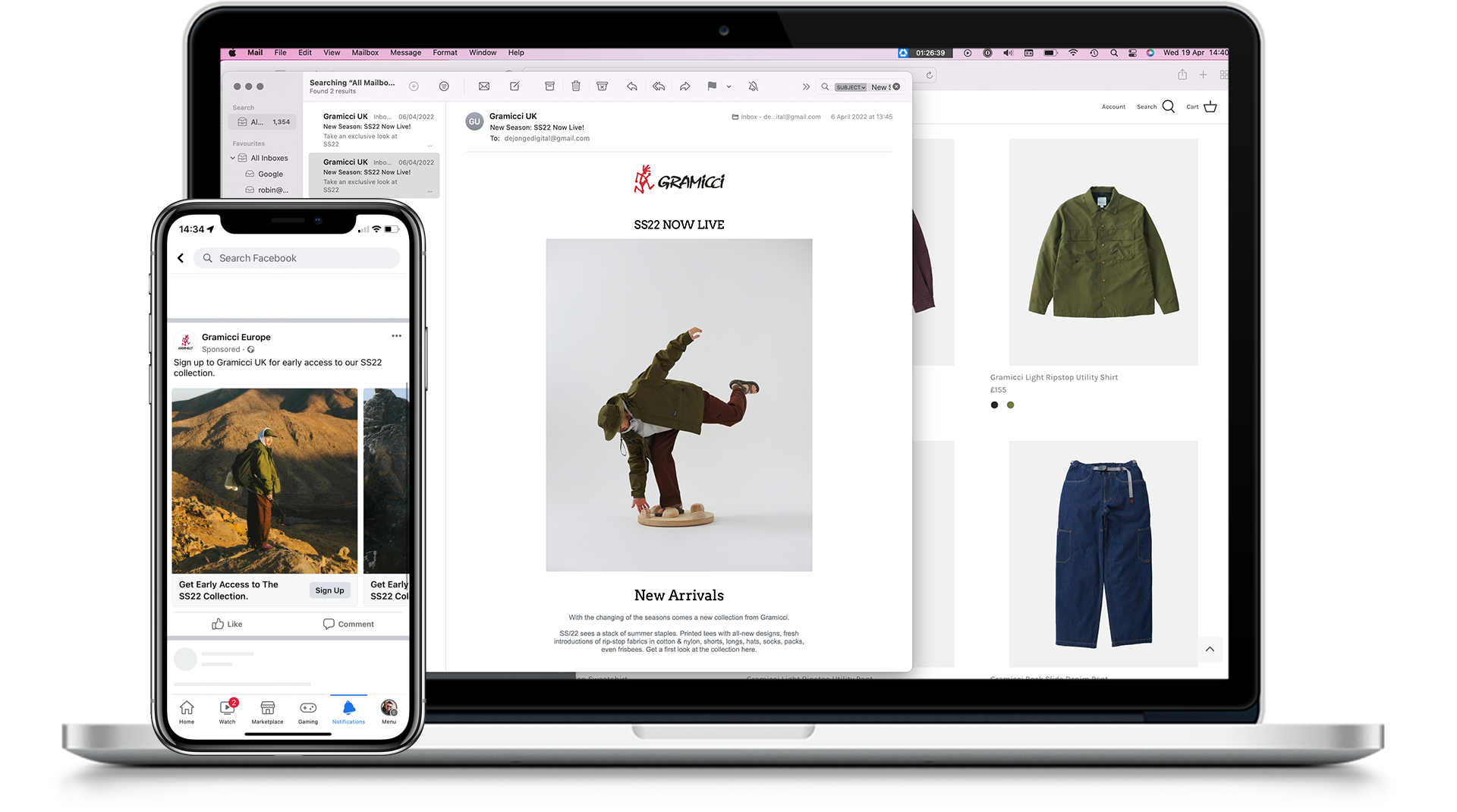 A great looking newsletter doesn't mean much if no one is actually there to open it, so we worked to grow our list in a meaningful way—running ads encouraging potential customers to subscribe, and giving subscribers exclusive access to the new season's range for 48 hours before launching to the broader market. This saw a big boost in readership—and the mailing list now boasts over 6,000 subscribers, an open rate averaging well above 50% and a CPA of £1.26 per subscriber, with an average CLV of £8.05.
Building on the success of this campaign, for FW22 we created ads optimised to encourage potential customers to sign up to the newsletter—using Meta's lead form technology to create a seamless experience for getting valuable email data added to the database.
The Story So Far: Shopify Sales Growth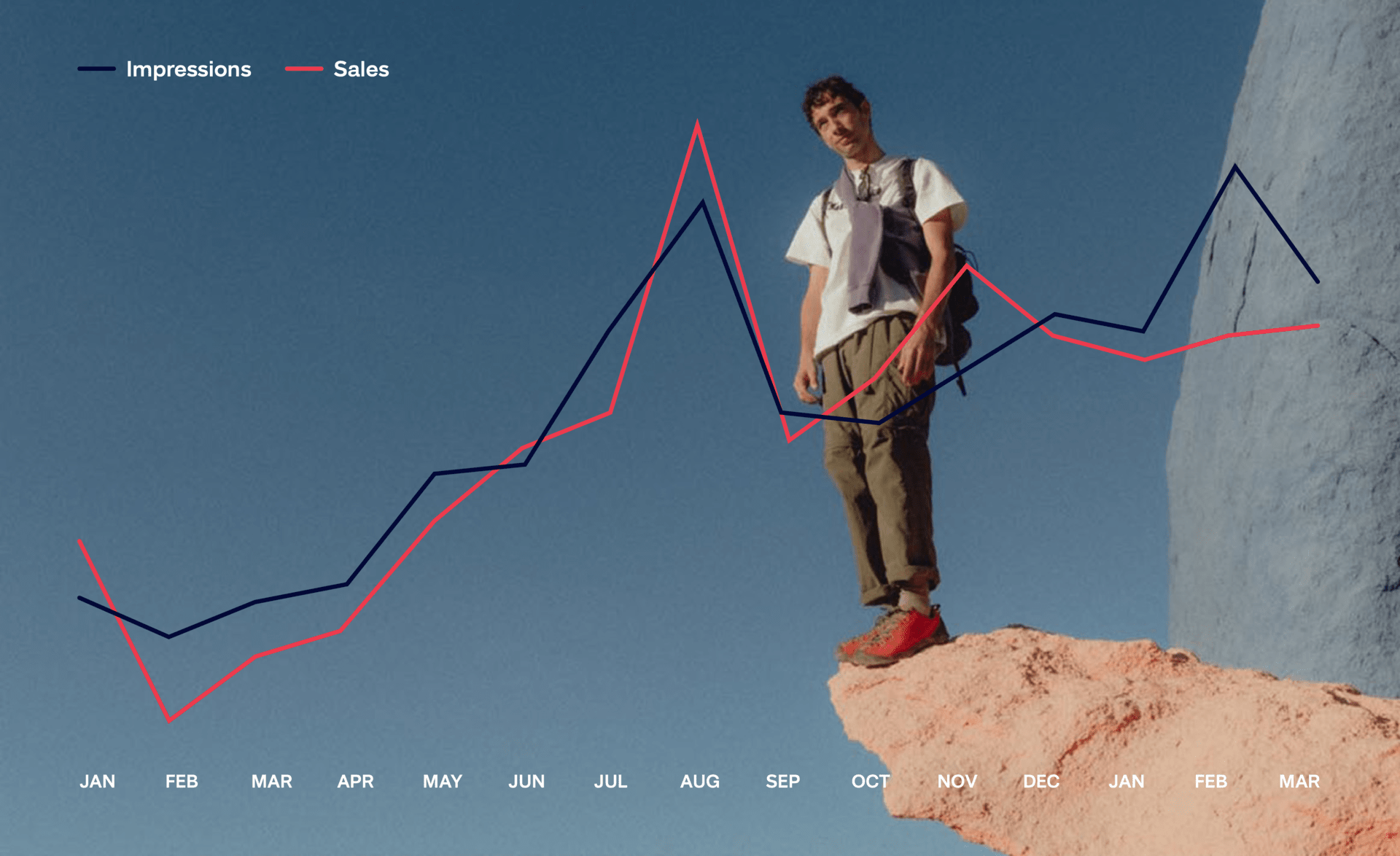 Since we partnered with Gramicci, their Shopify site has seen a huge increase in visitors—with monthly sessions and visitors both up over 700% since May 2021. What's more, this rise in visitors has had a knock-on effect on conversions—with an over 400% increase in monthly sales over just two years.
Looking to grow your Shopify store? Get in touch.